Review: Sin Cielo (2018), by Jianna Maarten Saada
American director Jianna Maarten dedicates her 7th short to "the thousands of women in Mexico who have disappeared and the families who still look for them". The film is based on true stories from La Frontera area in north-eastern Mexico, heavily afflicted by sex trafficking.
Kidnapping of young women and girls is one of the most pressing problems in contemporary Mexico, a country that also faces an extremely high femicide rate. Each day about ten women are being murdered and many disappear without a trace. The country is considered second most dangerous place for women in the world after Brazil, but due to a violent drug crime and (the alleged) war on corruption, women's rights are put aside as a secondary problem. This isn't the only reason for slow justice. As a very patriarchal society, Mexico sees its priorities somewhere else and the legal protection from violence is a wishful thinking. More and more women accuse police of sexual assault, and on August 16th this year, several thousands of people took on the streets of Mexico City to protest after a teenage girl was raped by four police officers.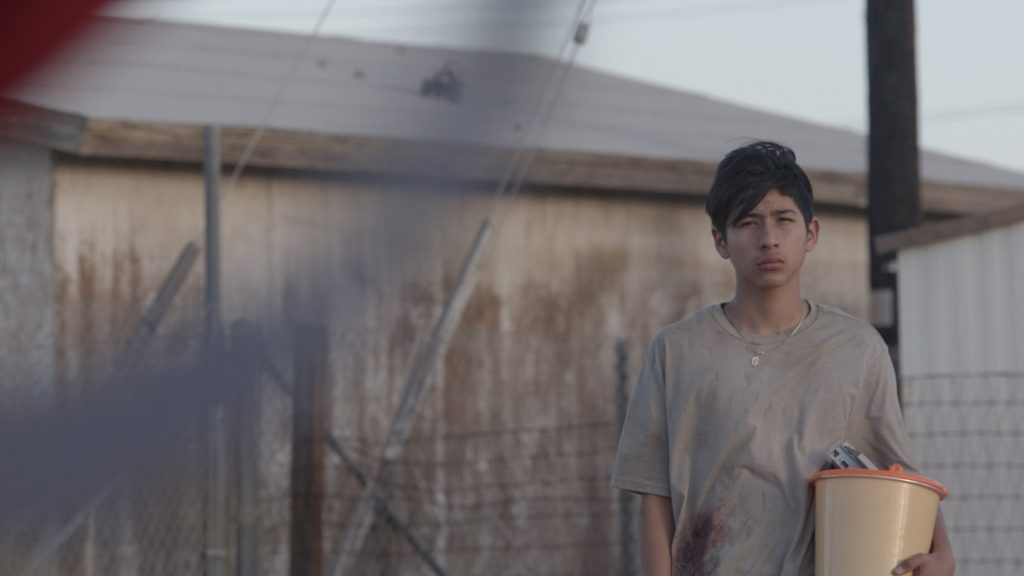 Maarten places her titular characters in a small Mexican village where "Uncle Juan" and his wife Veronica host care-free beer parties while their immediate environment chokes in poverty. It is quite obvious that Juan doesn't finance his comfortable life through an honest profession, but that doesn't seem to bother the neihgbourhood kids who look up to him. When Juan says jump they ask how high. It's a clear attempt at escape from the poverty and the lack of perspective, and the criminal knows how to put it to his advantage.
Memo (David Gurrola) and his best friend Chango (Brian Gomez) are first to accept whatever task the "uncle" assigns them to do, and they are driven around blindfolded to deal with unpleasant jobs. But it's the arrival of the "American" (Dylan Bruno) that marks the beginning of a new era. The thug keeps reminding his partner of "young chicas", which still sounds like a macho joke before girls in the village start disappearing.
Even Memo is oblivious of the profitable business behind all other illegal businesses until his love interest Delia (Fenessa Pineda) disappears on her way to school. Suddenly alert, he becomes fully aware of the terrible impact the criminal activities have on his community, but also of the injustice he did his hard-working mother and his younger brother Franki (Aithan Torres). The problem is – there is no way back, and the way forth is burdened by the past and the present.
Sin Cielo took home the Grand Jury Prize at the Seattle Interational Film Festival, the Young Jury Prize at Palm Springs Shorts Fest, the Grand Jury-, Audiense Award and Best of fest Prize at Ivy Film Festival and it was officially selected at the Los Angeles Film Festival, HBO's NY Latino Film Festival, Urbanworld, at the Brussels Shorts Film Festival and at the Cork International Film Festival.
It's interesting that two songs in the film were written by the lead actor David Gurrola ("Clip$" and "Whippin") both performed by LilTato.
Country: US
Language: Spanish
Runtime: 25 min.
Written and directed by: J.S. Maarten
Producer: Daria Suvorova
Cinematographer: Marcin Banasiak
Production Design: Emma Sparer
Editor: Aashish D'Mello
Music: Bartek Giliak
Costume Design: Jenna Smolina
Make-up and Hair: Jax Moreno & Marcy Quintana
Dialogue and Sound FX Editor: Graham Barclay
Re-recording Mixer and ADR Recordist: Jonathan Iglecias
Colorist: Alex Chernoff
Visual Effects: Picture Shop Post, LLC & JAMM
Cast: David Gurrola, Brian Gomez. Dylan Bruno, Gia Grimm, Victor Boneva, Karen Sours Albisua, Fenessa Pineda, Aithan Torres, Vanessa Benavente, Sophia Santi, Hugo Medina