Film Review: Blood Group (2020), by Daan Bunnik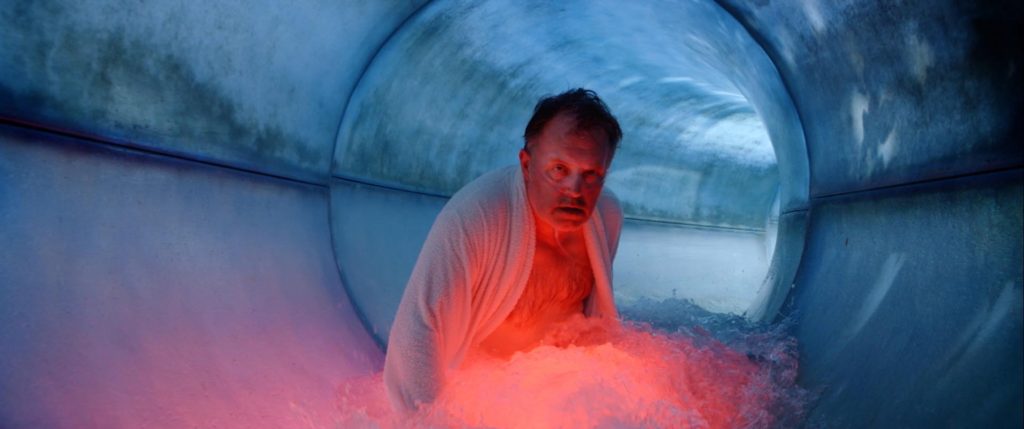 We literally slide into the nightmare of a broken young man called Danny (Rik Hautvast) through a marine blue waterslide that returns to his dreams night after night. We are spiraling downwards with him until both slide and water are gone to be replaced by the appearance of the dream's owner. When he's finally on screen in his full (anti) glory, there is barely anything likable about Danny. With dirty hands and worn out clothes that look like they've never been washed, he's wasting day after day on drinking beer in his hellishly neglected caravan, or shooting football videos for social networks.
The antipathy towards Denny grows with every minute. He's a ticking bomb, in constant cramp, unpleasant and angry. And it's damn difficult to be an angry young man when you live alone in a God forsaken place with no one around. It becomes even more difficult to deal with it if the person who made you miserable in the first place can't leave you alone, even if they are physically not present. Danny carries the gene of his father (Bob Fosko) in his body, or as the title of the film suggests – the same Blood Group. He is a tormentor, a toxic, miserable man who takes his anger out on his unsuspecting, loving dog, or on his younger brother Brian (Bart Harder) who occasionally comes around to try to make him come to senses.


It's the news about his father dying, that makes Danny see his ghost that shouts abuse after abuse, making sure his son never forgets what kind of loser he is. The solitude takes its toll, and the pain becomes unbearable. In his fourth short Blood Group, the Dutch director Daan Bunnik, continues to explore the fragile mechanisms of family ties, or more precisely – how the closest family core impacts the psyche of an individual. In Denny's character, he finds a fertile ground for a claustrophobic narrative dominated by self-loathing and self-pitying that grows into a destructive force.
The feeling of a hermetically closed world filled with agony gets its audio wrapping in the original music by the French indie pop-electronic band The Penelopes.
Blood Group has just had its world premiere at the IFFR (Inernational Film Festival Rotterdam), outside of competition.
---
Original Title: Blood Group
Country: Netherlands
Language: Dutch
Year: 2020
Medium: DCP
Runtime: 13′
Producer: Ellen Havenith
Cinematographer: Gregor Meerman (NSC)
Editor: Tim Roza
Original score: The Penelopes
Sound design: Henk-Jelle de Groot
Art director/ costume design/ make-up: Saskia Meulendijks
Gaffer: Eric Wobma
Cast: Rik Hautvast, Bart Harder, Bob Fosko
Sales: Radiator IP Sales