Review: Flowers (2019), by Ismene Daskarolis
Can a perfect human being be constructed? That question preoccupied the imagination throughout the history of human kind. Its origins can be traced to ancient Greek mythology and Pygmalion, with some turns to the darker territory with, for instance Mary Shelly's Frankenstein. The young Greek filmmaker Ismene Daskarolis offers her vision of the well-known myth in her fifth short fiction film Flowers that premiered recently out of competition, at Late Night Sci-Fi programme of PÖFF Shorts.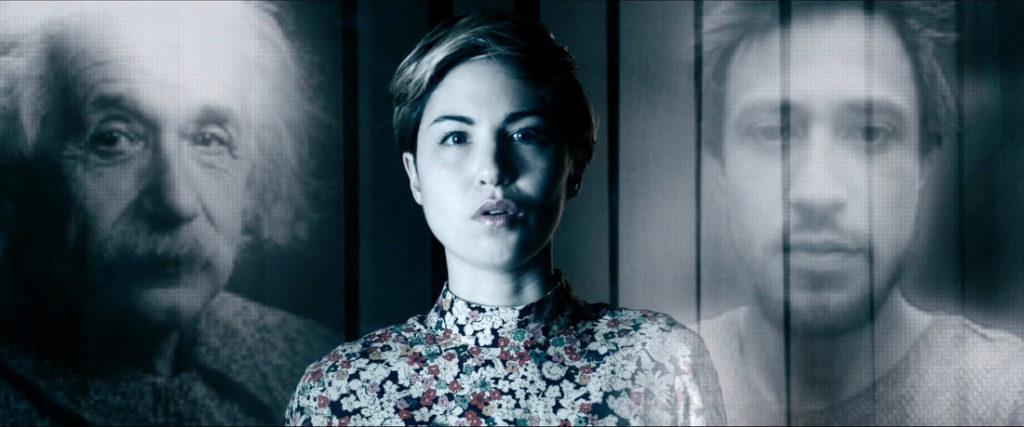 The story of this very short short film (just over four minutes of duration) follows the two simultaneously exposed storylines revolving around a man (Sebastian Grygo) and a young woman (Catherine Dauphin). We meet her trying to run away from him, exiting a gloomy building just to get to the woods where her insecure steps give the viewers the impression that she has not done much walking in the past. Nevertheless, she is driven to find something, while he shouts his warnings and commands to her with little to no success.
The second plot line provides more context. It is set in the lab where he surveys and programs her, tampering with facts and her opinions in the attempt to make her perfect according to his world-view. He is a man of strong ego, able to stoop so low to teach her that he is actually Einstein. Not that the name matters to her, though.
Daskarolis, filling the roles of writer, director and editor here, does a good job to make her piece intriguing, smart, mysterious and smooth at the same time, working on a shoestring budget and in the typical workshop conditions. The storylines are divided and coded by different settings and colour schemes, with lab scenes being filmed in colder, blueish palette, while the outdoor ones spot the richer, autumn golden-brown colours. Her cinematographer Mate Pap should also be commended for that. The choice of music, Alessandro Marcello's Adagio from the Oboe Concerto in D-minor also serves the purpose perfectly, filling the void of silence between the deliberately basic lines of dialogue spoken in Polish by the scientist and in English by the young woman.
Probably the most intriguing part of the film is its title which seems almost completely random until the very end, with only "flowery" thing seen being her floral dress, but Daskarolis manages to make it work in the fashion to open some of the pressing issues of gender stereotypes. Eventually, the only flaw of the film is its duration which is too short for all the complex subjects she suggests, but has little time to develop in full. Simply put, it would be great if we could stay with the characters a little bit longer
Original Title: Flowers
Year: 2019
Country: Poland
Running time: 4′ 25"
Written/ directed/ edited by: Ismene Daskarolis
Produced by: Film Spring Open, Ismene Daskarolis
Cast: Catherine Dauphin, Sebastian Grygo
Cinematography: Mate Pap
Sound: Adriano Mantova
Sound and visual effects by: Yiannis Liolios