Film Review: I am Going Out For Cigarettes (2018), by Osman Cerfon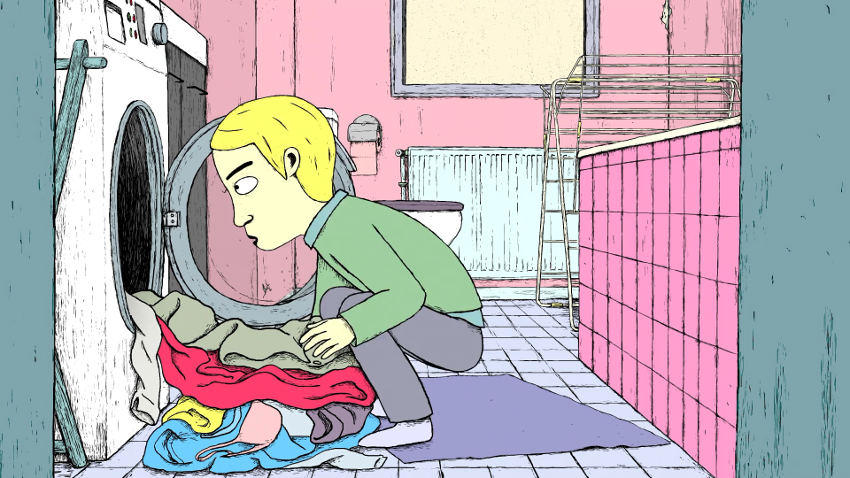 The film opens to the music of Sergei Prokofiev's "Montagues and Capulets" (also known as Dance of the Knights) from the ballet "Romeo and Juliet", introducing the 12-year-old Jonathan and his older sister, both on their way up to the family flat. Already in that simple initial scene, the unconventional methods of story-telling are used, with the music and the visuals mismatching in such a way, that it's both an energy-boosting and a confusing introduction to this magnificently crafted animation.
I am Going Out for Cigarettes by the French director Osman Cerfon boosts with originality, and it's a film that has justifyingly been showered with awards since its world premiere at the Locarno Film Festival in 2018, where it collected the Medien Patent Verwaltung AG Prize for the Pardi di domani International competition.
Cerfon is simultaneously addressing several issues in his third-, but according to his own words, "his first accomplished" short. Even if we are given a spoiler in the movie's title which can't be interpreted other than the well known euphemism used for a father who walks out of family under the pretense of a harmless errand, this is a story about a boy's longing for an absent parent after all, and it is personal. Cerfon was growing up, just like Jonathan, without knowing his father.
The empty parental space gets filled by strange men with the same face, who hide in the most impossible corners of the apartment. One is squatting in the kitchen cupboard, the other is folded in the drawer. But wherever they are, they communicate only with Jonathan.
As much as it is about growing up fatherless, the film is also about the relationship between a single mother and her children, and also between a very young teenager and his elder sister, who's at the brink of adulthood. The tone of the narrative is partly melancholic, partly cynical and funny, and the animation uses its advantage of blending the "real" and the fantastic ingredients leaving no doubt as to what is what.
Original Title: Je Sors Acheter des Cigarettes
Country: France
Runtime: 13′
Language: French
Directed by: Osman Cerfon
Produced by: Emmanuel-Alain Raynal, Pierre Baussaron
Animation: Capucine Latrasse, Rémi Schaepman, Quentin Marcault, Valentin Stoll
Editor: Catherine Aladenise
Animation editor: Albane Du Plessix
Sound and additional music: Pierre Sauze
Music adviser: Adélie Prod, Nathanael Bergese
Sound recording: Entreprise
Studio sound mix: Miroslav Pillon, Yoann Veyra
Sound calibration: Titra Films (Pascal Nowak)
Cast: Théo Van de Voorde, manon Bresch, Delphine Rollin, Valentin Gevraise, Clarisse Piroud