Review: The American Sector (2020)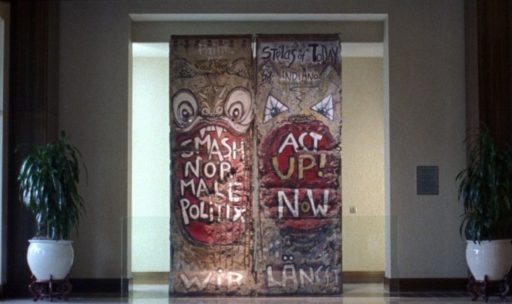 Pacho Velez and Courtney Stephens' cine-poem The American Sector is a mysterious road trip mosaic made of disparate places, voices and symbolisms connected by various collected remains of the Berlin Wall, once dubbed the "Anti-Fascist Protection Wall" by its makers, the defunct German Democratic Republic. Composed of minimalist sequences built around the famous slabs from Berlin, The American Sector invokes brief sketches on race, identity, political ideology, and orthodox accounts of history juxtaposed against heterodox conceptions of experience. Dismantled in 1989, remains of the Wall are now standing in often surprising places within the United States, such as the US State Department, presidential libraries, bits of forest in Pennsylvania, private homes, metro stops, corporate headquarters and even a back lot of Universal Studios in LA, just to name a few of the over forty locations featured.
A variety of different voices, often disembodied, transform the familiar Cold War symbolism of the Berlin Wall into a plenitude of unanswered questions about the present. As history grinds on, our sense of symbolic meaning changes. While a curator at the George Bush Presidential Library in College Station, Texas, delivers a customary speech about the broken Wall symbolizing Western democracy's triumph over an oppressive system, a black man living elsewhere is reminded of North American slavery, saying that the Wall means "we are not alone." Living close to the Mason-Dixon line, he believes the Wall's symbolism "runs parallel to every black family in America." Winston Churchill's granddaughter, Edwina Sandys, a sculptor, feels personally connected to her piece of the Wall, and a Latin American woman in Culver City calls it "a hurtful symbol" of the trials of immigration and dislocation. Two students at the University of Virginia fail to see any connection to the Wall and their own concerns about the legacy of U. S. racism. Another woman sees it as proof that God has invested heavily in notions of nationalism. For two entrepreneurial African women, bits of the Wall represent their own story of finding prosperity in the USA.
Beautifully shot on 16 mm film, The American Sector invokes a subtle sense of witnessing history without being bogged down in any pre-conceived political assumptions. Comments made by people who just happened to be there during shooting matched with images of malls, hotels, roads, monuments, museums, and private gardens give the film an authentic, spontaneous levity. A kind of organic free-flowing dialogue develops as Americans from all walks of life project their ideas onto the Wall just as readily as anonymous artists once did. In one revealing scene, a CIA spokesperson's voice is heard over a black screen as she explains that the CIA is too insecure about its own raison d'être to allow film makers into their sensitive vaults.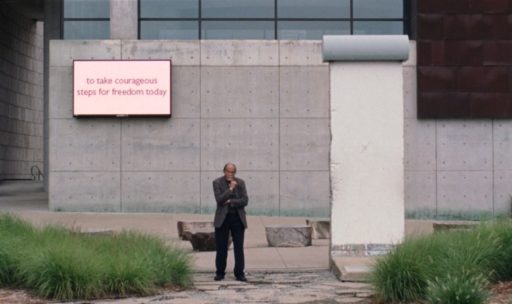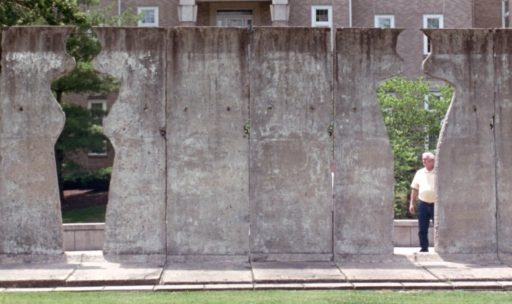 Barbaric and oppressive border walls from around the world, not just the beleaguered construction along the US-Mexican border, easily come to mind when we see footage of courageous swimmers fleeing the GDR in one of the few pieces of historical footage. The questions posed then, as now, are much the same as border wall construction reaches an all-time high worldwide. The American Sector, that was shown in the official selection of this year's Berlinale, binds us to the multiple meanings of the current moment by affirming the ephemeral nature of meanings past.
---
Original Title: The American Sector
Country: USA
Language: English
Runtime: 70 min.
Official Selection Berlinale 2020
Directed by: Courtney Stephens and Pacho Velez
Executive Producers: Joe Poletto, Sam Roseme
Produced by: Pacho Velez
Edited by: Dounia Sichov, Courtney Stephens
Sound Mixer: Paul Hill
Sound Designer: Maile Colbert
Color: Loren White
Camera: Pacho Velez
Sound: Courtney Stephens
Visual Effects: Mo Ku