Review: Dovetail (2019)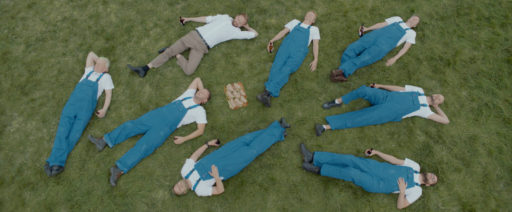 The reception of Dovetail, a fiction short film directed by Magnús Leifsson, depends on the viewer's inclination to accept the narrator as the general storytelling device and the narrator in the film in particular. Given that the film is a screen adaptation of a reflexive, first-person poem, it seems it was the only way it could be done.
The protagonist/narrator himself is not very likeable, so it is a bit hard to feel for him. He is a troubled man called Aron (played by Sveinn Ólafur Gunnarsson with a distinctive cold charisma), and at first it seems that he lives the life he always wanted to live. He runs marathon for recreation, he has a new, young wife, a big modern house, a modern office and a luxurious modern car whose colour is a bit "out of space" (beige, silver and gold at the same time). He is the type who is dismissive towards his colleagues and friends, but fascinated with things he considers status symbols: clothes, furniture, artwork. He looks like someone who should be happy or at least content with his life, but he is not, for a good reason: his youngest daughter died, his first marriage fell apart and he went into a pattern of self-destructive behaviour, probably searching for the meaning of it all. Is he going to find it in a cabin he builds up north?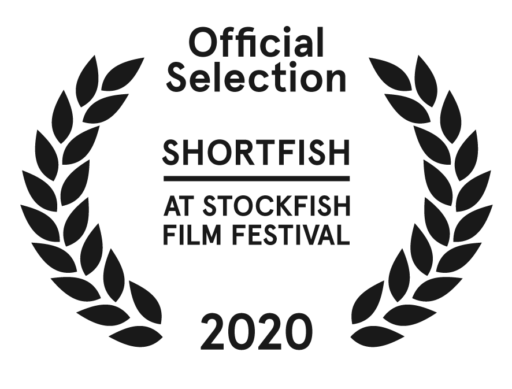 Dovetail is certainly a professional effort, with great production values and a large crew behind it. Sveinn Ólafur Gunnarsson's acting is spot on, but the rest of the cast hardly has a chance to do anything besides basic line delivery. The pace is rapid and the rhythm of the imagery closely follows the rhythm of the source poetry, for which the editor Sigurthur Eythórsson should be commended. Under Magnús Leifsson's strict control, Dovetail remains faithful to the director's vision, which should resonate well with the audiences and even better with the festival establishments.
---
Original title: Nýr dagur i Eyafrithi
Fiction
Country: Iceland
Language: Icelandic
Runtime: 14′ 58"
Directed by: Magnús Leifsson
Written by: Magnús Leifsson (based on the poem "New Day in Eyafjörthur" by Halldór Laxness Halldórsson)
Produced by: Ada Benajminsdóttir, Árni Thór Jónsson, Lárus Jónsson
Cast: Sveinn Ólafur Gunnarsson (Aron), Marianna Clara Lúthersdóttir (Ex-wife), Thórey Birgisdóttir (Girlfriend), Dóra Jóhannsdóttir (Co-worker), Agata Árnadóttir Coadou (Daughter)
Cinematography by: Ásgrimur Guthbjartsson
Production design: Brynja Björnsdóttir
Costume design: Brynja Skjaldar
Make-up: Sandra María Ásgeirsdottir
Editing by: Sigurthur Eythórsson
Sound design: Huldar Freyr Arnarson
Assistant director: Haraldur Ari Karlsson
Production company: Republik
Support: Icelandic Film Centre