Review: Q's Barbershop (2019)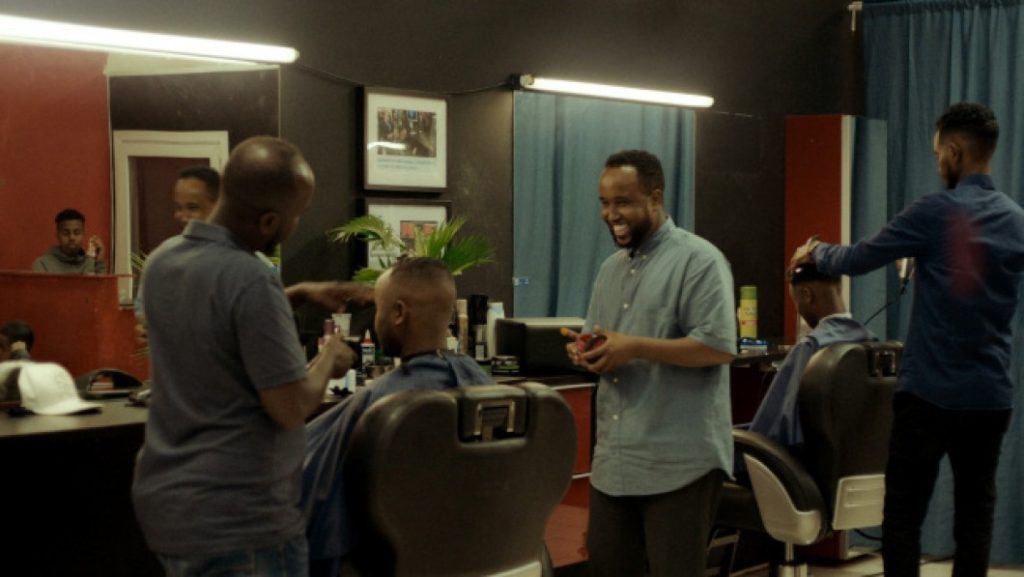 Emil Langaballe's Q's Barbershop, a film that just about reaches the feature length format with its one hour runtime, was among three award winning documentaries from the 2019 Nordisk Panorama shown at the Stockfish Film Festival. Set up in the only barbershop in Danmark's largest ghetto Vollsmose – the country's monster housing project with 80 nations and 9184 people living in it, the film is focused on the small business owner Qasim who cuts people's hair six days a week. Curly ski fade, Brush Cut, Will Smith, Mini Afro, Dreads, Mike Tyson, House Party, Low Fade, just name it. Qasim can do pull them all off.
Vollsmose has a bad reputation across Denmark as a place of crime, unemployment and poor integration, but its residents don't see it that way. Now threatened by Danish government's wish to put an end to it by abolishing all ghettos, the residents are faced with the prospect of having to leave their homes. In Q's Barbershop, men exchange their thoughts about "the hood", the prejudice Vollsmose is met with and the reports in the media about the alleged skyrocketing crime rate.
Boys and men alike share their problems on this neutral territory, all of them very particular about the "do". Communication runs in Danish, insults too. The whole male African-Danish community meets here, not just to be beautified, but to be advised or simply listened to. Q's Barbershop harbours rowdies, introverts and intellectuals alike who only have one thing in common – a need for "a fresh fade". The jokes are passed around about how the hairdos are chosen: "Afros are for gentlemen, dreadlocks are for gangsters", and the philosophy about which cut secures you a successful job interview is developed.
Q's Barbershop is a chamber piece whose story evolves between mirrors and walls painted bright red. Each haircut brings a unique story forward, with Qasim as a moderator who never loses a smile on his face. His life story about coming to Denmark as a refugee from Somalia as a child gets an equal portion of time as his customers', rounding up this little biopic.
Emil Langaballe's decision to take one of the young men from Vollsmose as the main narrator gives the story a personal twist, as one of the regulars in the barbershop happens to be his brother – a reformed thief and chief mainsplainer Elias who is more or less part of the barbershop's refurbishment.
This is of course, considering the subject-matter, a very masculine film with frank dialogues that some people might find insulting. There is an account of a "traditional birthday kids bashing" in the community, conservative talks about the function of marriage, and some macho opinions are spewed with the complimentary misogynistic vocabulary. None of it becomes central for Q's Barbershop whose sole interest is a man with a talent to cut hair, and who brings the best out of people.

---
Original Title: Q's Barbershop
Country: Denmark
Language: Danish
Runtime: 60′
Director: Emil Langballe
Producer: Heidi Kim Andersen
Cinematographer: Anders Nydam
Editor: Christian Einshøj
Sound Designer: Rasmus Winther Jensen
Composer: Povl Kristian
Production Designer: Gustav Potoppidan
Production Manager: Carina Ȧkerlund
Production Coordinator: Henriette Kræmer
Sound Recording: Henrik Skov
Colorist: Lasse Marcussen
Sound Effects Editro & Foley: Kasper Janus Rasmussen
Narrated by: Razi Irawani