Film Review: You Don't Nomi (2019)

Widely mocked and reviled on its 1995 release, Showgirls soon exploded into a Chernobyl-sized catastrophe that remains culturally radioactive even 25 years later. A notorious critical and commercial flop, this uber-trashy sleaze-bomb effectively killed the career of its young star, Elizabeth Berkley, and seriously damaged the reputations of director Paul Verhoeven and screenwriter Joe Eszterhas, whose previous collaboration Basic Instinct (1992) had been a contentious but major hit.
Even so, Showgirls boasted enough glossy visual excess, mannered performances and accidentally hilarious dialogue to earn a cult reputation as a deliriously overcooked camp masterpiece. This gaudy redemption fable about Nomi Malone (Berkley), a hungry young stripper seeking to reinvent herself in sleazy Las Vegas as a superstar dance diva, is full of bitchy lines, copious nudity and lavish musical numbers. It is terrible on many levels, but also a fascinating hot mess, with strong claims on being a misunderstood pulp classic. 
Debut feature director Jeffrey McHale's polished, engaging, cutely titled documentary re-examines Showgirls with critical hindsight, calling on expert witnesses for both the defence and the prosecution. You Don't Nomi puts forward a persuasive argumentthat Verhoeven's lurid musical flop deserves more serious attention, even if it falls short of redeeming the film entirely. Crucially, McHale's generous reassessment is both entertaining and intelligent, and generally a far more enjoyable viewing experience than the film it is discussing. World premiered at Tribeca festival last year, You Don't Nomi launches digitally in the US, UK and other territories this week.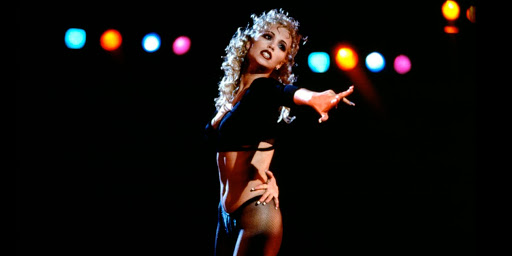 McHale makes smart use of Showgirls clips, playfully blending and cross-cutting them with scenes from Verhoeven's transatlantic filmography to illustrate recurring motifs and obsessions. If nothing else, You Don't Nomi proves that the veteran Dutch controversialist has always been a strong visual stylist. Among the team of commentators assembled here are novelist and screenwriter Barbara Shulgasser-Parker, poet Jeffrey Conway, drag queen Peaches Christ and stage performer April Kidwell, who created and starred in two musicals based on Showgirls. Together they dissect the film's aesthetic merits, queer subtext and hotly contested feminist credentials, sometimes agreeing, often not.
One of the most quotable contributors is columnist David Schmader, who has established a side career hosting "annotated" screenings of Showgirls, and was even invited by MGM to provide audio commentary on the deluxe 2004 DVD edition. Among other insights, Schmader calls Verhoeven's surrealist soft-porn epic "a documentary about its own making and" a type of comedy I don't think you can make on purpose". Another witty presence is Adam Nayman, author of the 2014 Showgirls book It Doesn't Suck, who approvingly brands the film "a masterpiece of shit" and "the least sexy movie ever made."
Back in 1995, Verhoeven proved charmingly good-humoured about his box office bomb, even turning up in person at the annual Golden Raspberry Awards to collect the film's seven Razzies. But his later attempts to reframe Showgirls as a knowingly ironic neo-Expressionist experiment do not align with more po-faced, high-minded statements that the film-makers made on release.
Sadly, McHale did not manage to secure new first-hand interviews with Verhoeven, Eszterhas or Berkley, relying on archive clips to chronicle their shifting assessments of Showgirls over the last 25 years. At least Berkley appears to finally embrace the joke when she introduces a Hollywood screening in 2015, signing off with Nomi's signature scissor-hands dance moves. You Don't Nomi never quite salvages Showgirls from the Chernobyl contamination zone, but it makes a strong case that this notorious cinematic disaster site is at least worth revisiting.
---
Original title: You Don't Nomi
Year: 2019
Runtime: 92′
Country: USA
Language: English
Director: Jeffrey McHale
Cast: Adam Nayman, April Kidwell, Barbara Shulgasser-Parker, David Schmader, Haley Mlotek, Jeffery Conway, Jeffrey Sconce, Matt Baume, Peaches Christ, Susan Wloszczyna
Editing by: Jeffrey McHale
Sound design by: Patrice LeBlanc
Music by: Mark Degli Antoni
Production companies: Different Places, XYZ Films, Grade Five Films

---