Review: The Fall (2019)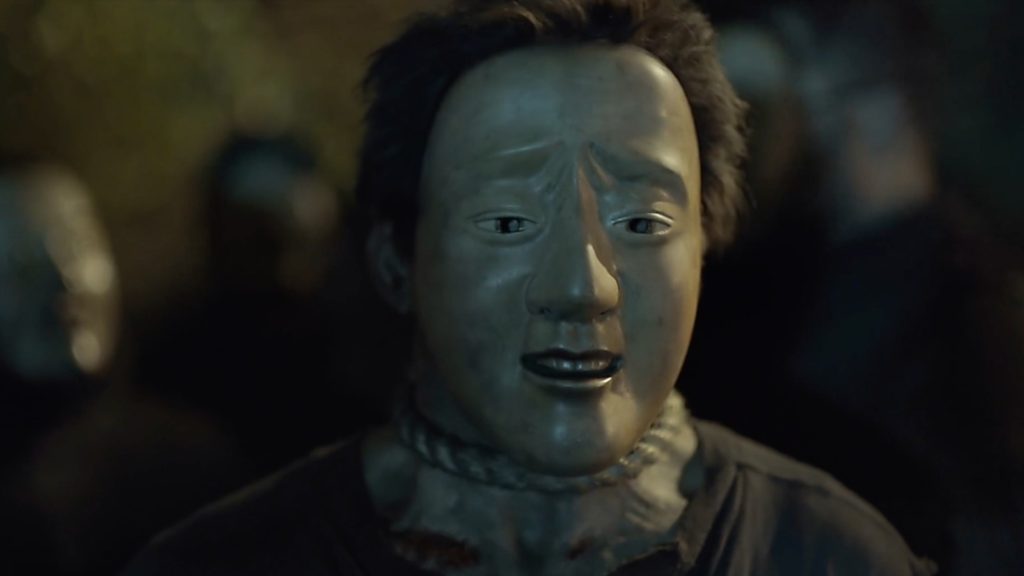 In the two decades since his attention-grabbing feature debut Sexy Beast, British cult director and music video veteran Jonathan Glazer has proved less than prolific. Seven years after his bold, surreal, highly original sci-fi thriller Under The Skin, which starred Scarlett Johansson as a predatory alien serial killer, the 55-year-old auteur has finally broken his long sabbatical with The Fall, a macabre short film which premiered on BBC television in the UK late last year. Shown with no advance fanfare for maximum impact, this spooky, atmospheric micro-thriller earned generally positive reviews. This week it screens as part of the Nightmares section of the Vienna Shorts festival.

Glazer's chilling, cryptic, stylised parable begins with a tree shaking in a forest. At the base of the trunk is a sinister mob wearing grotesque face masks. High in the branches is the fugitive they are hunting, his face concealed behind a similar mask. He falls to earth and the mob seize him, pose for a triumphant trophy photo, then subject their captive to brutal vigilante punishment involving a rope, a noose and a vertiginous plunge into a bottomless underground shaft. There is no dialogue, no explanation, just ritual violence and a heart-stopping final plot twist. The Fall lasts less than seven minutes but it packs a lot into its slender running time, including echoes of American slave lynchings and European wartime massacres, Greek tragedy and folk horror.
As with all of Glazer's films, The Fall combines high technical polish with strong aesthetic choices. Many of the team from Under The Skin are reunited here including visual effects supervisor Tom Debenham, this time taking on cinematography duties, and composer Mica Levi, whose spare, percussive, jittery audio work feels more like experimental sound design than conventional score. There are masterly marriages of sound and image here, including a long slow zoom around a wooden gallows structure as it hisses and smokes from the friction caused by a rapidly unwinding rope. A hypnotically beautiful image, semi abstract yet charged with ominous tension.

In his minimal publicity for The Fall, Glazer has proved reluctant to provide any clear explanatory context for the fable-like plot, but he has offered a few opaque clues. One inspirational source for the film was a notorious photo of Eric and Donald Trump Jr. posing alongside the body of a leopard they killed on a hunting trip to Zimbabwe in 2012. Another was Bertolt Brecht's 1939 poem Motto, written in exile as World War II loomed: "In the dark times / Will there also be singing? Yes, there will also be singing / About the dark times."
Glazer also cites Goya's 1799 etching The Sleep of Reason Produces Monsters as inspiration. Intended as a barbed satirical comment on the corruption of late 18th century Spanish society, the picture depicts the dreaming artist assailed by nightmarish nocturnal creatures. All these examples suggest The Fall is full of social and political resonance, serving most obviously as a timeless warning against the current rising wave of neo-fascist mob rule. In style, theme and mood, there may be some connection here to Glazer's next feature project, a drama set in the Auschwitz concentration camp.
The Fall is gripping, haunting and visually striking. But it ultimately feels like a sketch, a snapshot, a teasing taster of a deeper and longer film.
---
Original title: The Fall
Year: 2019
Runtime: 7 minutes
Country: UK
Languages: no dialogue
Directed by: Jonathan Glazer
Written by: Jonathan Glazer
Cast: James Adams, Stuart Anderson, McKinley Rex, Susanne Brown, Lee Byford
Cinematography by: Tom Debenham
Editing by: Paul Watts
Music by: Mica Levi
Production companies: BBC Films, Academy
---