Men and Society
Chapter 3 of the Fido Fiction & Documentary International Competition
Men destroy what they create. As we have built our society over millennia, we tend to tear them down when they are no longer serve our interests. With their program Men and Society, which is part of the Fido Fiction & Documentary – International Competition, the 17th edition of the Vienna Shorts Festival offers its audiences a wonderfully curated gem.
Doris Bauer and Marija Milovanovic have picked six shorts out of over 3,000 submissions, the unifying factor being the critical look at political developments, human rights violations, or protests against discrimination. Sometimes, the broader theme is destruction of society, as people storm the streets. At other times, it is broken down into little nudges, like a holy tree being felled or millennia-old rocks being broken apart to form monuments to temporary or long-dead icons.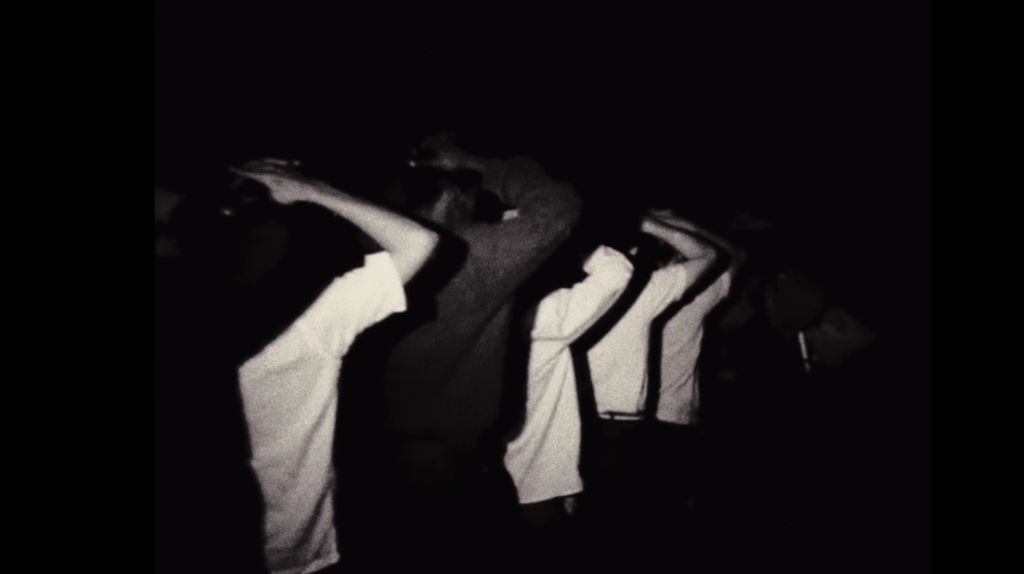 This constant shift, this dramatic turn of events is what Henrique Amud and Lucas H. Rossi dos Santos show in their Brazilian short Stunned, I Remain Alert. Now immobile due to his ongoing Parkinson's disease, journalist Dermi Azevedo recounts the days of the fascist military dictatorship (1964-1985) in his country and his own active participation in the resistance. Society is lacking awareness of fascist regimes, he contemplates in his tale, which is richly illustrated with old footage. Mass protests, militia engaging in street fights and weapons being shot in the air: as the framing of these images fades tellingly away at the corners, the heat and the red tint suggesting the ultimate sacrifice.
Three steps, Azevedo explains, made Brazil slide into political dystopia. Branding the work of NGOs suspicious, the judicialization of social conflicts, and the killings as 'an example'. At this point, the short turns into a threatening loop, drawing parallels between the dark past and the newly threatening status quo. When it considers Brazil's current military regime-friendly president, Jair Bolsonaro, the movie softly starts sounding alarm bells. With the increasing violent footage and snippets of Azevedo's own tragic family story, including his son's suicide, they become shriller by the second.
The ominous possibility of Brazil turning down a dark path is also at the center of Luisa Mello's Water and Salt. Choosing an unusually quiet route, the film takes the viewer on a trip to the depth to the ocean and back. The mounting tensions within Brazilian politics is equated with the underwater turmoil of a volcano about to erupt, as the people still float calmly at the quiet surface. The smooth soft waves, whooshing over the screen in a velvety neon-blue dance, at first bring peace to a young woman in a floating pool. She tries to relax, becoming one with the water. But there is no long-lasting peace when the rumbling under the sea starts, the noises of news broadcasters, demonstrating women and Bolsonaro all merging into a frightening tune. "I'm fine, I'm fine", she insists, but how can she be?
Screenshot from Luisa Mello's "Water and Salt"

Screenshot from Sonja Feldmeier's "The Peepul Tree"
Breakdowns do not happen only on a big scale. It is the daily tiny actions men take, often hidden at first glance to the naked eye, that sometimes do the greatest damage. Sonja Feldmeier, in her Swiss short The Peepul Tree, portrays a sacred tree being cut down in the tiny northeastern Indian town of Haridwar. At first, it seems like any day to day job. A group of men of various age, their clothes ranging from torn rags to fine shoes and shirts, saw off branches and pieces of tree trunk, square meter by square meter. The main crowd around them appear unimpressed. A small rope keeps traffic away from the danger zone. Occasionally, bystanders jump in to help as the workers pull at their complex ropework to bring down the tree.
But this is not simply a bustling portrait of a simple life in a poor district of a poor Indian city. The peepul tree, as we learn, is sacred to the Hindus. It is being torn down to make space for a Hindu festival. A contradiction and a chipping away at old societal anchors. At the foot of the tree, a little altar is slowly disassembled, the gods being packed away in brown paper bags. Rationality and convenience prevails, as it is not Hindus taking care of this job but a group of Muslim men. Religious blasphemy averted.

As sacred trees are being destroyed, in a small town in China new gods are being created. Wan Yuyan's French Short All Movements Should Kill The Wind shows stone masons in a quarry 200 kilometers from Bejing breaking apart rocks to form statutes, vases, and other art for a society they are not part of. As their monuments to politicians and ideological icons take shape, their faces and clothing are buried under the white dust, the physical labor transforming their appearance. The monuments are, despite the loving details and perfection, nothing. Empty shells for entertainment. The film's medium shots with their static glimpse at the workers convey more than these statutes ever could.
Much like these Chinese quarry workers, the Palestinian refugees in Mahdi Fleifel's 3 Logical Exits are equally forgotten outsiders. Here, the director picks up the threads of his previous film A Man Returned, which won the Vienna Short Film Award in 2016. Reuniting with his protagonist Reda, he once again visits the Lebanese refugee camp Ain el-Helweh. While Yuyan's workers are physically distant, the Palestinian refugees are in the midst of the heat. Not being able to leave the camp and subject to the budding conflict and violence, Reda has three choices, three logical exits, as Feifel's contact Marie Koren explains.
Either he starts dealing drugs, joins a militant faction, or emigrates. There is no justice for the refugees here. When Fleifel suggests that Reda should report false accusations against him to the police, Marie can only laugh. There is no justice here, she frowns, and also no logic to the situation. Reda's evolution is proof of that. Fleifel carefully puts together a montage of footage of the past 10 years of filming Reda, intercut with his present-day self. As the color is drained from him, portraying him in black-and-white in the earliest footage, so is his spirit. The chance of a new life abroad, the hopeful aspirations, are crushed by the injustices of the Lebanese government that does not want the Palestinians there. A broken pillar of society and human justice.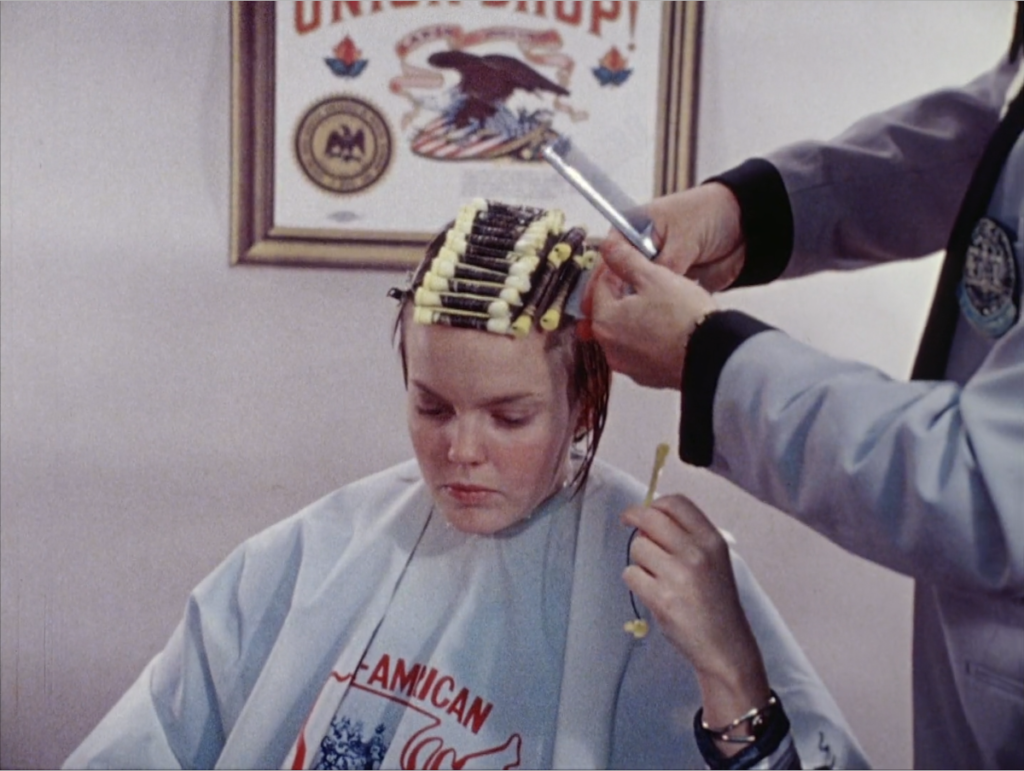 Another way of breaking down a culture is by appropriating it, as Akousa Adoma Owusu demonstrates with her U.S. short White Afro. In a remixed vintage instructional video for curling afros, she shows how white people have condemned black identity, while at the same time appropriating black people's culture, in this case their hair. White afro, the movie calls it tellingly, is a closer look at what white people would have called a perm back in the day. Owusu uses the negative of the footage, giving its white-skinned and blonde-haired girl in the instruction video an eerie look. Ironically, this makes her skin look the color of those whose look she is trying to imitate.
But it feels wrong, as wrong as the act itself and the narrator happily chatting away about how to create the hairstyle for these young women. "Black is nothing, white is beautiful," a voice chimes in at the beginning, laying bare the essential supremacist message from one part of society to another. Owusu also employs the personal account of her mother, who worked as a stylist in a predominantly white salon. Having come to America to learn how to dress hair, her skills were misused by the appropriation of a society who does not see these practices as a cultural anchor point but as a fashion statement.
"I have no grudges, I have memory", Dermi Azevedo recounts at one point. Ultimately, each person in these six shorts is part of a greater whole. Some linger in enforced powerlessness, others try to fight the good fight. But society is subject to the men that have built it. And these come, as Azevedo points out, with the most diverse motivations.
---
Credits:
Water and Salt
Country: Belgium/ Brazil
Language: Portuguese
Year: 2019
Runtime: 10′ 35"
Directed by: Luisa Mello
Cinematographer: Hanna Hovitie
Sound Recording: Nico Centrone
Editing: Luisa Mello
Sound design & mix: António Porém Pires
Colour grading: Monica Bustamante
Supervisors: Rob Rombout, Michel Coquette
The Peepul Tree
Directed by: Sonja Feldmeier
Country: Switzerland
A freihändler production
no dialog
Year: 2020
Runtime: 25′ 13"
Camera: Sonja Feldmeier
Editing: Sonja Feldmeier, Thomas Isler
Music & Sound Design: VOYA, Sonja Feldmeier
Rerecording sound mix: VOYA
Colour grading: Hannes Rüttimann
White Afro
Country: USA
Year: 2019
Language: English, Akan
Runtime: 6′ 4"
Directed by: Akosua Adoma Owusu
Starring: Nana Saa Adwubi Kete
Voice over: Dick Plume & Bill Cosby
Sound desing/ Sound mix: kari Rae Seekins
Music by: Manhyia Tete Nnwomkoro
Edited by: King Z
All Movements Should Kill The Wind
Directed by: Wang Yuyan
Editing: Clara Chapus
Colour correction: Baptiste Evrard
Sound editing: Nicolas Verhaeghe
Foley artist: Éléonore Mallo
Sound mix: Jérémy Morelle
Sound recorder: Médéric Corroyer
Le Fresnoy – studio national des arts contemporains Production
Production director: Luc-jérome Bailleul
3 Logical Exits
Countries: Denmark/ United Kingdom/ Lebanon
Language: Arabic
Year: 2020
Runtime: 15′
Director/ Producer: Mahdi Fleifel
Producer: Vibeke Vogel
Executive Producer: Patrick Campbell
Cinematographers: Mahdi Fleifel & Talal Khoury
Editor: Michael Aaglund
Sound design: Dario Swade
Colourist: Anders V. Christensen
Composer: Stefan Smith
Music: 'Barcarolle' by Jacques Offenbach, 'Stabat Mater' by Giovanni battista Pergolesi
Cast: Reda Al-Saleh, Marie Kortam, Mahdi Fleifel
Nakba Filmworks Production
Festival Distributiuon: Wouter Jansen, Square Eyes Film
Stunned, I Remain Alert
Original title: Atordoado, Eu Permaneço Atento
Country: Brazil
Year: 2020
Language: Portuguese
Runtime: 15′
Director of Photography: Felipe Mondoni
Sound: Henrique Amud
Editor: Lucas H. Rossi dos Santtos
Sound editor: Tiago Picado
Sound mix: Alexandre Jardim-CTAV
Colour correction: Brunno Schiavon

Cast: Dermi Azevedo