Review: Tide (2019)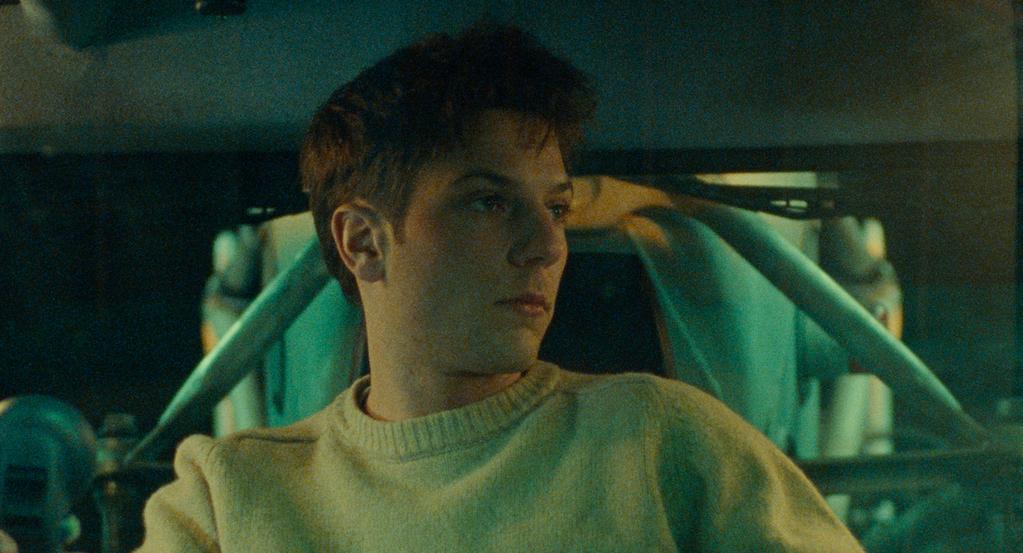 Sometimes the destination remains unknown, but the journey is all that matters, as it is the case with Manon Coubia's exquisite short Tide. It premiered at last years' edition of Locarno and it was shown at this year's (online) edition of Vienna Shorts in competition. The slot it was programmed to, titled From Sea to Snow, is quite fitting for the blizzard-coloured film.
The location is a snowy mountain with the ski resort on it. The time is just before the beginning of the skiing season. The milieu is the depot where the people operating the snow-plowing machines celebrate their first night of work for the season. Even before the opening of the season, the atmosphere is unpleasant: the fog is thick and the wind is blowing. Unlike his colleagues, the young man named Antoine (Yoann Zimmer) is not exactly in a celebratory mood. He senses something.
Once he gets out in the snow, with the powerful machine roaring into the night, the trouble catches him. The plower gets stuck in the snow and the driver has to step out and look for help. He gets lucky enough that his female co-worker (Zahra Amir Ebrahimi) passes nearby on her route and that she is more than willing to help him any way she could, and the romantic sparks between them soon develop into flame. But is it only a dream of a dying man?

At first, the feeling is quite documentaristic: Zimmer playing Antoine is the only actor in the pool of extras, actual locals of the mountain village and actual plower operators. Manon Coubia than shifts the gear into the direction of a naturalistic fiction cinema with a sole character, the mighty machine and the even mightier nature around them, only to drive the whole story into the area that feels almost surreal, like a lucid dream with its own logic.
The actors are doing a great work here, channelling the complex emotions that drive their characters to action or the lack of it, but the real hero here is Coubia, who, as a director, dictates the mood and executes the transitions between the different types of filmmaking. For her effort, she was awarded as the best female director at VIS.
The story might be quite basic, but Coubia utilizes the deliberately slow pace to showcase her talent and talent. The meditative editing by the filmmaker herself and Théophile Gay-Mazas suits the purpose quite well, even though the film steps out of the magic 30-minutes boundaries, while the string drone score by Igor Troppée fights with the noises from the engines and the wind in an impressive sound scheme designed by Aline Huber. Tide is an example of a skilful and intelligent filmmaking.
---
Original title: Marée
Year: 2019
Runtime: 31′ 25"
Country: France
Language: French
Directed by: Manon Coubia
Written by: Manon Coubia
Cast: Yoann Zimmer, Zahra Amir Ebrahimi
Cinematography by: Robin Fresson
Editing by: Manon Coubia, Théophile Gay-Mazas
Music by: Igor Troppée
Sound design by: Aline Huber
Production design by: Léo Lagarde
Costume design by: Violaine de Cazenove
Colourist: Micheal Cinquin
Assistant director: Romain Gasner
Produced by: Emmanuelle Latourrette, Jean-Pierre Gousseau, Nicolás Rincón Gille
Production companies: Chartage Films, El Films, VOA