Review: Flesh (2019)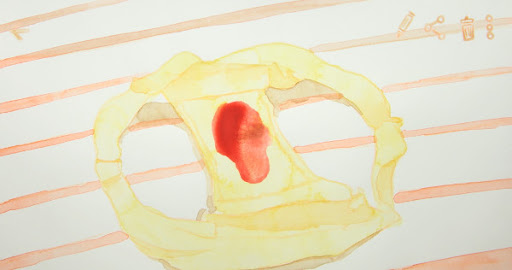 Since its premiere at Locarno last year, Camila Kater's short animated documentary Flesh has had a healthy run on the film festival circuit, making stops at Toronto, IDFA, Valladolid and Annecy, among others. We finally got the chance to see it at the 2nd edition of IceDocs, where it was selected for the shorts competition.
The topic of it is the female body and the attitudes towards it from the perspective of the five women of different age, body types, race and gender preferences. The structure is exceptionally clever: the film is divided in five chapters titled after the five stages of meat cooking ("rare", "medium rare" and so forth) with a different protagonist / narrator and a different animation style to each of them.

The first one, covering a young girl's dealing with being over-weight and the lack of the acceptance by her nutritionist mother, uses the dinner table and a plate on it as a screen. The next uses water colours to explore the topic of the first menstruation, body development and peer pressure. The third is a series of animated glitches that has a black transgender woman in its centre, touching the topics of hyper-sexualization and the intolerance in the society. It is followed by the topics of the climax and the menopause from the perspective of a lesbian woman realized through the clay animation of a female body (with an accent on the torso). Finally, we have a recapitulation of ageing from the angle of a 79-year-old actress, with a silver screen projection serving as a background for the animation.
Flesh is an honest, deep, perfectly styled exploration of the body, the mind and the emotion regarding different processes, insecurities and socially conditioned attitudes. Along with the clever structure, the beautiful and appropriate animation, the sense of the narration economy is the film's high point. For the brisk runtime of just over 12 minutes, it achieves a lot.
---
Original title: Carne
Year: 2019
Runtime: 12' 12''
Countries: Brazil, Spain
Language: Portuguese
Directed by: Camila Kater
Written by: Ana Julia Carvalheiro, Camila Kater
Animated by: Camila Kater, Giovana Affonso, Flavia Godoy, Cassandra Reis, Leila Monsegur
Voiced by: Helena Ignez, Rachel Patricio, Larissa Rahal, Valquiria Rosa, Raquel Virginia
Editing by: Samuel Ariani
Music by: Sofia Oriana Infante, Julia Teles
Production design by: Chelo Loureiro, Livia Perez
Art direction by: Camila Kater
Sound by: Luis Felipe Labaki, Julia Teles
Colourist: Alfonso Merino
Produced by: Chelo Loureiro, Livia Perez
Production companies: Doctela, Abano
Supported by: Spcine, Prefeitura de Sao Paulo Cultura, AGADIC, ICAA
Distribution by: Freak