Review: Furtivo (2020)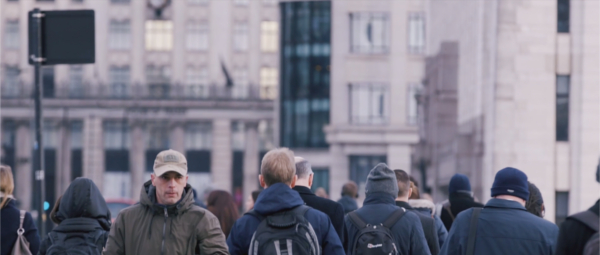 Coming back from a war is never easy. For the sake of his ideals, Arges Artiaga had left his seemingly normal life in Galicia to join the cause of the Kurdish people fighting the Islamic State in Syria. After three years of combat, he is back to Europe, with a stop in the UK to attend the funeral of one of his brothers in arms who had lost his life on their last day in the war. The short documentary Furtivo, directed Pedro García Campos and Pol González Novell, is the story about Arges and his struggle to rebuild a new life.
The film premiered internationally at the recently held 2nd edtion of the IceDocs in the shorts competition, while its domestic premiere is scheduled for August at the Malaga Film Festival. For both directors with backgrounds in different fields of work in the film business, this is a directorial debut which could serve as an announcement of big things to come.

Furtivo is a solid work of cinema that blends the influences of a portrait documentary, with its protagonist serving also as the principal narrator, observational approach in avoiding the "talking heads" interviews and the socially charged theme. Smoothly edited by the filmmaking duo, Furtivo jumps back and forth the present and the past, the restless peace and the structured nature of combat, combining the newly shot Cinemascope footage with the Go Pro shots from the war zone, and therefore mimicking the protagonist's state of mind. The special treat of the film is the music by Marcel Bagés which dictates the emotion and adds to the mysterious tone in the beginning of the film, only to step back later on, to shift the focus directly on Arges.
---
Runtime: 24' 46''
Country: Spain
Languages: Spanish, English
Directed by: Pedro García Campos, Pol González Novell
Written by: Pedro García Campos, Pol González Novell
Cinematography by: Pol González Novell
Editing by: Pedro García Campos, Pol González Novell
Music by: Marcel Bagés
Sound by: Angel Sound Studio
Produced by: Pedro García Campos, Pol González Novell
Production company: White Horse
Distribution by: Freak