Review: Dummy (2020)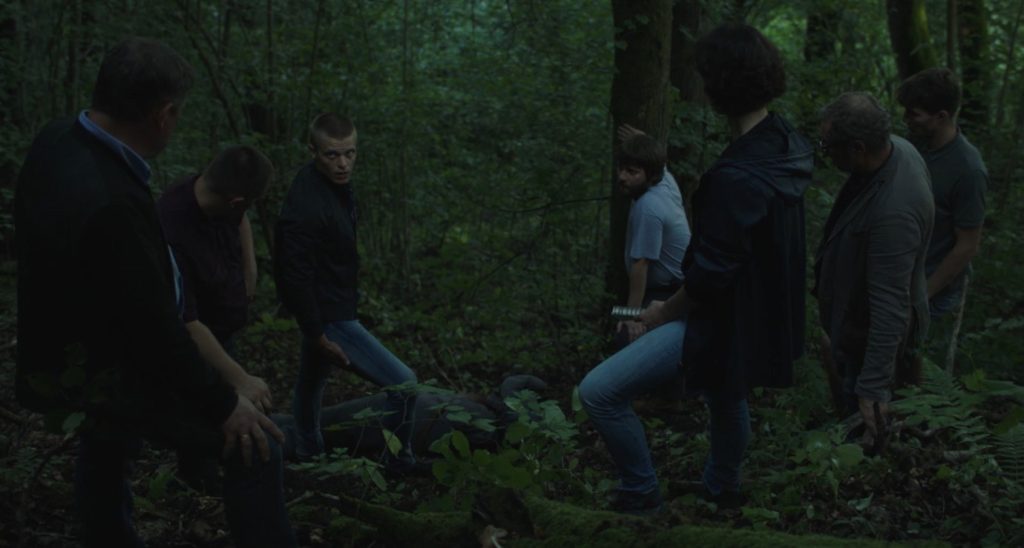 A team of Lithuanian crime investigators follows a man charged of manslaughter (Paulius Markevicius) to the crime scene to reenact the murder by using a faceless doll. As soon as they disembark the van and enter the wood, the air electrifies with awkwardness.
Criminal's ice cold, detailed account of awful, torturous way the victim met their end doesn't particularly distress anyone except the female police officer Migle (Indre Patkauskaite). Placid and even slightly bored, the rest of investigators are halfheartedly listening to the murderer's description of crime, even when his demonstration on the dummy becomes sickening. The victim is referred to in neutral genderless language, and it isn't really clear if it was a man or a woman, although judging by the look of the dummy, it was most probably the former.
Laurynas Bareisa shows to which extent the human ability to show empathy, or to be generally shocked by atrocities has weakened. We have been perpetually showered by slaughter, be it in form of news or fiction for such a long time that hearing about/ or seeing another crime became our normality. Migle stands for that little grain of humanity left in us. She is a warning, and a call for emotional engagement against violence.
Dummy screened in the thematic slot 'Logical Exits' of the European Shorts section of the 26th Sarajevo Film Festival, .
---
Original Title: Atkūrimas
Country: Lithuania
Language: Lithuanian
Year: 2020
Runtime: 13′
Written/ Directed by: Laurynas Bareisa
Producer: Klementina Remeikaite
Production design: Sigita Šimkunaite
Cinematographer: Laurynas Bareisa
Sound recording: Kipras Dominas
Sound design: Julius Grigelionis
Costume design: Fausta Naujale
Music: Julius Grigelionis
Editor: Laurynas Bareisa
Makeup artist: Eginta Radziunaite
Cast: Paulius Markevičius, Indrė Patkauskaitė, Kęstutis Jakštas, Dmitrij Denisiuk, Giedrius Kiela, Artūras Lepiochinas, Karolis Maiskis