Review: Summer Fasting (2020)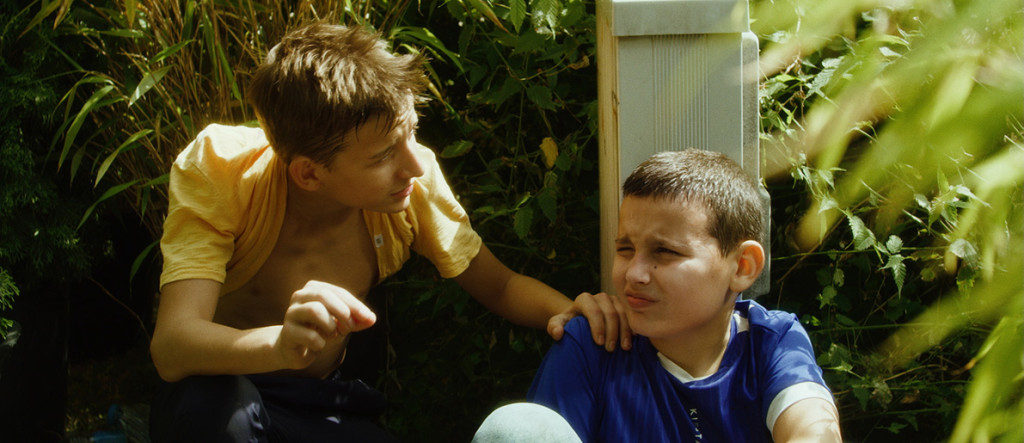 The trickiest thing about any sort of fasting is how to fill a day with activities while not thinking about the food. It is hard even for an adult person, let alone for the kid, especially if the whole fasting thing happens during the summer break, as Ramadan usually does. Summer Fasting is a breezy, refreshing summer comedy just about that.
It is the second short film directed by Abdenoure Ziane, after last year's slightly politically-themed comedy Manifesto. Summer Fasting premiered earlier this year at Clermont-Ferrand and we got the chance to see it as a part of Motovun Film Festival's roadshow happening instead of the festival in its physical form.
Kader (Ouamar) and Rudy (Timi-Joy Marbot) are two endearing young rascals and best friends who spend a lot of time together in an unnamed Parisian banlieu. Kader is a Muslim and he is determined to endure the whole month of Ramadan fasting for the first time in his life, and Rudy wants to express solidarity with his friend by doing the same thing for the reasons of friendship only.
Apart from the heat and the fact that there is not much to do in the summer in the city, once when the boys use up all the horseplay tricks they have up in their sleeves, the trouble is that neither of them is prepared for the physical and psychological components of not taking any food or water for the whole day. Neither of Kader's parents (Nadira Ayadi, Younes Bouab) forces him to take part in a religious ritual, but he is quite determined and stoic about his future as a good Muslim. Rudy, on the other hand, is motormouth with a taste for looking for trouble that cannot stand still even for a second. Would the whole fasting thing set them at odds with the world around them or, more likely, drive a rift in their friendship?
Joyful and light-hearted, Summer Fasting is a perfect summer short film. The tempo is vivid, but it never feels forced, while Ziane takes an occasional breather to let the audience reflect about the things in the front (the friendship expressed through solidarity and fooling around together) and in the background (how it feels to be coming from the working class, or Muslim background, or both, in contemporary France). The camerawork by Alexandra de Saint Blanquat, usually hand-held and melting in the colours of the hot summer, suits the film perfectly, while Julie Roué's music in the fashion of Enio Morricone's work for Sergio Leone's spaghetti westerns hits the right notes, those of irony and tension, perfectly. Summer Fasting is proper little gem.
---
Original title: Jeûne d'été
Year: 2020
Runtime: 18'
Country: France
Language: French
Directed by: Abdenoure Ziane
Written by: Abdenoure Ziane
Cast: Sabri Ouamar, Timi-Joy Marbot, Nadira Ayadi, Younes Bouab, Nina Morato
Cinematography by: Alexandra de Saint Blanquat
Editing by: Julie Lena
Music by: Julie Roué
Sound by: Colin Favre-Bulle
Production design by: Agathe Cabanne
Costume design by: Marine Galliano
Make-up by: Fabiola Bounegnavath, Sophie Lejeune
Colourist: Fanny Mazoyer
Assistant director: Pierre Lagardere
Produced by: Archibald Martin
Production company: Melocoton Films