Review: Soon It Will Be Dark (2020)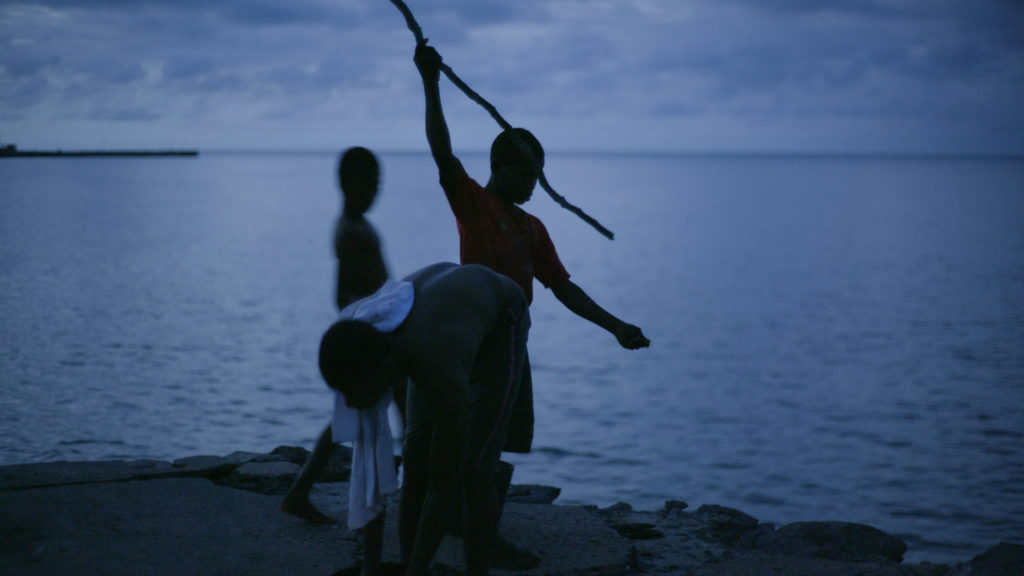 Soon It Will Be Dark is another example of a lyrical examination of people's interaction with the environment. Shot in São Tomé and Príncipe, a small island country off the coast of Central Africa, this Berlin-based production is clearly focused on the anthropological observations of life and work, but without the post-colonial sensationalism and overt exoticism. The film premiered at the new Flash competition of FID Marseille.
At first, we just see the wild, seemingly untouched tropical shore, where the sandy beach meets the thick forest, with the sound scheme of the confronting noises of the wind blowing and the waves breaking. We move on through the forest, the birds are chirping, someone tries to imitate the sound, only to be covered with the sound of machetes hitting the leaves and the branches. The first building we see also seems abandoned, creating an illusion that we are in a somewhat deserted place.
We could not be more wrong: the place is lively and the life goes on: the grown-ups are working, the children are fishing and then watching the TV that is placed outside, together. An evening brings a sort of gathering on the streets of a village, while the night contrasts it with some peace and quiet interrupted only by the nature's own sounds…
The film profits from its clear clear structure that draws the full circle, time-, place-, and content-wise. Time frame is a whole day (maybe a couple of hours more), from one morning till the next, the audio-visual material moves from the untouched nature to the community of people and backwards, ending with a long shot of a gigantic tortoise in the shade at the end of the beach, just about where the film started.
Envisioned and directed by Isabell Heimerdinger, who also recorded the sound in which the dialogue is left behind the ambiental sounds on purpose, Soon It Will Be Dark profits from the work of Ivan Marković, both in the camera- and the editing department, his careful framing and lensing that note the change of the natural light, and the meditative pace offering a lot of time for reflecting. Since there is no comment or the "meaning" to be read into blatantly, Jonathan Ritzel's sound design could serve as the only tool to work in that direction. Soon It Will Be Dark is a well-rounded piece of simple, observational filmmaking that effortlessly leaves an impression.
---
Original title: Em breve sera escuro
Year: 2020
Runtime: 22' 55''
Country: Germany
Language: No audible dialogue
Directed by: Isabell Heimerdinger
Cinematography by: Ivan Marković
Edited by: Ivan Marković
Sound recording by: Isabell Heimerdinger
Sound design by: Jonathan Ritzel
Colourist: Ivan Marković
Produced by: Isabell Heimerdinger
Supported by: Medienboard Berlin-Brandenburg