Review: Summer Fruits (2019)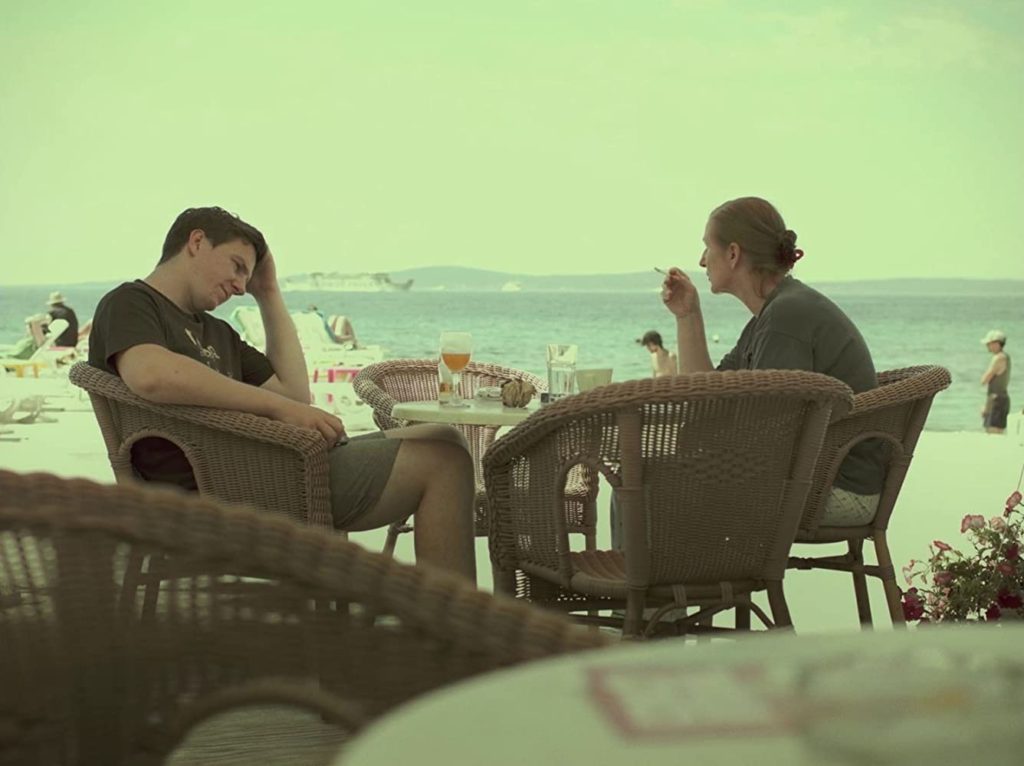 Films by the young and talented Croatian filmmaker Josip Lukić are of the kind that can easily be recognized by just one, usually masterfully composed shot lensed by his regular DoP Marinko Marinkić. Lukić's thematic consistency, the autobiographical moments and the obsession with the toxic family dynamics, might earn him a label of a "one-trick-pony", but it would be completely wrong, since he always finds the way to tell a piece of his complicated life story in a different and unique way. That is also the case with his newest short fiction work Summer Fruits.
The film premiered at the last year's edition of 'Days of the Croatian Cinema', before scooping a Special Mention at Zagreb Film Festival's national shorts selection 'Checkers'. It is premiering internationally in the shorts competition of the Sarajevo Film Festival online edition.
Summer Fruits follows its protagonist and a clear stand-in for the filmmaker, Šimun (Paško Vukasović), over the course of a single summer day in Split. We meet him early in the morning in his complicated and exhausting exercise routine in which he does the push-ups with one hand, while shuffling the toilet paper rolls with the other. From then on, he takes his mother (Snježana Sinovčić) out of the hospital to the beach, spends time with his sister Marina (Lana Barić) and waits for his student girlfriend Ines (Tihana Lazović) to arrive from Zagreb. Šimun is not tense only in his quiet moments in which he is about his own business, while all the interactions with the women close to him are marked by neuroticism and different forms of aggression, varying from passive to verbal and even physical.
Every Lukić's film is an attempt to deal with his personal issues, and in Summer Fruits he examines the mechanisms of toxicity and aggression within the family. He tackled this topic in his documentary works like Momsy (2018) and The Rex Will Sail In (2019), and a careful viewer can recognize the clues, both dramaturgical and stylistic, from mentioned films. The iconic terrace from Momsy is also employed here, and Marina's presence – just like in Rex, brings the frenzy in.
However autobiographical in its core, Summer Fruits is, after all, a fiction film in which Lukić demonstrates that he can also work with actors. In that department he found support in some of the best Croatian actors like Lana Barić and Tihana Lazović, and the raw intensity of Paško Vukasović's sheer presence is something to admire in a young actor. On the technical level, Summer Fruits is also quite an accomplished film, thanks to Marinkić's cinematography that is still attractive, despite the boxy 4:3 aspect ratio that highlights the protagonist's anxiety and the editing handled by Jan Klemsche making sure that Summer Fruits is a rhythmical, tense and intense viewing experience.
---
Original title: Južno voće
Year: 2019
Runtime: 19' 53''
Country: Croatia
Language: Croatian
Directed by: Josip Lukić
Written by: Josip Lukić
Cast: Paško Vukasović, Snježana Sinovčić, Lana Barić, Tihana Lazović
Cinematography by: Marinko Marinkić
Editing by: Jan Klemsche
Sound design by: Luka Gamulin
Sound by: Nadja-Matija Fatović
Production design by: Josip Lukić, Martina Marasović
Costume design by: Nikolina Boban, Paula Cule
Make-up by: Julija Koludrović
Colourist: Marinko Marinkić
Assistant director: Martina Marasović
Produced by: Marin Leo Janković
Production company: Academy of the Dramatic Arts Zagreb (ADU)
Supported by: Croatian Audiovisual Centre (HAVC)