Review: The Last Image of Father (2019)
Dokufest: International Shorts Selects Series 1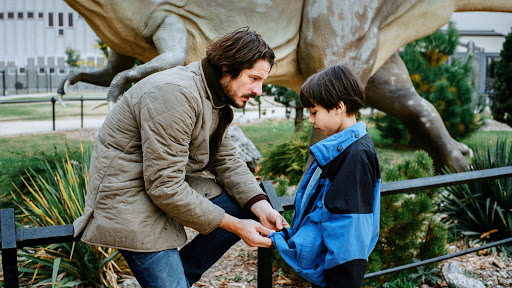 The worst nightmare of every loving parent is losing their child. Our offspring comes first – it's about mending their wounds, taking their fears away and making them happy. But what happens when the destiny chooses to take our lives away before children grow up?
Stefan Đorđević is on the track of that question in his latest short drama The Last Image of Father, completely seen from the perspective of a terminally ill single father Dušan (Igor Bencina) who is feverishly trying to provide his son Laza (Marko Matić) with a loving home before he dies.
His anguish to hide the pain and worries from the nine-year-old boy is met with many obstacles on the way from Paraćin to Belgrade, where his estranged sister Marija (Marina Redzepovic) lives. Laza is unaware of the nature of the family trip, and with cancer progressing, and pains becoming intolerable, Dušan does his best to take few moments off to catch a breath, hidden away from boy's eyes.
The Last Image of Father doesn't present us with a happy end. It's a hard-boiled story, difficult in its nature, and slightly alienated from the audience through the directorial decision to make Dušan monosyllabic, even if wet-eyed and worryingly-looking. The bond between father and son is depicted half-heartedly until the film's second half when the roles start reversing. It is just a small glitch that doesn't harm the emotional structure of the film.
The film gets stuck in every fiber of the body, raising important questions about our mortality and the legacy we leave to our children.
Last year, The Last Image of Father won Young Jury award for the best international short film in Locarno, and the Heart of Sarajevo award for the best international short film. It is currently screened at Dokufest in International Shorts competition.
---
Original Title: Poslednja slika o ocu
Country: Serbia
Language: Serbian
Runtime: 21′
Written/ Directed by: Stefan Đorđević
Produced by: Andrijana Stojković, Marija Lero
Cinematographer: Damjan Radovanović
Production design: Dragana Bacovic
Sound Design: Dane Vlaisavljević
Editor: Dragan Von Petrović
Set Design: Dragana Baćović
Costumes: Biljana Grgur
Makeup: Milica Stanković
Cast: Igor Benčina, Marko Matić, Marina Redžepović, Silvija Stojanovska, Martin Knaap
Production: All Inclusive Films
Co-production: Emote Films