Review: Big vs. Small (2020)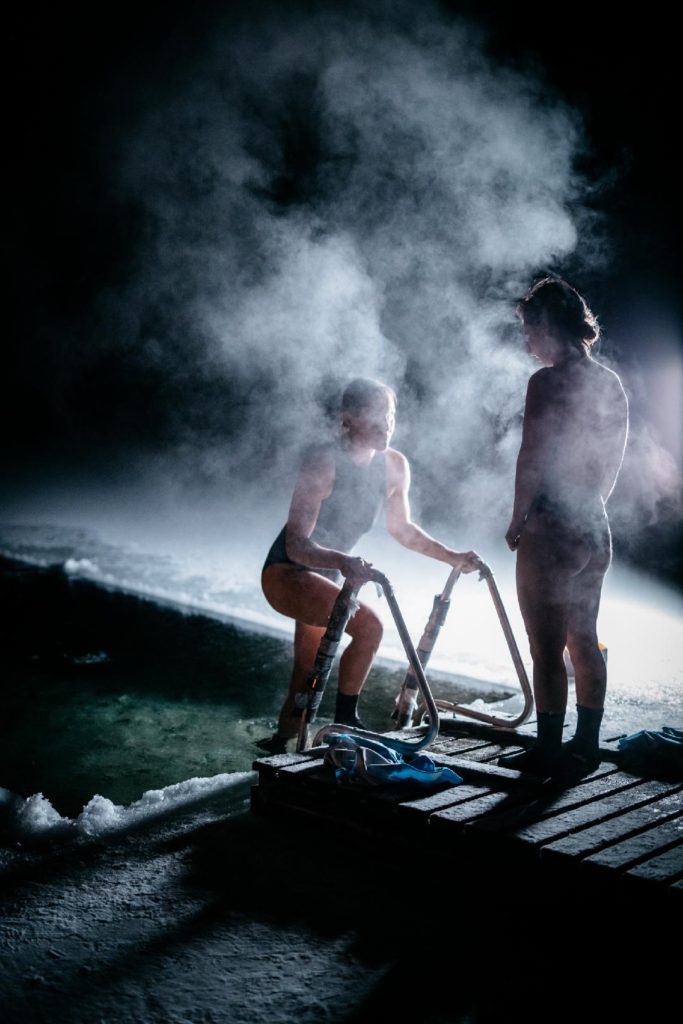 Some things are in common for sports-themed documentaries. They are inspiring and usually delightful to look at. The more extreme the sport is, the footage gets more attractive. And when it comes to cinematic magic, water sports like surfing and diving are hard to top. On the surface level, Minna Dufton's Big vs. Small is just about that, the extreme water sports, moving the boundaries and setting the records, but there is a whole another layer to it, thanks to Dufton's extraordinary protagonists.
Big vs. Small had its world premiere at Helsinki International Film Festival. Some additional festival exposure is possible, but not guaranteed. However, it should fare reasonably well on television and streaming platforms, which is not surprising given the television background of the majority of its crew.
The number one protagonist of the film is Joana Andrade, one of the rare women that compete in big wave surfing. We meet her "at work", in the fishing village of Nazarené known for the biggest waves in the world, and slowly get to learn more things about her from the interviews with her, her mother, friends and colleagues. She has always been a bit of a daredevil and she was always attracted to water, which also came as rescue after she had suffered abuse. Her only fears are the fear of being paralyzed and the fear of drowning.
As we learn from one of the quotes printed in the form of textual cards Dufton uses abundantly, the feeling of being covered by a gigantic wave is similar to free diving under ice, which leads to our second protagonist, the record-setting free diver Johanna Nordblad. Joana visits Johanna in Finland to learn the art of free diving, to test her own boundaries and to overcome her fears. They are quite different in their appearances, mindsets and even the approaches to the sports they are practising, but both of them will learn a lot form one another and forge a strong friendship. On a more philosophical level, Big vs. Small is also about female empowerment, big things some people do even if they are tight-framed like Andrade is and also about the fact that the nature is bigger than all of us.
Big vs. Small is absolutely gorgeous to look at, thanks to the cinematography handled by Sakke Kantosalo that captures the ambient in all of its beauty and danger, whether it is the Atlantic coast of Portugal or a frozen lake in Finland. Kantosalo's footage is complimented with that of Tim Bonython, a specialist in surf cinematography, that shows the sport itself in all of its extremity. Carefully edited by Maarit Nissilä, the more exciting passages of the film are alternated with calmer ones in a rhythmical fashion. The only critical misstep Dufton takes is letting the original score by the group Riversound Music take over and be constantly present and tuned up in order to dictate the viewers' emotions.
Other than that, Big vs. Small serves its purpose perfectly. As a documentary about sports, it is breathtaking to look at, while its humane side is inspiring in a completely different way.
---
Runtime: 76'
Countries: Finland, Portugal
Languages: Portuguese, English, Finnish
Directed by: Minna Dufton
Written by: Minna Dufton
Cinematography by: Sakke Kantosalo, Tim Bonython
Editing by: Maarit Nissilä
Music by: Riversound Music (Markus Karppinen, Matias Karppinen, Janne Eerola)
Sound design by: Juuso Oksala
Sound recording by: Ru Mahoney, Juuso Oksala
Colourists: Tommi Gröhn, Pasi Mäkelä
Graphic design by: Petri Tuohimaa
Produced by: Minna Dufton, Heidi Richert
Co-produced by: Kathleen McInnis
Executive producer: Minna Dufton
Production company: Raggari Films
Supported by: Small Town Big Living Heinola, The Embasy of Finland Lisbon, West Coast Films