Review: Haute Cuisine (2019)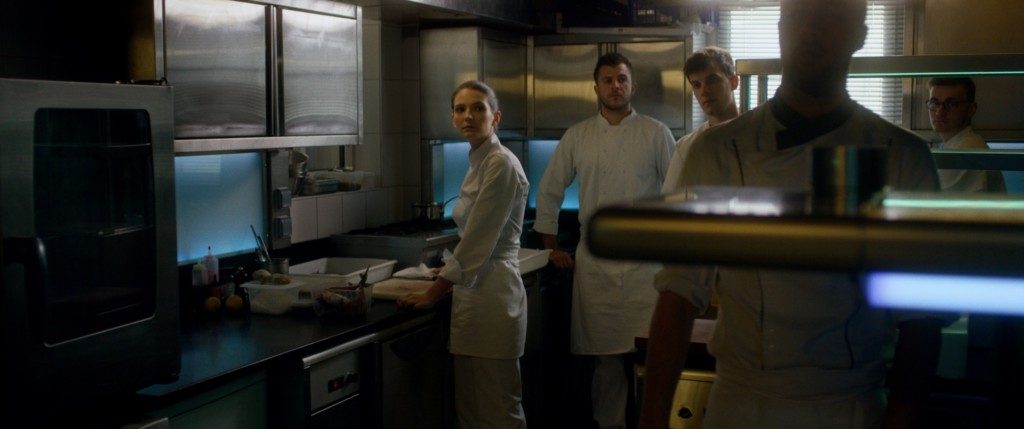 Some say that the success is woven of blood, sweat and tears invested in it. Regarding that, one thing is sure about Merryl Roche's short Haute Cuisine: there will be blood, at least a drop of it here and there. The film premiered at Paris Court Devant last November and we had the chance to see it at /slash Film Festival in Vienna.
Marie, played by Joséphine Japy with well-calibrated fragility, wants to be a chef and is proud to be the newest employee at the restaurant owned by Bruno Mercier (Phillippe Résimont), a famous Michelin-star chef. However, the pressure of the kitchen is sometimes too much for her to handle, especially when it is executed by the sous chef Thomas (Sébastien Houbany) who sees her as his potential rival. When Mary accidentally cuts herself while preparing scallops, and some of her blood ends up in the sauce, everything changes. The epilogue of the incident is quite unexpected: Bruno is delighted with her sauce and from then on, she uses her "secret ingredient" to boost her career.
However, some questions arise… For how long could she keep it a secret? For how long could she endure drawing her own blood? And for how long would the single trick work for her?
On the execution level, Haute Cuisine is quite tasteful and stylish. The cinematographer Aurélien Marra enjoys playing with lighting and especially focus, the editor Sébastien de Sainte Croix put his skills to shine in a couple of scenes, most notably the measured montage sequence half-way through and in the rapidly cut cook off competition between Marie and Thomas. The tension is also built up by the clever use of Emmanuel Lévy's synth score. Paired with the Lola Breton's production design, Valérie Bigeard's costumes and especially Emilia Simova's make-up, Haute Cuisine works both as a body- and psychological horror, even though its plot and its point get predictable early on.
---
Original title: Nouvelle saveur
Year: 2019
Runtime: 24' 15''
Country: France
Language: French
Directed by: Merryl Roche
Written by: Merryl Roche
Cast: Joséphine Japy, Sébastien Houbani, Phillippe Résimont, Serge Dupuy
Cinematography by: Aurélien Marra
Editing by: Sébastien de Sainte Croix
Music by: Emmanuel Lévy
Sound by: Charlie Sénécaut
Production design by: Lola Breton
Costume design by: Valérie Bigeard
Make-up by: Emilia Simova
Colourist: Vincent Amor
Assistant director: Vincent Prades
Produced by: Bastien Daret, Arthur Goisset, Robin Robles
Production company: Topshot Films