Review: The Human Voice (2020)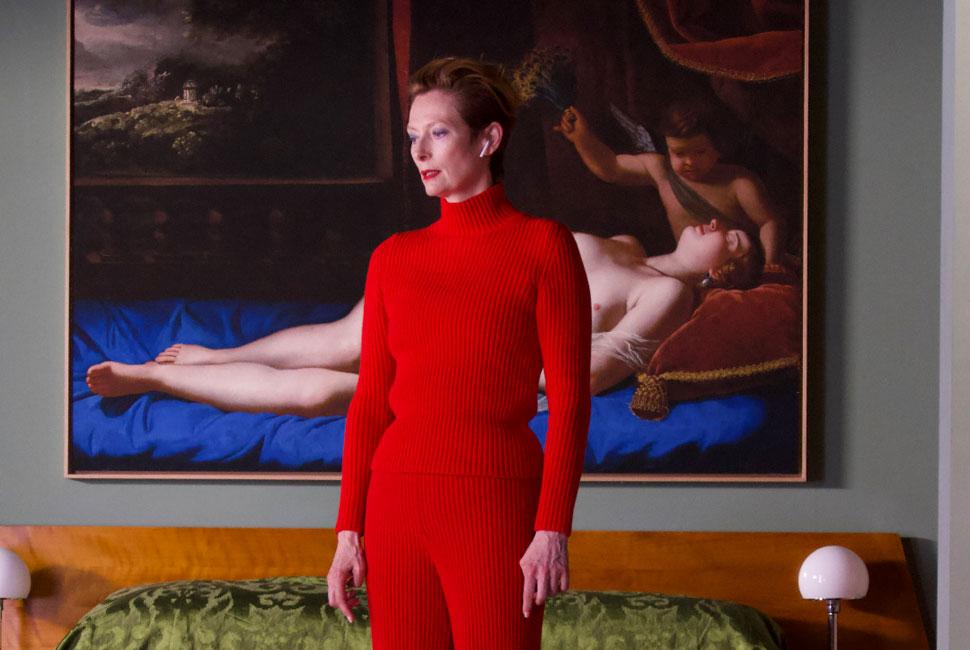 The 2020 Venice Film Festival has no shortage of projects dealing with the events of recent months, in one way or another. Whether it's Abel Ferrara walking around Rome alone at night in Sportin' Life wearing a mask, or Luca Guadagnino reconnecting with his native Sicily in Fiori, Fiori, Fiori, renowned filmmakers are addressing the topics of lockdown and isolation, as one of the themes of this year's festival.
Pedro Almodóvar decided to deal with the situation in his own way, avoiding documentary trappings, using the limitations due to health regulations to complete a short film that is also about loneliness and confined spaces, but within an entirely fictional framework that doesn't explicitly acknowledge the health crisis; the film was already in the making before Spain went into lockdown. As such, it is perhaps the most interesting of the current crisis-inspired projects, since its predetermined structure takes on a new meaning in terms of how it was completed and screened.
The Human Voice, as stated in the opening credits, is a loose adaptation of Jean Cocteau's play about a woman's final phone conversation with her former lover, now about to marry someone else. It was part of Cocteau's obsession with sounds and voices, and a very juicy role for many an actress, with the likes of Liv Ullmann and Ingrid Bergman having already dealt with it on stage or television. It is also Almodóvar's second time handling the text, as it previously inspired part of the plot of Women on the Verge of a Nervous Breakdown.
Save for a brief scene set in a hardware store, the action plays entirely in the protagonist's apartment (i.e. the director's own home, with a marvelous shot highlighting parts of his film collection). Alone with her dog (or rather, his dog, who stayed with her), she awaits the phone call that will challenge everything she ever knew.
The interiors are as vibrantly colorful as one would expect from an Almodóvar film, but all that takes a backseat to the real attraction, which is Tilda Swinton's performance. At once the epitome of the androgynous charm that defines her and the quintessential incarnation of femininity, the British actress shows the full extent of her range in what is essentially a one-woman show, with increasingly tight close-ups mirroring the escalating emotional turmoil.
At its core, the film – Almodóvar's first made almost entirely in English – is a tribute to an endlessly talented performer, whose work has spanned all genres and registers, ranging from arthouse productions (most recently The Souvenir) to disposable comic book fare (Constantine). Here she reminds us yet again of what a stunning, compelling presence she can be, conveying the feeling of an entire universe through her words alone. She is, indeed, the human voice, however otherworldly her allure may be.
---
Title: The Human Voice
Country: Spain
Language: English
Runtime: 30′
Produced by: El Deseo D.A. (Agustin Almodóvar, Esther GarcÍa)
Written by: Pedro Almodóvar (based on the play by Jean Cocteau)
Directed by: Pedro Almodóvar
Cinematographer: José Luis Alcaine
Editor: Teresa Font
Sound: Sergio Bürmann
Sound Editor: Laia Casanovas
Re-recordig Mixer: Marc Orts
Production Design: Antxon Gómez
Costume Design: Sonia Grande
Music: Alberto Iglesias
Cast: Tilda Swinton