Review: The Motorist (2020)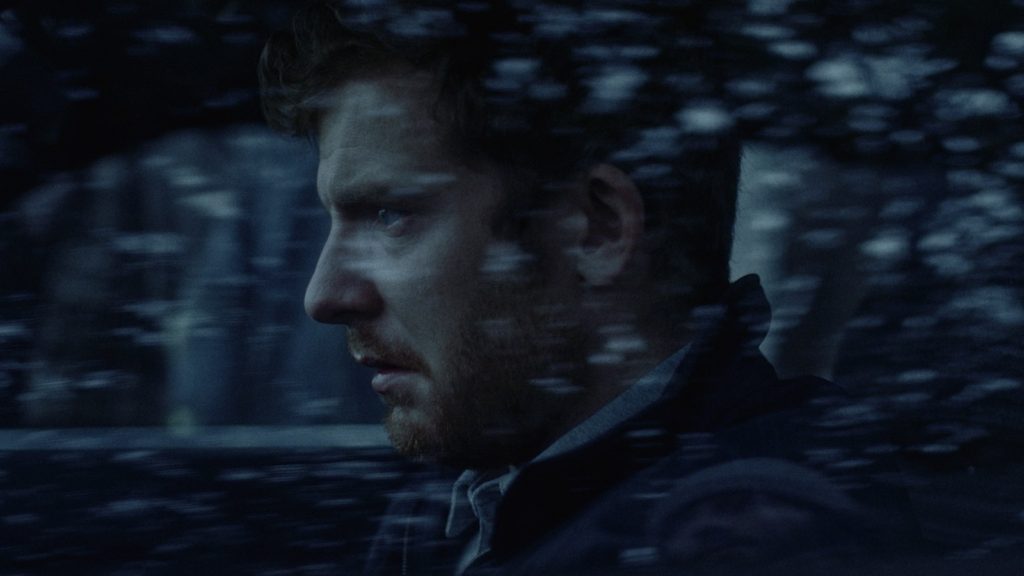 It is a common knowledge taken from different kinds of horror films that the wandering on the back roads is not always a good idea and that it could turn dangerous in no time. The Brittish filmmaker Ciaran Lyons made a smart decision to leave that notion in an unseen prologue for his short film The Motorist, and to put us immediately in the centre of action.
The unnamed protagonist (John Cooke) is already stuck in his car in the middle of nowhere and surrounded by an angry bunch of people. Apparently, there is a reason for that kind of behaviour on their side: it seems that the motorist has run over a local young man. The strange thing, however, is that all the action, meaning the car, the motorist inside it and the bunch around it, is located deeply in the field with no road in sight.
Things get only weirder from there. The angry mob is under the command of a menacing Priest (Douglas Russel) and is ready to take action such as attempting to break into the car, and, when it fails, they place a statue of Belphegor on the rooftop. The only exception in the angry crowd is an old lady (Maria Macdonnel) who is seemingly on the motorist's side, but it is questionable how much could she do once the demon is summoned.
As the writer, director and editor of the film, Lyons quite successfully channels the energy and the atmosphere of a British midnight flick, playing with strangeness and terror by pitting an individual against an angry lynch mob. The dialogue is scarce and elliptic, the editing is rapid, the cinematography combines the static, controlled dynamic and quite fidgety shots, mainly in close-ups, and in the cold colour scheme, so the acting has to be quite expressive.
The trouble is, however, that Lyons is unable to put the astonishing elements into a comprehensive whole. It seems that he had some specific and highly developed visuals and moments, but not the whole picture on the narrative level. The Motorist goes nowhere, but it is a thrilling ride, which was enough for it to be invited to an impressive number of festivals this year, starting with Slamdance, and including Frightfest, Palm Springs, Glasgow and, most recently, Slash film festival.
---
Runtime: 10' 21''
Country: UK
Language: English
Directed by: Ciaran Lyons
Written by: Ciaran Lyons
Cast: John Cooke, Douglas Russel, Maria Macdonnel, Dom Waters
Cinematography by: David Liddell
Editing by: Ciaran Lyons
Music by: Chris Lyons
Sound design by: William Aikman
Sound recording by: Johnny McLoone, Jack Coghill
Production design by: Cara Roxburgh
Costume design by: Flore de Hoog
Make-up by: Jo McAuliffe
Visual effects by: Ciaran Lyons
Assistant director: Remo Catani
Produced by: Beth Allan, Vincent Dorrian
Production company: Forest of Black