Review: Yandere (2019)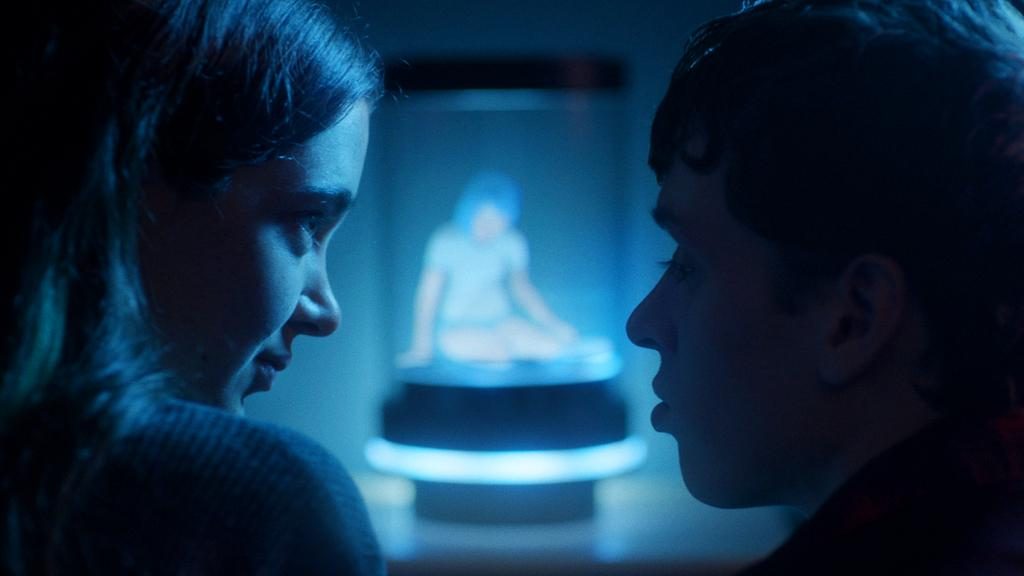 As a term, "yandere" comes from anime / manga slang dictionary, and is translatable as "mad from love". In the short live action / animation hybrid film directed by William Labouri, a smug teenage boy is about to experience the love, the rage and the madness of a hologram girl gone "yandere". The film premiered last year at Toronto International Film Festival, and, most recently, it was screened at Slash Film Festival in Vienna.
Teenage boy Tommy (Gulliver Benhadj-Bevernaege) has got bored with his tiny pet hologram girl Maiko that he keeps in his room. He wants the real thing from Sophie (Armande Boulanger), but does not know that Maiko has real feelings for him and that she grows and comes to life from the emotional pain he causes her. Most of the story is narrated as a flashback by now-live and fully grown Maiko (Ayumi Roux) and it could actually serve as an origins story in a symbolically potent serial built around the metaphor of female liberation at its core.
Labouri's Yandere is a proper exercise in elegance in blending different film techniques and approaches, with nods to Japanese and French animation and retro-futurism as a concept. Nicely shot by the cinematographer Raphaël Vandenbossche, competently edited by Labouri himself and carefully designed throughout, with special kudos to the costume designer Cécile Machin and the make-up artist Véronique Zuber, the film could be considered a worthy watch despite its occasional slips to sentimentality and formulaic plotting.
---
Runtime: 20' 45''
Country: France
Language: French
Directed by: William Labouri
Written by: William Labouri, Anne Brouillet
Cast: Ayumi Roux, Gulliver Benhadj-Bevernaege, Armande Boulanger
Cinematography by: Raphaël Vandenbossche
Editing by: William Labouri
Music by: Maxence Dussère
Sound by: Valentine Gelin, Ophélie Boully
Production design by: Anna Le Mouel, Valentine Fell
Costume design by: Cécile Machin
Make-up by: Véronique Zuber
Colourist: Arthur Paux
Assistant director: Adrien Machado
Produced by: Jean-Christophe Reymond, Amaury Ovise
Production companies: Kazak Productions, Mathematic
Supported by: Canal +, Centre national du cinéma et de l'image animée, La region Auvergne-Rhone-Alpes