Review: Waffle (2020)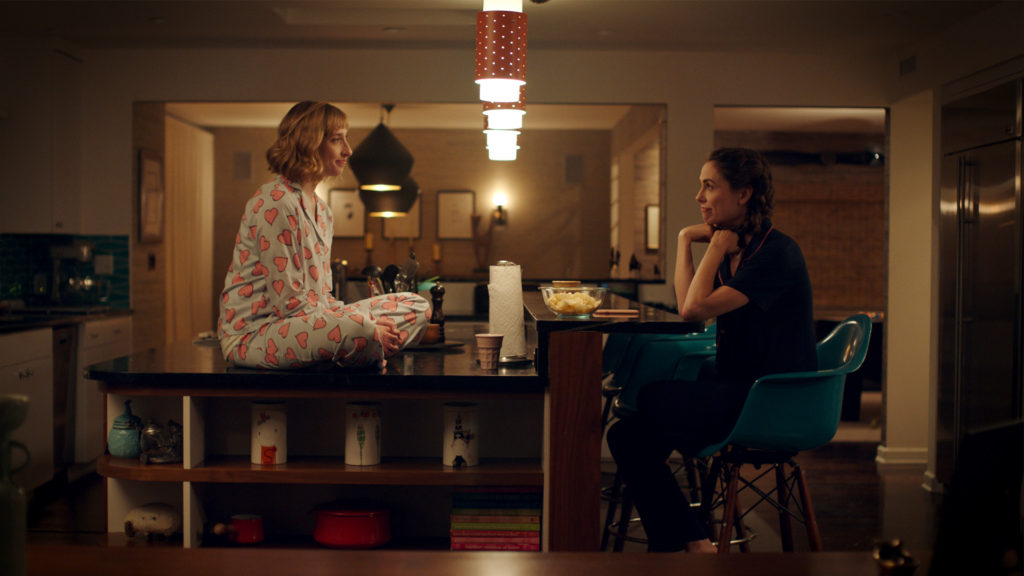 What starts as a high-concept comedy quickly turns into a satire about the influence of the technology on basic human relationships and then to a retro-styled slasher in Carlyn Hudson's frantic short Waffle. The film premiered at the online edition of this year's South by South West Film Festival, before ending up being selected by Short of the Week web platform in July. It was also recently selected for the physical edition of /slash Film Festival where Ubiquarian got the chance to see it.
As we meet our protagonists Katie and Kerry, it seems they are having a good time in Katie's luxurious home she inherited from her parents and her inventor grandfather. However, something seems odd from early on. Katie is too bossy, while Kerry tries to avoid conflict by quoting some "Terms of Use" policy. Kerry is actually hired by Katie to be her best friend, and when the socially awkward rich girl does not get what she wants, things can turn troublesome for her hired friends, and it does not necessarily mean just a bad review on the app…
The all-female creative trio behind the film consisting of the filmmaker Carlyn Hudson and the screenwriters / actresses / producers Katie Marovitch and Kerry Baker managed to create a breezy, pacey, hard-hitting cross-genre movie experience in just under 11 minutes of runtime, by the means of quick-firing dialogues, expressive acting and perfectly placed tempo switches. The feeling of a well-oiled machine responsible for the clockwork feeling of Waffle is rooted in the fact that all three of the women have worked together before, most notably on the TV series CollegeHumor Originals. Paired with handsome camerawork by Rick Diaz, starting with masterly composed isometric static shots and then turning into a hand-held frenzy for the finale, with the intelligent use of the sound design by the film's editor Sam Greer and the fitting synth score channelling the nostalgia for the 80s slashers and horror comedies, Waffle is a wickedly joyful watch that packs a lot of punch.
---
Runtime: 10' 58''
Country: USA
Language: English
Directed by: Carlyn Hudson
Written by: Katie Marovitch, Kerry Baker
Cast: Katie Marovitch, Kerry Baker, Raphael Chestang
Cinematography by: Rick Diaz
Editing by: Sam Greer
Sound design by: Sam Greer
Production design by: Madelyn Wilkime
Costume design by: Patricia Barker
Make-up by: Jed Olmedo
Visual effects by: Wolf Kirchner
Stunts coordinator: John Braver
Produced by: Katie Marovitch, Kerry Baker, Pamela Robinson, Bridget Greenberg