Review: Hungry Joe (2019)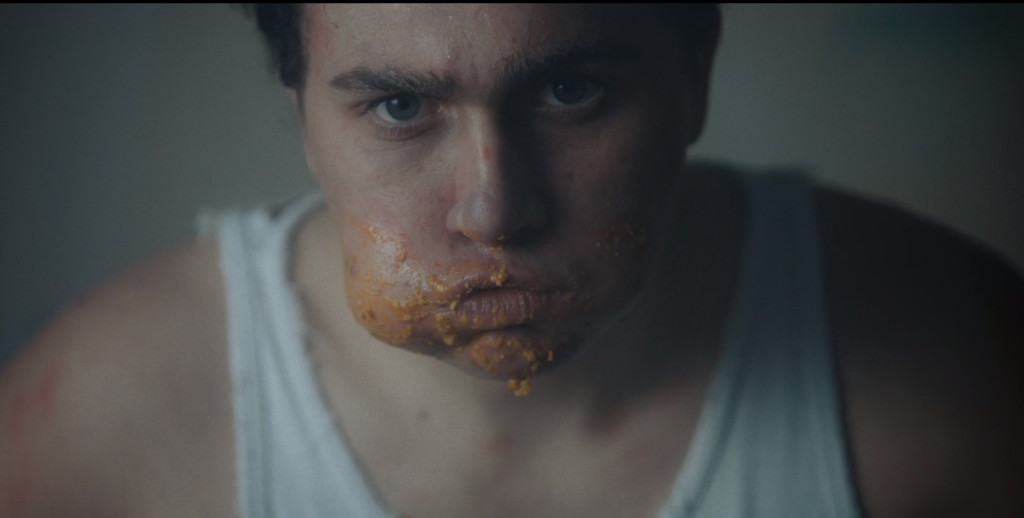 Before you start watching Paul Holbrook's & Sam Dawe's short horror Hungry Joe, make sure your stomache's empty. If not, let's hope its made of steel because some stuff consumed in the film isn't easy to swallow.
Joe is a love child, but the initial happiness he brings his parents Craig (Joe Sims) and Laura (Laura Bayston) is short-lived. The toddler is insatiable, and he doesn't stop crying if not breast-fed incessantly. Many years after, we see him as a schoolboy (played by Taylor Sweet) whose appetite grew much bigger. His father is obviously gone, and the mother is on the verge of a nervous breakdown. No one else seems to notice that something's wrong with the boy, and Laura's attempts to find the solution for his abnormal appetite shatter because nobody is ready to listen.
"Healthy appetite" or "the boy's growing" are the standard reactions she is given whenever she tries to explain Joe's problem. In their script penned for the film Holbrook and Dawe lean on societal expectations of a mother with all biased opinions surrounding her role in children's mental development. It can't be anyone else's fault that the kid smells awkward, or that he barely communicates with his environment. The classical mother-shaming takes place from the earliest phase of Joe's life, starting with breast-feeding ("It's a huge part of the bonding process, but if you don't feel capable…"), sudden absence of the father ("you have to take care of yourself, splash your makeup…"), the boy's behavior in school…
Powerful in her role as a desperate mother, Laura Bayston carries the film. Her portrait of a woman who's slowly losing her lust for life, helpless and left alone to deal with her child's awful food obsession is mind-boggling.
The doubts and terrible thoughts that are immediately replaced by the sense of guilt most of the parents know too well, are written all over Bayston's face. In one of the most memorable scenes in the film, the evil thought almost wins over love, and the expectant stare in direction of her choking son stays ingraved in one's memory. Also her dissapointment when that doesn't happen. But, at the end of the day, Laura is, and stays until the very end a mother who struggles to keep on.
Also quite strong in his role of grown Joe is Andrew Greaves who's doing great in making one's stomache turn. His daft, empty stare and food-gulping are as creepy as much worst things that happen in the film's final minutes. Tense music composed by Hollie Buhaglier keeps the viewer very alert, and the sound department makes sure that every bite stays remembered.
Hungry Joe was awarded Best UK short at the Manchester Film Festival. It caught up with it at Slash, where it was screened in the out-of-competition short programme "Dark Delicacies".
---
Country: UK
Language: English
Year: 2019
Runtime: 23 minutes
Horror, drama
Written & Directed by: Paul Holbrook, Sam Dawe
Producers: Paul Holbrook, Sam Dawe, Sonia Warjacka
Cinematographer: James Oldham
Production Design: Jim Brown
Sound Recordist: Graeme Willetts
Re-recording Mixer: Andrew Wilson
Sound Editor: Owen Shirley, Tom Mercer
Foley Artist: Sam Carson
Editing: Ben Williams-Butt
Music: Hollie Buhaglier
Visual Effects: Nicola Borsari
Makeup Artist: Bridget Esmonde
Special Makeup Effects: Sophia Haden
Colourist: Tom Majerski
Cast: Laura Bayston, Joe Sims, Andrew Greaves, Laurence Saunders, Robert Portal