Review: White Christmas (2020)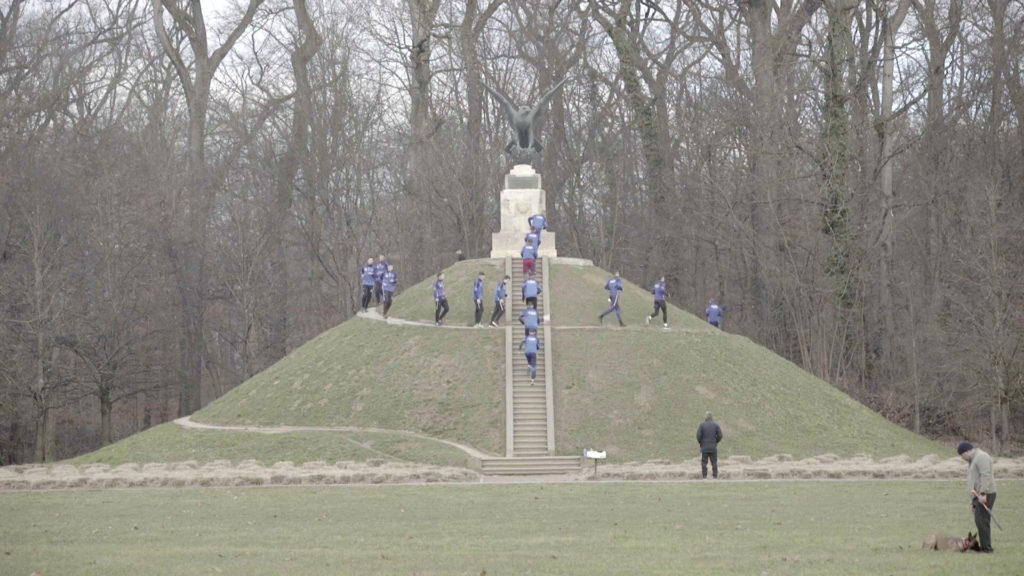 It is expected from the up-and-coming Croatian filmmaker Josip Lukić to make autobiographical documentaries dipped into the vivid colourful hot summers in Dalmatia. This was the case with his lauded "featurette" Momsy (2018) and its short(er) follow-up The Rex Will Sail In (2019). Later last year, Lukić tried and succeeded to incorporate the autobiographical elements into the short fiction format with Summer Fruits that we recently reviewed at Sarajevo. He remained on the same "auto-fiction" course with his newest short White Christmas that has just world-premiered at Beldocs' Meteors section dedicated to the new, brave and exciting voices in filmmaking, pocketing the award for the best short.
Josip Lukić plays himself while taking a walk in Zagreb's Maksimir Park-Forest on a grey day sprayed with drizzle. On his way he encounters several passers-by: a semi-celebrity futsal player, an elderly lady who suffers from Alzheimer's, one of his friends, a dog walker… The topic of conversation varies greatly, but the protagonist's aim and motivation for the walk remains unclear. Even before he lays down on a muddy ground next to a monument, it is obvious that something bothers him. Is it a general feeling of anxiety? Depression? The burden of the world? The notion that Christmas would not be white due to global warming?
For a filmmaker who profited greatly from creating the manic feeling, Lukić does equally well with the low-key depression. The colour scheme captured by his faithful cinematographer Marinko Marinkić is so washed-up that it looks almost black and white and the hibernating nature paints the picture of the protagonist's inner life. The camera movements are very calculated and smooth, while the usually long takes are precisely edited into a meditative and emotional experience by Elena Radošević. In not so many words, White Christmas works as a very eloquent examination of the feeling of emptyness.
---
Original title: Bijeli Božić
Year: 2020
Runtime: 26' 51''
Country: Croatia
Language: Croatian
Directed by: Josip Lukić
Written by: Josip Lukić
Cast: Josiš Lukić, Paško Vukasović, Ante Mitrović, Damir Radić, Karlo Gagulić, Martina Marasović
Cinematography by: Marinko Marinkić
Edited by: Elena Radošević
Sound design by: Mario Merdžan, Josip Lukić
Sound recording by: Nina Džidić Uzelac
Costume design by: Paola Čule
Assistant director: Martina Marasović
Produced by: Aleksandra Giljević
Production company: Academy of Dramatic Arts (ADU) Zagreb