Review: Black and White Colours (2019)
Ca'Foscari Short Film Festival
International Competition 2020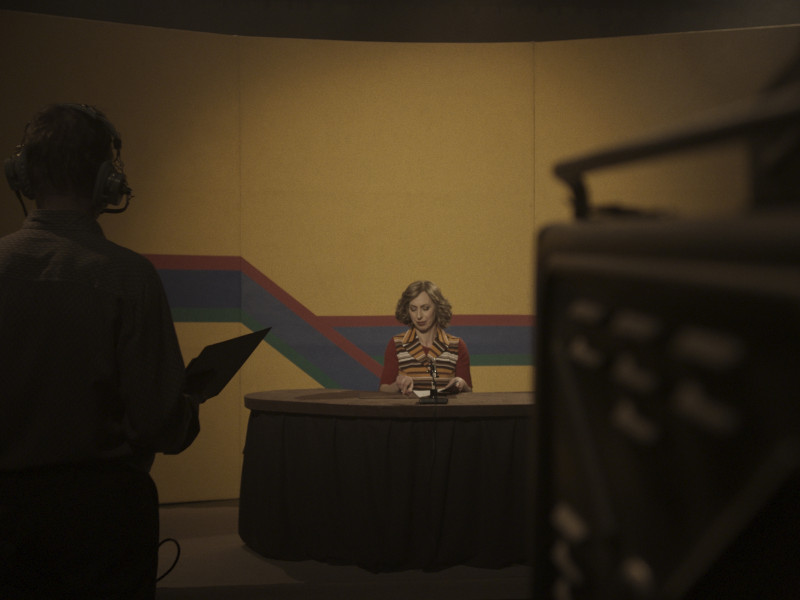 Tallinn, Estonia, USSR, sometimes in the 70s. Colour television is coming instead of black and white. Life will never be the same again for the star news presenter Paula (Tiina Tauraite), the protagonist of German Golub's short film Black and White Colours produced by Baltic Film and Media School. It was recently screened at the 10th edition of Ca'Foscari Short Film Festival.
Paula actually lives in fear of ageing and not even her experience at her job, nor her boss' (Gert Raudsepp) reassurance cannot calm her down. The progress is coming, and her age and the outdated style her hairdresser (Luule Komissarov) insists on would show more in full colour. And the always hungry competition is coming in the form of her young co-worker Tiina (Karmel Naudre) who reads the sports news. Paula's grip on reality starts to fade…
Black and White Colours deftly defies the genre borders, fluidly balancing between the comedy, drama and horror. Golub's sense of style is inch-perfect, channelling that of a 70s television with 4:3 aspect ratio and highly saturated colours. The cinematographer Juss Saska opts for mixture between the static and hand-held dynamic shots, while accenting the saturation of the palette and playing with shallow focus. Production design by Jaanika Jüris, Grete Rahi's costumes and the spooky strings score written by Ann Avi could also be singled out as the highlights of the film.
Powered by the expressive acting by all of the cast members, brilliantly written by Mirjam Mikk and sure-handedly directed by Golub, Black and White Colours is both serious and wickedly fun in its weirdness.
---
Original title: Värvid must-valgel
Year: 2019
Runtime: 17' 58''
Country: Estonia
Language: Estonian
Directed by: German Golub
Written by: Mirjam Mikk
Cast: Tiina Tauraite, Gert Raudsepp, Luule Komissarov, Karmal Naudre
Cinematography by: Juss Saska
Editing by: Johanna Maria Vilgats
Music by: Anni Avi
Sound by: Kasper Erik Lind
Production design by: Jaanika Jüris
Costume design by: Grete Rahi
Make-up by: Elisabet Kond
Assistant director: Siim Škepast
Produced by: Inger Pöder
Production company: Baltic Film and Media School (BFM)
Supported by: EMTA, EKA, Tallinna Ülikool, Eesti Kulturkapital, Eesti Filmi Instituut