Review: Grub (2019)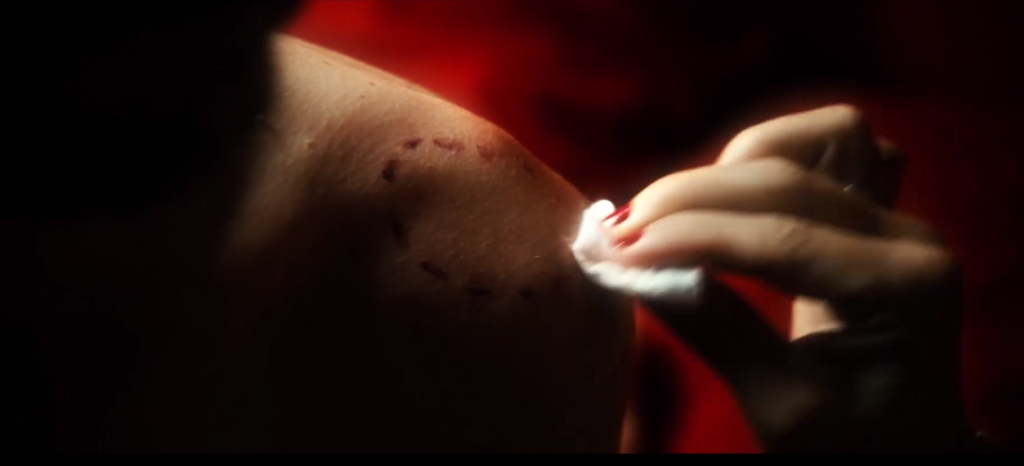 Straight back to the hell's kitchen of SLASH film festival's out of competition short film program 'Dark Delicacies', it is a morbid pleasure to write about Pierre Mazingarbe's romantic cannibal comedy Grub. The most sensitive of genre cross-overs to pull through gets well cooked and served in this deliciously plotted film about the family of three on the strict flesh diet.
Edited in fast-switching images with attention on lips and hands to present just few crucial moments of a sensual play between Daphnée (Géraldine Martineau) and Karim (Moustafa Benaibout), the film starts like a foreplay to a hot love story with a potential heartbreak. A powerful bite on Karim's shoulder put this opening scene to a halt, but all is still pretty much harmless. It happens in real life, so I've heard. The wound gets attended to, all is fine, except that Daphnée is leaving to spend the weekend with her parents, refusing to take her boyfriend with her. Some other time, she promises, this will happen, but not just then.
How difficult it is to please one's parents is a story as old as the history of humankind. Let's not even rewind that film or dare look into the now and at our own therapy bills. So, still full of understanding for Daphnée, we follow her on her car ride to the French countryside.
Unaware that Karim is in the trunk of her car, all dressed up and with presents for the potential in-laws, she picks up the boyfriend number two Nicolas (Johann Cuny), a vacuous tennis player with inflated ego, who was chosen to join her to spend the weekend with her parents. The conversation and the body language are on a diametrically different level than those with Karim. Something's not right, but what exactly?
The boy doesn't last longer than his introduction in front of the family house, and Karim doesn't meet a better destiny once he is discovered. His advantage is that Daphnée's emotions are real.
With considerably less generous budget not only due to its short format, Grub trades in the footsteps of Marc Caro's & Jean-Pierre Jeunet's Delicatessen (1991), with its own unique rough-diamond style and oddball twists. The script penned by Thomas Pujol, Xavier Lacaille and Pierre Mazingarbe is packed with good ideas and humor, and the production design by Bulle Tronel is impressive.
The real acting stars of Grub are Olivier Broche as Daphnée's father and the veteran French actress Anne Benoit playing the mother. They will both make you appreciate your parents more, even if they set your favourite teddy-bear on fire while you were a five-year-old kid.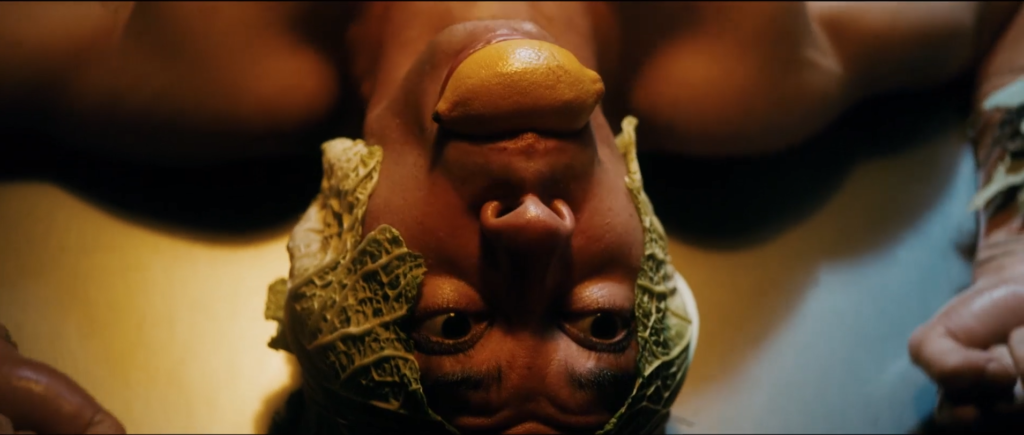 ---
Original Title: Boustifaille
Country: France
Language: French
Year: 2019
Runtime: 18′
Produced by: Francesca Betteni Barnes & Charlotte Vande Vyvre
Production: Balade Sauvage Productions
Director of production: Paul Iserentant
Written by: Thomas Pujol, Xavier Lacaille and Pierre Mazingarbe
Directed by: Pierre Mazingarbe
Cinematographer: Brice Pancot
Production Design: Bulle Tronel
Sound Editor/ Sound Mixer: Valentin Mazingarbe
Boom Operator: Alban Cayrol
Sound: Rémi Mencucci
Sound Recording: Geoffrey Durcak
Foley Artist: Éleonore Mallo
Costume Design: Charlotte Leburgeois
Makeup Artist: Flore Chandès, Marie Coleda
Editing: Hoël Sainleger
Colour Correction: Brice Pancot
Script Supervisor: Lucie Mallet
Location Manager: Irène Costantini-Delalaing I
Music: Julie Roué, Carte Contact
Cast: Géraldine Martineau, Moustafa Benaibout, Anne Benoît, Olivier Broche, Johann Cuny, Sarah Blanquart, Céline Dupuis