Review: Have a Nice Dog! (2020)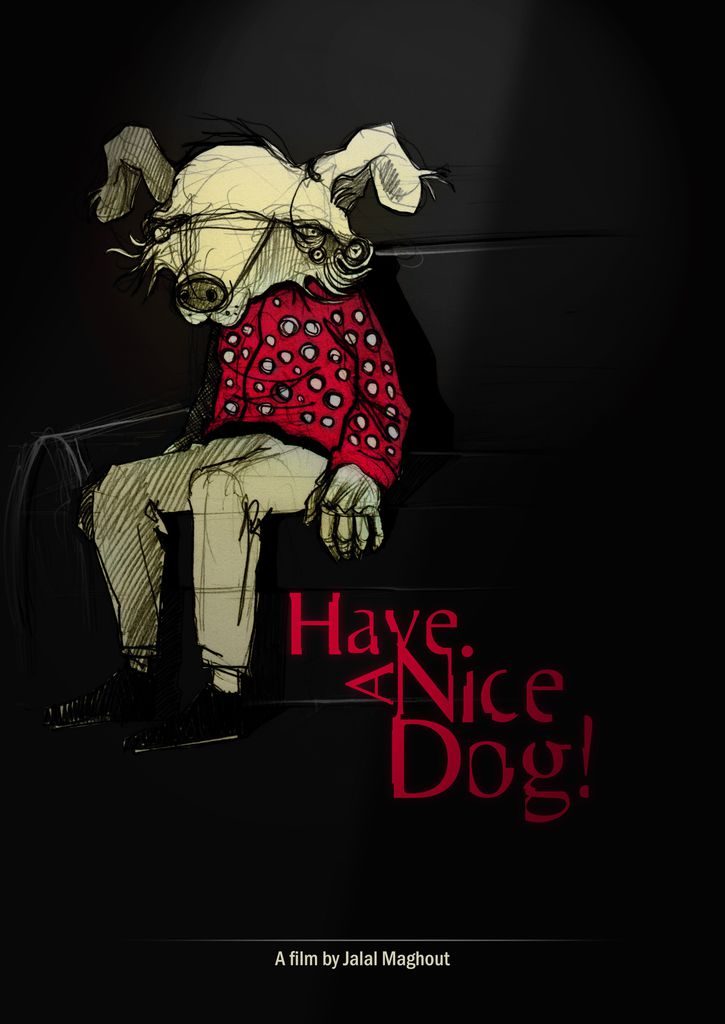 Where to go when everything around us falls apart, sometimes quite in physical way? Those resourceful or lucky enough would leave the place. The rest, however, can emigrate only into the realms they have created in their own mind. And sometimes, something that is initially healing can turn to be toxic afterwards.
Those are the topics the Syrian filmmaker Jalal Maghout tackles in his newest animated short Have a Nice Dog! with which he has earned his master's degree in animation directing at the Film University Babelsberg. The festival premiere took place at Filmfest Dresden, where it was also commended with a special mention for sound design.
We meet our nameless protagonist in a dream-like state: he is under water, dead or alive, until he wakes up and dives out of it. The next place we see him is a busy street of a large Middle Eastern town, as he narrates that he keeps seeing the same people without recognizing them. The only place he feels relatively safe at is his apartment where, in the company of his faithful dog Baroud, he spends his time waiting, day-dreaming and having nightmares. As the runtime of the film passes by, the protagonist gets closer to the realization how similar he and his dog actually are, especially when it comes to destroying (physically or metaphorically) everything they have ever loved.
Have a Nice Dog! is a perfect example of the serious animation film where the variety of animation techniques are used to re-create the introspection. Maghout and his small team have created the uniquely unpleasant feeling of being lost and suffering without even a notch of exploitation of their characters. The animation with the digital effects over the hand-drawn sketches usually leans towards the darker side on the black and white spectre, with only particular details like our protagonist's nose and mouth and the clothes of the passers-by in more vivid colours. Since most of the narrative is delivered in the voice-over monologue, the sound scheme had to be enriched with the awarded sound design and a perfectly fitting ominous musical score by Dascha Dauenhauer.
---
Year: 2020
Countries: Germany, Syria
Language: German
Runtime: 12'52''
Animation, drama
Directed by: Jalal Maghout
Written by: Jalal Maghout
Voice cast: Charles Toulouse, Luize Juckenburg, Johannes Dreibach
Music by: Dascha Dauenhauer
Sound design by: Azadeh Zandieh
Sound effects by: Peter Sandmann
Produced by: Karsten Matern
Production company: Filmuniversität Babelsberg Konrad Wolf