Review: Wade (2019)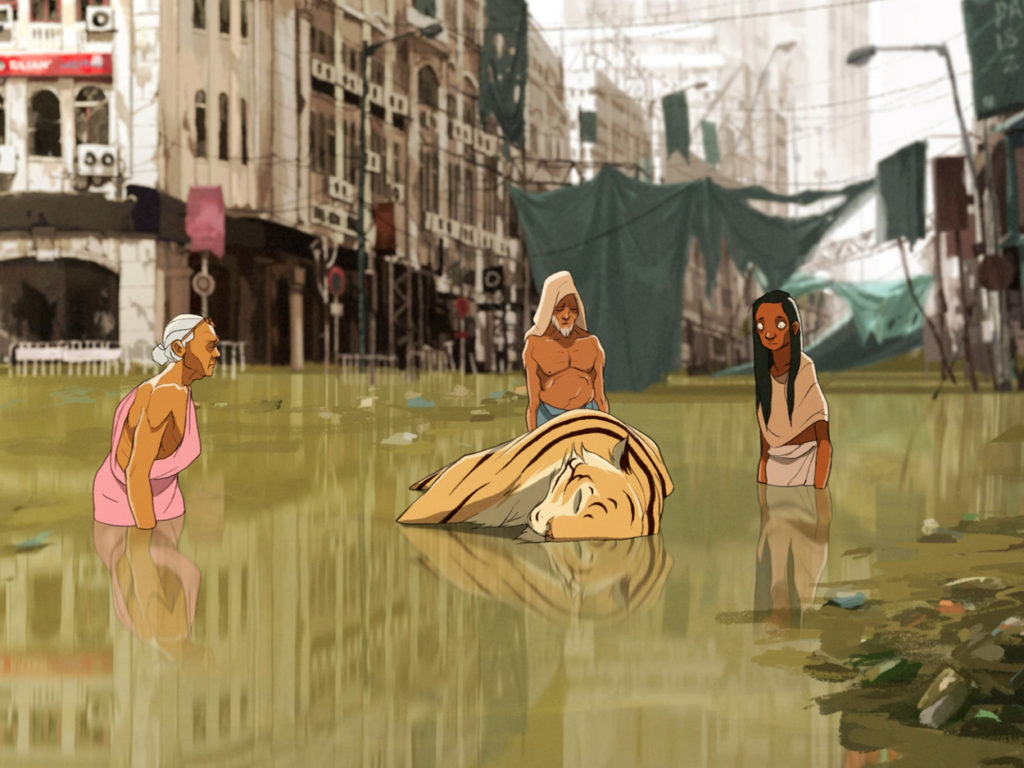 Denied by the right wing politicians, big industry and conspirationalists, global warming became so palpable that only the stubbornly conservative or mentally challenged won't acknowledge it.
We've been talking about "the last minute to change things" since at least 10 years, but nothing of greater significance was done to improve the environment. Quite contrary, our unquenchable urge to consume made us remain the same old selfish conformists who behave how they do, because they can. Besides, really bad things happen "somewhere else", and a flooding here and there occurs, so do forest fires "like they always did".
Right now, it's Covid-19 (and those who deny it) we have to deal with which is not the first or the last virus that spreads the way it does thanks to our mobility and our way of living, and what tomorrow brings we don't know, except that it won't be sweet. For all the listed reasons, the short animation drama Wade, written and directed by Upamanyu Bhattacharyya & Kalp Sanghvi isn't that much of a horror film as a premonition of a terrifying, near future.
Due to pandemic and too many things happening online instead of live, Wade had its relatively late world premiere at Festival of Animated Film in Stuttgart on May 25th. In the meanwhile, it became the international festival's circle regular, winning the Best Art Direction at Animayo. The film has a chance of having a really long festival life, and not just because of its trending topic. This 2D animation founded through the crowdfunding platform wishberry had 30 animators working on all the finesses, making it into a fascinating visual experience. With a good script as its basis, shaved from exaggerations and yet scary for what it is, the film enormously profits from Troy Vasanth's sound design and his music miniatures.
The opening scene briefly shows Sundarbans in 2019, immediately switching to the flooded region of "today", with barely any mangrove tree in sight. Kolkata, where the story is based, is literally a sinking ship due to sea level rise. The metropolis transformed into a ghost city with few survivors, humans and animals alike, all very, very hungry.
People are hiding from predator cats who seek food in the sunken city, while the fear is turning them into pragmatic survivalists. Empathy has flown out of the ravaged city together with its last birds. Babies get drawn because they make noise, people in need are left to themselves. It's all about living through the day.
Central to the plot is a blind girl pulled on a raft made of plastic bottles by her mother. She displays much more courage than the other survivors probably because she always had to go a step further than people with sight. This is something that earns respect among tigers, and ultimately spares her dying the gruesome death.
Inspired by true events – an island that sank in the Indian ocean due to climate changes, and also intrigued by an article about the possible massive flooding of areas around the Ganges Delta should the sea level continue to rise, the director duo has penned the apocalyptic picture of their town Kolkata.
In order to make it clear where the natural catastrophe actually takes place, it was important to make the city recognizable, and one of the best solutions presented itself in form of billboards and advertisements. Other steps taken in identifying the region, and more specifically Kolkata, won't be that easy to decipher unless the viewer comes from India. This especially regards a man wearing a mask at the back of his head, a practice used by local people if they have to enter woods with prying tigers in them. The mask is believed to be protecting its carrier because the animal "feels observed". In Wade, the masked man isn't that lucky.
---
Country: India
Language: English
Year: 2019
Runtime: 11′
Produced by: crowdfunders
Associate Producers: Arya A. Menon, Prateek Sethi, Paolo Polesselo
Written/ Directed by: Upamanyu Bhattacharyya & Kalp Sanghvi
Key Animators: Gaurav Wakankar, Shaheen Sheriff, Anwaar Alam, Nikunj Patel
Composite: Kalp Sanghvi
Sound Design/ Music by: Troy Vasanth
Sound Engineer: Krishna Kar
Colour Correction: Sandhya Prabhat