Review: Lilla Olle (2020)
Uppsala Short Film Festival
National Competition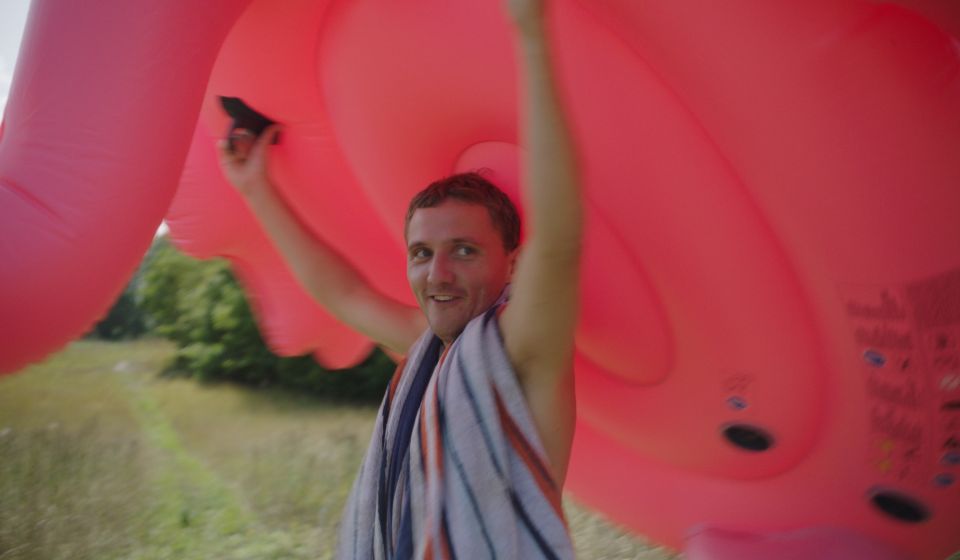 A group of friends with their friends come together during a weekend at the lakeside summer house somewhere in Sweden. The weather is warm, the spirits are high. With lots of boozing and giggles, the unexpected things begin happening late in the night, beginning with polka dancing being practiced at the sunset, which is something that probably no 20+ person in their sober state of mind would ever do.
Little Olle is a story about a young man (Einar Bredfeld) who's stuck in the breezy post-puberty-late-twenties-stage in which there is little to no room for serious matters. He's not giving much thoughts about things outside his prankster tandem with David (Freddy Åsblom), his best friend, and the two are spending the weekend monkeing around. When they at one point undress in front of everyone to go for a swim in the lake, Olle is not aware of the impact his little performance will leave on one of the guests.
Swedish writer/ director Julia Thelin plays with comedy elements to come closer to her nerdy titular character who still has to discover how to deal with the oposite sex. Stiff by nature outside the quipper world, Olle doesn't really know what to do when approached by a woman. But also, there is another side to it, the cryptic, consciously inaccessible. Maybe it's the giant inflatable pink flamingo or the familiarity that Olle's sharing with David that points out in one possible direction – that the two may actually be a couple, and that Olle's confusion comes from having a one off with a woman called Malin (Linda Molin). The way it happens, and how he gets there could also support this theory.
Thelin presents us with a couple of memorable scenes particularly one happening during the night of Olle's first unvolountary sexual contact. It's that awkward, that it recalls the drunken stories from real life, too crazy to be invented.
Scenes shot inside are static and attentive, those happening outdoors are racing with the group, with camera focusing on their movements and reactions.
Considering its authenticity and good sense of humor, Little Olle has a chance of going many festival places. Right now, it's competing in the national competition of Uppsala Short Film festival.
---
Original Title: Lilla Olle
Country: Sweden
Language: Swedish
Year: 2019
Runtime: 10′
comedy, short
Producers: Markus Waltå, Eliza Jones
Executive Producers: Git Scheynius, George Ivanov
Production company: Grand Slam Filmproduktion
Written/ directed by: Julia Thelin
DoP: Jonas Alarik
Scenography: Jovanna Remaeus
Costume Design: Stina Rolf
Makeup artist: Beatrice Jaczewski
Sound Design/ Sound Mix: Per Sundström
Cast: Einar Bredfeld, Linda Molin, Freddy Åsblom