Review: Midas. (2020)
Uppsala Short Film Festival
National Competition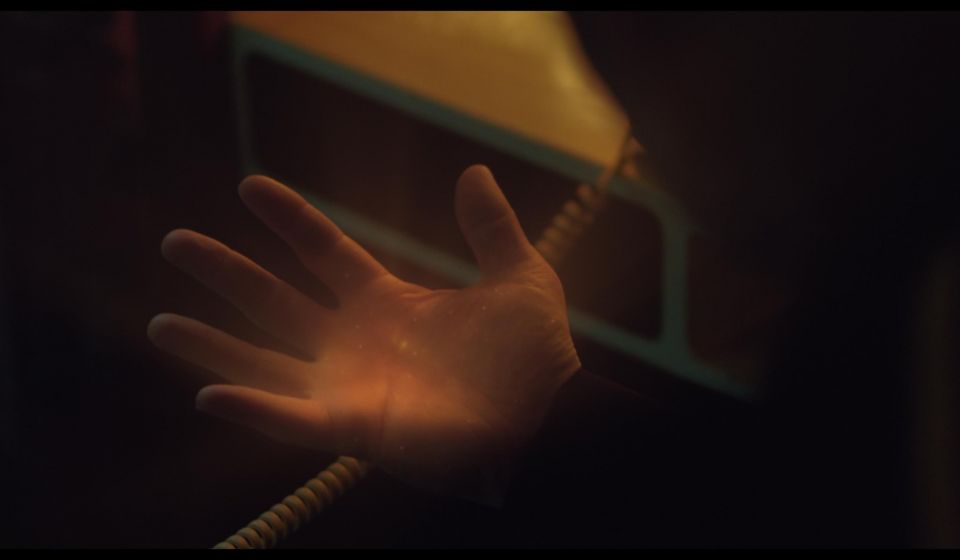 Life tends to go in cycles for Matias Idas, played by Johan Widerberg, the hero of Jakob Marky's short film Midas. Every time his hand gets a golden glow when he is sexually aroused, his life is about to change, for better or for worse. The film premiered at the national shorts competition of Göteborg Film Festival and is currently playing at Uppsala International Short Film Festival, also in the national competition.
His "golden hand" results in wet dreams followed by the golden sperm. A naked woman (who could as well be his clone in the female form) appears next to him in the hotel room. He marries her and they have children in an elegant montage sequence. He becomes a family man, his son (definitely his mini-me) he rarely sleeps, he keeps staying longer and longer at work watching football on a live stream rather than going home. The relationship is going cold and Matias probably wants to exit his own life and enter someone else's, like his wife's lover (also Matias' own clone). But, in the end, life is the same for everyone, golden-handed or not, and Matias cannot run away from himself.
Some steps are being passed on the way and that is actually a smart idea of the writer and director Jakob Marky. Firstly, the rhythm he establishes with the editor Ben Canny is spot on. Secondly, he remains faithful to his protagonist's perspective, creating a surreal, slightly creepy atmosphere and pretty much nailing the anxieties the working fathers are facing on the home front. Utilising the beautiful cinematography Andreas L. Bjørseth on actual stock and the music theme by Christoffer Berg on piano and synthesizers to the maximal extent, Midas. is a provocative, slick and fun watch.
---
Runtime: 14' 59''
Countries: Sweden, Norway
Language: Swedish
Directed by: Jakob Marky
Written by: Jakob Marky
Cast: Johan Widerberg, Joel Spira, Hasse Hope
Cinematography by: Andreas L. Bjørseth
Editing by: Ben Canny
Music by: Christoffer Berg
Produced by: Mari Grundes Paus
Production company: Bacon OSL
Distribution by: Bacon Pictures