Review: Simmer (2019)
Ca'Foscari Short Film Festival
International Competition 2020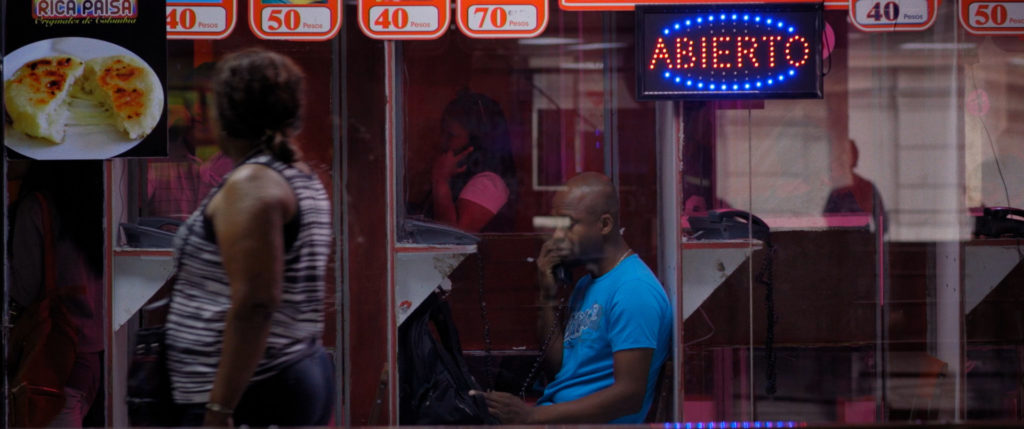 Coming out of the closet can be perceived as easy peasy only by people who are heteronormative or blessed to be living in a supportive environment, in such countries with laws recognizing same-sex relationships and that criminalize homophobia. Even under such – let's call them ideal circumstances, it can also mean hell for individuals originating from families who stick to the tradition and religious scriptures, no matter how progressive the society itself. And with a scary rise of right-wing ideologies across the globe, the hard achieved human rights get stomped over, with human lives being endangered.
The factory worker Jorge (Vilmar Alberto Vergara), a family man and a father of teenage boy Gab (Jaidiver Vergara) happens to be living in Colombia, one of the most progressive countries in Latin America regarding the LGTBQ rights. And yet, being part of the working class milieu, he is moving in the testosterone-fueled environment. It also doesn't help that he is married, with his son heavily missing his mother who's been absent for months due to the loss of a family member.
Jorge is in touch with his wife daily. The couple mainly talks about their son and the shortage of finances. Genesis is regularly asking for more money to be able to stay with the family, so the viewer is led to believe that exactly this topic is the essence of all problems, until the question about Jorge's "best friend" and work colleague Ramiro (Eduardo Paxeco) is being asked. No words, just the genuine mixture of fear and surprise reflected on Jorge's face are enough to make that transition from one thought to the other happen.
Ramiro is present in the film from the beginning, be it as the lunch break companion of our main protagonist or his regular guest at home. During his mother's absence, Gab looks up to his father's friend, an athletic, fun guy who lets him play football with the adult team, who takes him out for the dance evenings in the local bar or simply stays at their family home to watch TV. He doesn't see beyond that, but he will eventually ask the question what's between the two men not quite understanding the duality of its meaning.
The love story in Simmer is painted in believable colours, with only few moments of actual physical closeness including a heart-racing sex scene that doesn't become completely explicit, but grows into a declaration of true love. Unfortunately, love is put aside to keep the feeling of "normality" going and the story shifts back to the "mother-father-child" life when Jorge decides to sacrifice his true identity and feelings.
---
Original Title: Fuego Lento
Country: Columbia
Year: 2019
Language: Spanish
Runtime: 16'33"
Written/ Directed by: Joan S. Viáfara
Produced by: Emilio Hereida
Cinematographer: Camila Toro
Art Director: Carla Morales
Sound: Daniel Quintanilla
Editor: Bárbara Cortés
Executive Producers: Álvaro Berrios, Joan S. Viáfra, Miguel Alvarés, Claudio Carrasco, Francisca Cepeda
Continuity: Bárbara Cortés
Original Music: Danie Quintanilla, Nando Garcia Perinetti
Cast: Vilmar Alberto Vergara (Jorge), Eduardo Paxeco (Ramiro), Jaidiver Vergara (Gabriel), Diana Viáfara (Genesis)