Review: Plume (2020)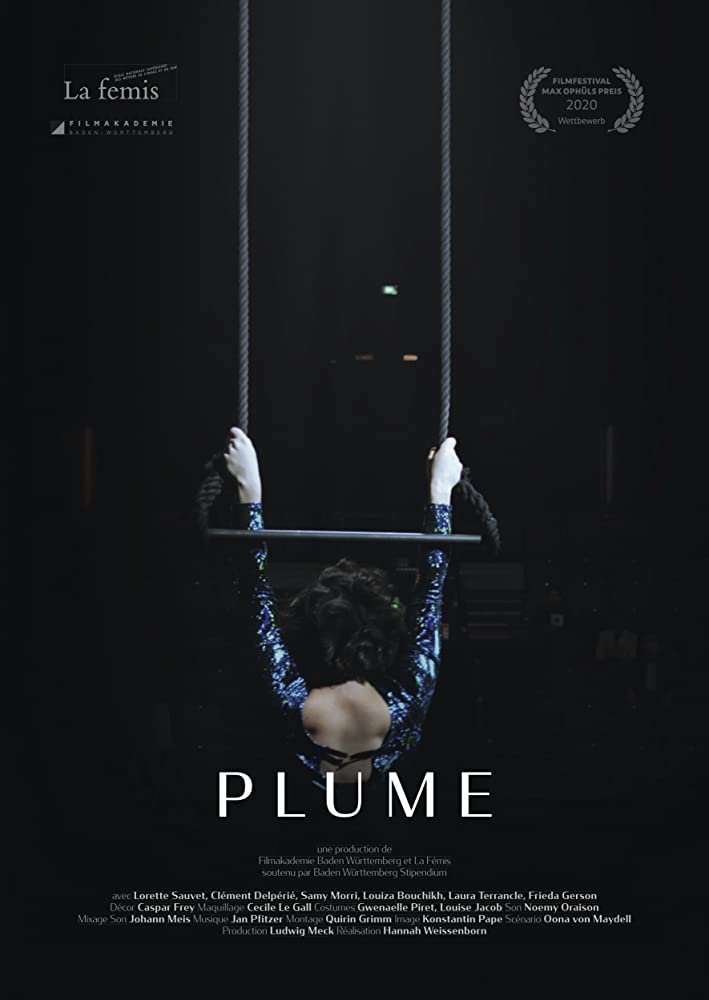 No matter how much they achieve in their lives, women are regarded as the weaker sex. They get discriminated, have to work harder and do more and better then men. But even when they do all of it, there is no guarantee they will earn the respect they deserve and that they won't be regarded as a prize or a prey to predatory (male) figures.
This is the world the titular protagonist of Hannah Weissenborn's short fiction film Plume lives in. The film itself is a potent cautionary tale and a powerful outcry for liberation. It premiered at Max Ophüls Filmfestival in Saarbrücken earlier this year and we had the chance to see it at Filmfest Dresden where it wan Golden Horseman Sound Design – International & National Competition.
Plume (Lorette Sauvet) is a circus artist, performing on trapeze and she is auditioning for a place in the biggest circus company in Paris. She is in the circus wardrobe, dressing and preparing for the event that might change her life forever when she is cornered, at first psychologically, then physically, by her ex boyfriend Philippe (Clément Delpérié).
The scene is swiftly cut by the director before it gets messy, but the consequences are visible on Plume's costume and her posture just before the audition. She still has to perform, and the question is if the recent trauma, seen as a series of brief flashbacks, could serve as motivator. The other question is what is she going to do when she sees the man who hurt her in the future, and she will have to see him…
Plume is one of the short films that pack the complexity of feature-length titles in a very compact format. Weissenborn manages to achieve that in showing (and suggesting) rather than telling and re-telling, focusing on her protagonist's facial expressions and posture before, during and after the incident. Lorette Sauvet simply shines in the title role, the largely hand-held camerawork composed of longer takes in according to the contemporary trends of art house filmmaking works perfectly and the usage of first strings, then orchestral score is a stellar example of the director's playing with the viewers emotions and expectations. If Weissenborn came to some kind of audition with Plume, she would pass it with flying colours.
---
Runtime: 13' 30''
Countries: Germany, France
Language: French
Directed by: Hannah Weissenborn
Written by: Oona von Maydell
Cast: Lorette Sauvet, Clément Delpérié
Cinematography by: Konstantin Pape
Editing by: Quirin Grimm
Music by: Jan Pfitzer
Sound by: Jonathan Linnenberg, Max Kersten, Johann Meis
Produced by: Ludwig MeckProduction companies: Film Academy Baden-Wurttemberg, La femis