Review: Erwin (2020)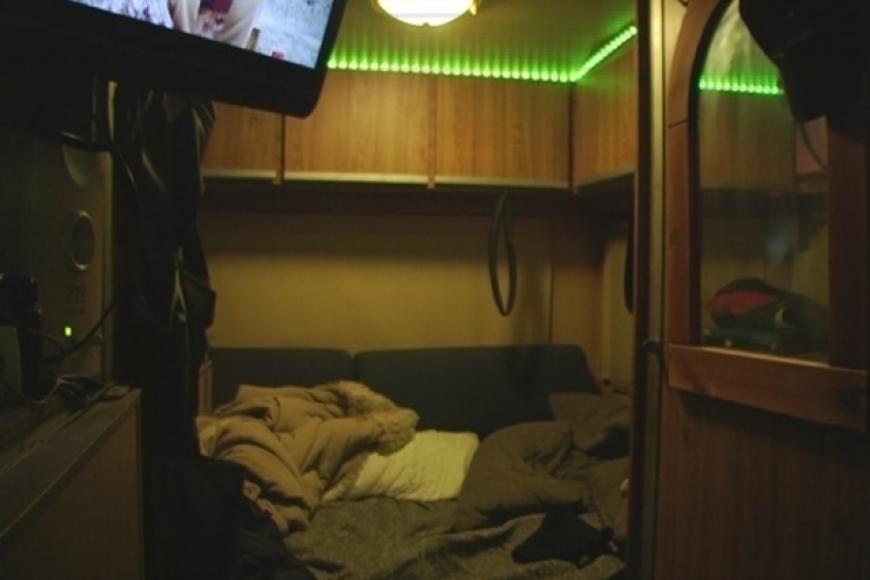 A Silver Dove winner at this year's edition of Dok Leipzig, Erwin sees Jan Soldat once again examine sexuality whilst looking for literal and figurative naked truth
The work of Jan Soldat has always explored the intersection between pornography and documentary as the German director focuses on those who indulge in – what society would often deem to be – extreme sexual behaviour. Films such as Prison System 4614 (in which men build a prison in which they are voluntarily incarcerated and then tortured) and Law and Order (in which two 70 year olds walk around naked talking about their love of sadomasochism and each other) deal with forms of sex and desire in a matter-of-fact way, often with a disarming strain of humanity.
Erwin is one of a large amount of films that Soldat has completed in 2020 (many of which evocative titles such as For fuck's sake, Christian, we're making a porn film and The Wanker) and continues with the style for which he has become notorious.
The titular character, a 58 year-old German man, is interviewed in his caravan which contains everything he needs: internet, bed, refrigerator and coffee machine. He provides a revealing interview in which his sexual preferences form a backdrop to his reminiscences about the loves of his life, the relationship with his parents and his fears for the future.
The beginning of Erwin would initially seem to put us into some uncomfortably intimate territory as our protagonist sits there, naked and sporting a set of nipple clamps blithely stating "My name is Erwin. I am a hot hunk. I would like to be fucked," as he twirls said clamps with his fingers. But Soldat sidesteps Erwin's sexual overtones to find out more about the person. Soon, the uncomfortable feeling melts, as Erwin's overt sexual advances begin to subside and he becomes more engaged in talking about himself, and an intimacy is achieved that is beyond the physical.
His revelations about his past lovers – who seemingly hurt and took advantage of him and his worries about the changes in his benefits reveal a gentleness which would belie his seemingly aggressive sexual overtures. Soldat's gentle questioning to a naked man gives us access to naked emotions. As with much of Soldat's work, it's clear that our protagonist is revelling in being given the chance to talk.
While there are a couple of moments which are uneasy (his frank admittance to sexual attraction to his father for instance) his sexuality is not couched in perversion or being damaged. It's a freedom, a release, a chance to enjoy one's desire. Even if there is hint of the squalid – the older man sitting in his caravan, indulging in internet and webcams – it's disarmed by the fact that Erwin owns the house of the grounds in which the caravan sits. Erwin has made a choice and feels comfortable in that.
The final shots outside – in which Erwin gleefully pulls apart his naked behind for Soldat's camera as cars pass by in the streets – have a sense of perverse joy and freedom, Erwin finding solace in celebrating his sexuality. Even with Soldat's body of work, he still may have not expected for Erwin to open up in exactly the way he did.
Winning the Silver Dove in the German Competition Short Documentary and Animated Film at this year's edition of Dok Leipzig, the film will continued to do well especially in festivals concentrating on sexuality
---
Documentary
Year: 2020
Countries: Austria, Germany
Duration: 16 min
Director/ DoP/ Editor: Jan Soldat
Original Language: German
Concept & Realization: Jan Soldat
Production: Jan Soldat
Sales: sixpackfilm, https://www.sixpackfilm.com/en/