Review: Forest (2020)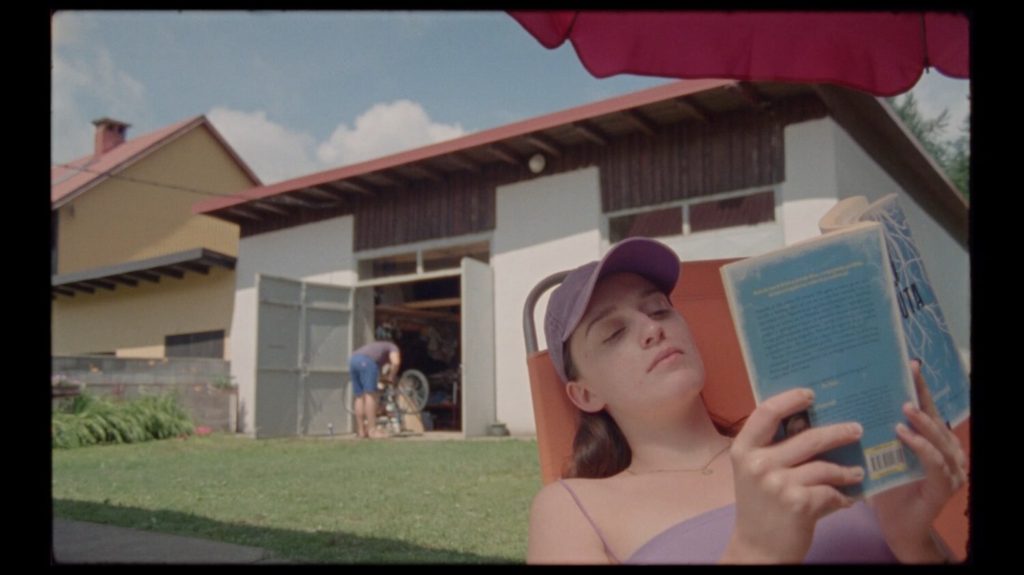 The world-wide lockdown of the spring of 2020 is slowly coming to the film screens, with the shorts leading the way for the feature-length work. That period was the time of restrictions, but also for reflection that happens once a busy person is forced to take a break. The phenomenon of reflection, but the lack of decision, is examined in Sara Grgurić's short Forest which premiered at Zagreb Film Festival, where it won the Golden Pram award in the national, Checkers, competition.
Saša (Lana Meniga) and Filip (Josip Ledina) are a couple that goes to a retreat to a country house (probably owned by her family) in a wooded, hilly area during the lockdown. Their relationship is going through a rocky patch even in the very beginning, and they are both very aware of it. While he tries to get busy with various little projects like the exploration of the local graveyard and the repair of the bicycle he found in the shed, she takes the long walks, swims in the lake and thinks of ending things…
The analogue (or at least analogue-seeming, it is hard to tell by watching on a small screen) cinematography by Frane Pamić suits the film perfectly. The amazing nature around the place is filmed in natural, warm colours, highlighting the contrast between the beauty of the place in the spring and the unpleasant uncertainty on the intimate, as well as the wider societal level. The low intensity events are blended in the meditative editing handled by Marko Klajić, highlighting the sense of waiting for the things to crystallize. The acting in this two-hander is spot on, further signifying Grgurić's directorial control and the completeness of her vision.
---
Original title: U šumi
Year: 2020
Runtime: 16' 44''
Country: Croatia
Language: Croatian
Directed by: Sara Grgurić
Written by: Sara Grgurić
Cast: Lana Meniga, Josip Ledina
Cinematography by: Frane Pamić
Editing by: Marko Klajić
Sound design by: Dino Ljuban
Sound recording by: Dino Ljuban
Visual effects by: Marino Vuletić
Colourist: Matko Vodopija
Assistant director: David Gašo
Produced by: Sara Grgurić, Suzana Erbežnik, Mihael Šandro
Production companies: Academy of the Dramatic Arts (ADU) Zagreb, Antitalent
Supported by: Croatian Audiovisual Centre (HAVC)