Review: Carbón (2020)
Internationale Kurzfilmtage Winterthur
Award for the Best Swiss Film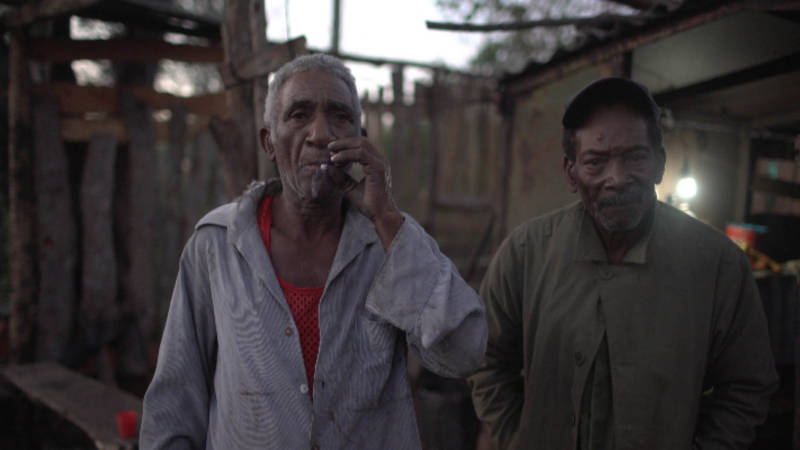 Two best friends and work colleagues Ismael and Nivardo live in a humble shack without electricity and proper heating. Both over 70-years-old, they have to keep on working to come buy in the current economic context of Cuba.
Their "workplace" is just outside of their home and it's basically a source of constant smoke clouds polluting the air. Ismael and Nivardo are producing charcoal from the wood they chop on their own. It's a lot work for starvation wages as it requiers 24/ supervision of the potentially dangerous source of forest fire. One is ready to eat less to give more to the other. Solidarity is both men's only guarantee for survival.
There is a plentitude of opinions surrounding Cuba and its allegedly ideal social state. Champagne socialists are quick to talk about education for all, work oportunities and good health care. No true poverty. No true wealth either. The far right likes to compare the country with some of the most brutal communist dictatorships. None of those correspond the reality. Romanticizing or demonizing Cuba feels equally wrong.
In his short documentary Carbón, the Swiss director Davide Tisato shows the life of Ismael and Nivardo as the citizens of the world of the underprivileged working class. In their immediate surrounding covered by the thick layers of smoke, their only connection to the outside world is established through the transistor radio. Other than that, there is no trace of civilization to be seen or felt, just signs of other forms of life – a rooster greets them every morning, and a dog is barking to the hectic chirping of distant birds.
Carbón is the winner of the Award for the Best Swiss Film at the Internationale Kurzfilmtage Winterthur, which came with the money prize of CHF 10.000-.
---
Country: Switzerland/ France
Language: Spanish
Year: 2020
World Premiere: Doclisboa, November 2020
Runtime: 25 min.
Production: Association Ecran Mobile, Les soeurs Jaouen
Producer: Laura Gabay, Marie Jaouen
Written/ Directed by: Davide Tisato
Cinematography: Davide Tisato
Editing: Bruno Herrero
Sound: Davide Tisato
Sound Editing: Bruno Herrero
Sound Design: Gaëtan Ricciuti
Rerecording Sound Mix: Gaëtan Ricciuti
With: Nivardo Cuello Limonta, Ismael Ramírez Carríon

Sales: Association Ecran Mobile