Review: Alive (2020)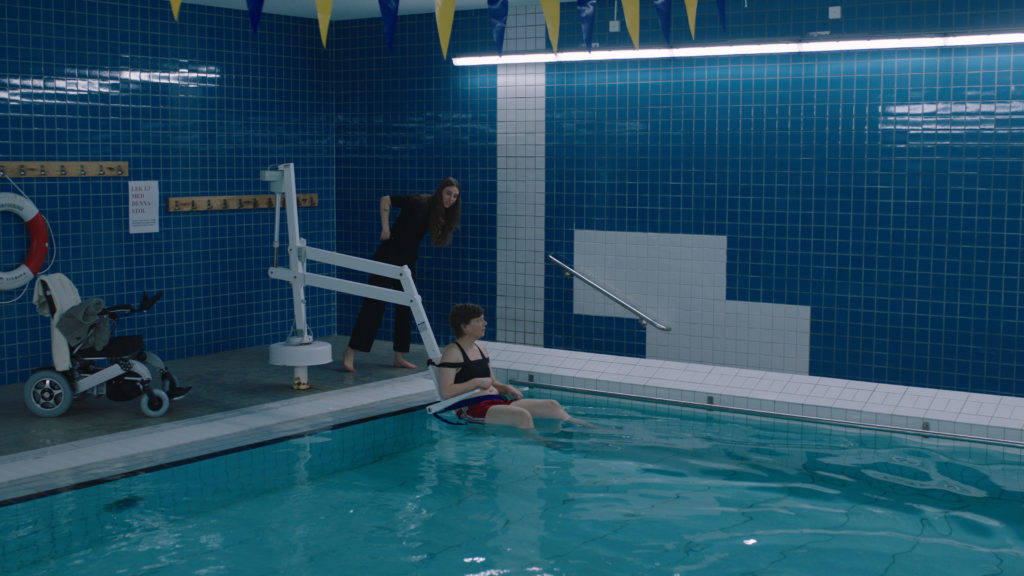 She might have difficulties with speech that slows down the communication process with her carer Ida (Madeleine Martin), but Viktoria (Eva Johansson) knows exactly what she wants. Wheelchair-bound and dependant on care, she is witnessing small pleasures that people without dissabilities have the privilege of enjoying with curiosity, longing for the essential pieces of it.
One of those cravings is for sex. When Ida's boyfriend Björn (Joel Ödmann) appears, Viktoria makes a joke about "wanting to borrow him", and she is very quickly convinced by the young woman to create a Tinder account. The paradox of this move is that Ida, very well knowing what kind of purpose Tinder serves for, doesn't think about the consequences of it, probably truly convinced that a person reaching out for a woman with dissabilities would be more interested in her inner values. Her well-meant, naive move is decoded into the language of reality by no one else than Viktoria, who doesn't seek the "real deal".
The eye of the beholder turned slightly short-sighted in the past century, and we pretty well know that the old proverb had lost its proper meaning long time ago. Exceptions from the rule are of course among us: those not counting the kg/lbs, wrinkles, age, or anything that doesn't correspond the expectations dictated by the broadly accepted societal aesthetic norms. But, knowing what the odds for meeting such people are, Ida starts worrying the moment there is a man who appears interested in Viktoria. Håkan (played by the director himself) doesn't meet the expectations, according to Ida. Everything about him looks a bit suspicious. Is he a pervert, a thief, a psycho? Viktoria doesn't seem to care.
The writer/ director Jimmy Olsson manages quite well to unmask the hypocrisy of well-meant actions that easily turn into a patronizing fiasco. He is raising important questions such as – Do we really understand people we believe we know, but whose world very much differs from our own? Is caring for someone with a dissability enough to grasp what they long for, the way they feel and think, or do we tend to project the ideas and expectations from our own world into theirs, making things worse instead of easier?
Alive is not only built on the strong script. Its cast brings it to life with force. Eva Johansson takes over the screen with her amazing performance, supported by the equally good Madeleine Martin who shone in Joachim Hedén's underwater suspense drama Breaking Surface (2020).
Alive bagged Best Fiction Film, Best Director, Best Actress (Eva Johansson) and the Best Screenplay awards at RUIFF (Russian Indie Film Festival) back in December. Two weeks prior, it was given the Audience Award at Kortfilmfestival Leuven, in European Competition Fiction.
---

Country: Sweden
Language: Swedish
Runtime: 18′
Written/ Directed by: Jimmy Olsson
Cinematographer: Staffan Övgård
Executive Producer: Vilhelm Olin
Producers: Petter Selvehed, Christian Kielberg
Music by: Thomas Henley
Additional Music: Peter Gregson – In Bed
Sound Mixer: Emil Axing
Sound Editor: Emil Axing
Foley Artist: Christian Skarin
Colourist: Richard Ahlbäck (The Line)
Boom Operator: Christian Skarin
Costume Designer/ Makeup: Elin Landberg
Cast: Eva Johansson, Madeleine Martin, Joel Ödmann, Philip Oros, Jimmy Olsson