IFFR review: 80 000 years (2021)
IFFR Amodo Tiger Short Competition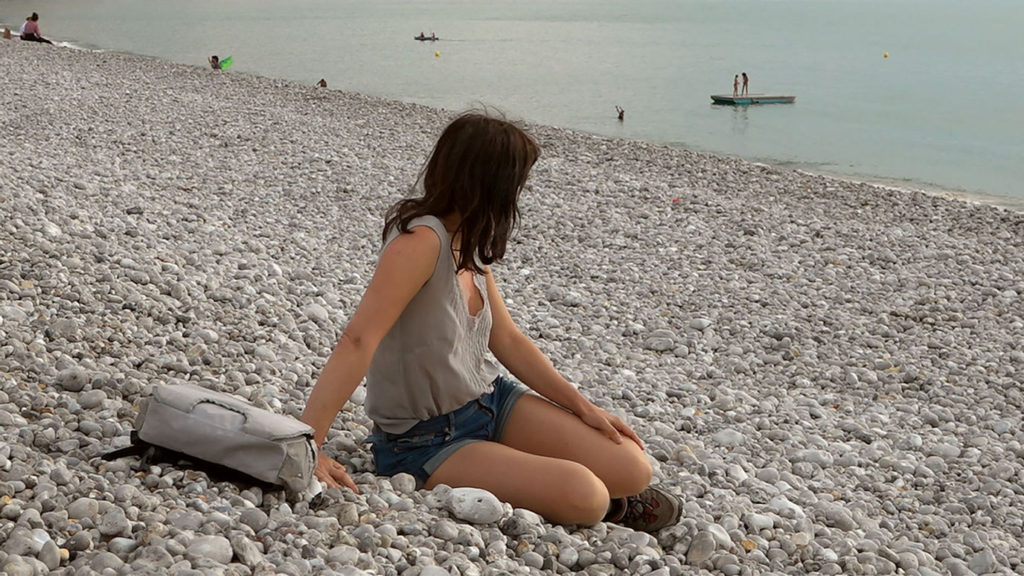 One summer, Céline (Laetitia Spigarelli) spends a weekend in a small place in Normandy where she grew up in, to participate in an archeological dig. Intitially excited to be in her parents' house that evokes memories but that belongs to her sister now, she realizese that it's the worst time to be back when no one she knows is around. Rozel is like a ghost town, with most people spending their holidays somewhere warmer and nicer to properly enjoy the summer.
Christelle Lheureux uses split screen to put the segments of Céline's days in a constantly running dialogue. Sometimes her dreams interfere with reality, and ocasionally it's daydreaming that takes over. Other times – it's nothingness, a blank, a black screen to remind us that an actual dialogue isn't happening.
Céline is hunted by the memories of something she had done in the past, a teenage prank she regrets, and often in her dreams she is racing down the stairs of an empty school, breathless. The face of a (now) man she intimidated back inschool appears regularly in front of her eyes. Samuel (French model/ actor Andy Gillet) is the only person whose destiny she's trying to paint in her mind. He is either an art gallery owner or a vet. He appears suddenly in front of her during the 14th of July fireworks, he's passing by her on the beach. The only indicator that none of it is happening is the split screen and a slight mismatching of both sides of the screen.
The film is partly shot on the archeological site Rozel, showing Céline at work, or rather – showing her explaining to a local journalist what is it she is actually doing there together with other archeologists. Not that the young woman understands a word of what Céline is explaining, which is obvious through random questions she's asking.
It's this nerdy side of an intellectual that seems to interest Lheureux, their alienation from the "normal" world and the social isolation it brings when outside of the scientific bubble. In case of Céline, all of it comes also comes with a small dose of self-loathing, just like in the verses of the song "Elle dit elle dit elle dit" sung by Christophe Auteur, that plays in the background: "sometimes she talks bullshit".
80 000 Years which is written, directed, shot and edited by the French artist and film maker Christelle Lheureux, competes in Ammodo Tiger Short Competition of Rotterdam International Film festival.
---
Original title: 80 000 ans
Country of production: France
Language: French
Production Year: 2020
Runtime: 28′
Medium DCP
Written/ Directed by: Christelle Lheureux
Cinematography: Christelle Lheureux
Producer: Francois-Pierre Clavel
Production Companies: Kidam, Les films des lucioles
Sound Design: Antonin Desse
Sound recording/ Sound Mix: Roman Dymny
Cast: Laetitia Spigarelli, Aurélien Gabrielli, Andy Gillet, Inès Berdugo
Editor: Christelle Lheureux
Sales: Kidam