IFFR Review: earthearthearth (2021)
IFFR Ammodo Short Film Competition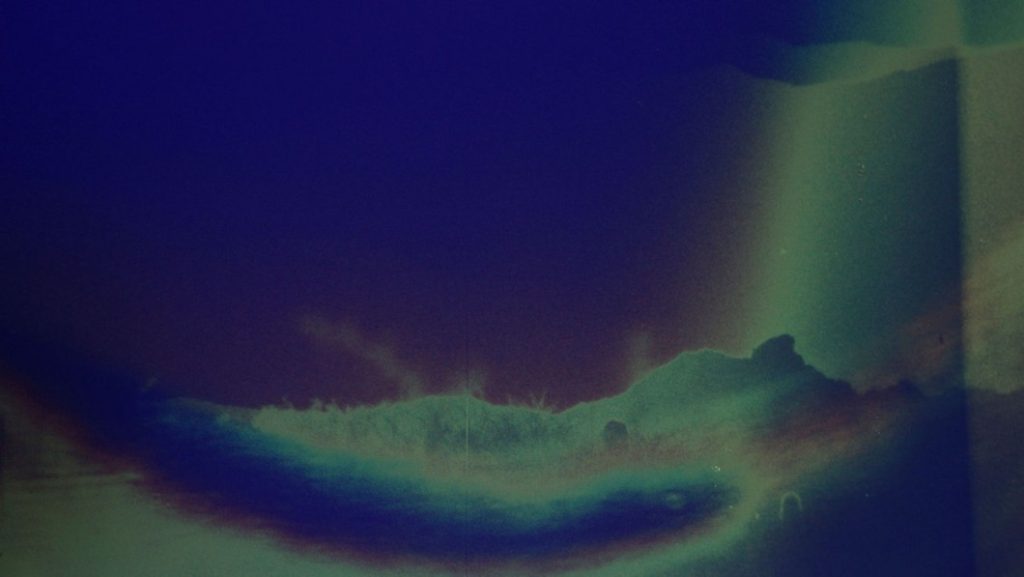 In order to fall in deep meditation, one must kill of all orientation. Meditation works best when all influence of space and time around the subject is eliminated, positioning it as a singular presence in the absolute emptiness. The newest experimental short film by Daïchi Saïto, earthearthearth, world-premiering at IFFR's Ammodo Tiger Short Competition can be regarded as a journey from the realm of orientation to the realm of meditation.
It begins with something quite figural: a daybreak over the mountain tops filmed on 35 mm stock, accompanied by the droning noise in the sound scheme. Frame after frame, arranged by the means of more and more abrupt cuts, it seems that Saïto tries to capture the very moment when the first rays of light get through the pitch darkness.
Things get more and more abstract from there, and it seems that the landscape as we know it ceases to exist. Layers and layers of the multiple projections in the imagery lead to altered, manipulated and even reversed colour scheme. And while the imagery gets more and more abstract, the sound scape improvised by Jason Sharp slowly gets more concrete, or at least more recognizable as music performed on bass saxophone, while the amplified breath and heartbeat provide the rhythm and some feedback noise completes the auditive "picture".
The Japanese-born Montreal-based artist Daïchi Saïto is quite well known in the experimental filmmaking community and it is not his first time at IFFR, where his previous work Engram of Returning (2016) was awarded as the best short film. In that one, he, handling all the visual aspects, and Sharp, improvising the score, went to find the patterns of the supernatural world pulsation. With earthearthearth, the scope is different, but the execution is on the same level of fascinating, making it a suitable meditation on our planet, from the macro level of concrete to the micro level of the absolute abstract.
---
Runtime: 30'
Country: Canada
Year: 2021
Language: No dialogue
Directed by: Daïchi Saïto
Cinematography by: Daïchi Saïto
Editing by: Daïchi Saïto
Music by: Jason Sharp
Sound design by: Jason Sharp
Sound recording by: Radwan Ghazi Moumeh
Produced by: Daïchi Saïto
Supported by: Media City, Canada Council for the Arts, ACIC