GSFF review: Do No Harm
Scottish Competition 2
(A World to Win)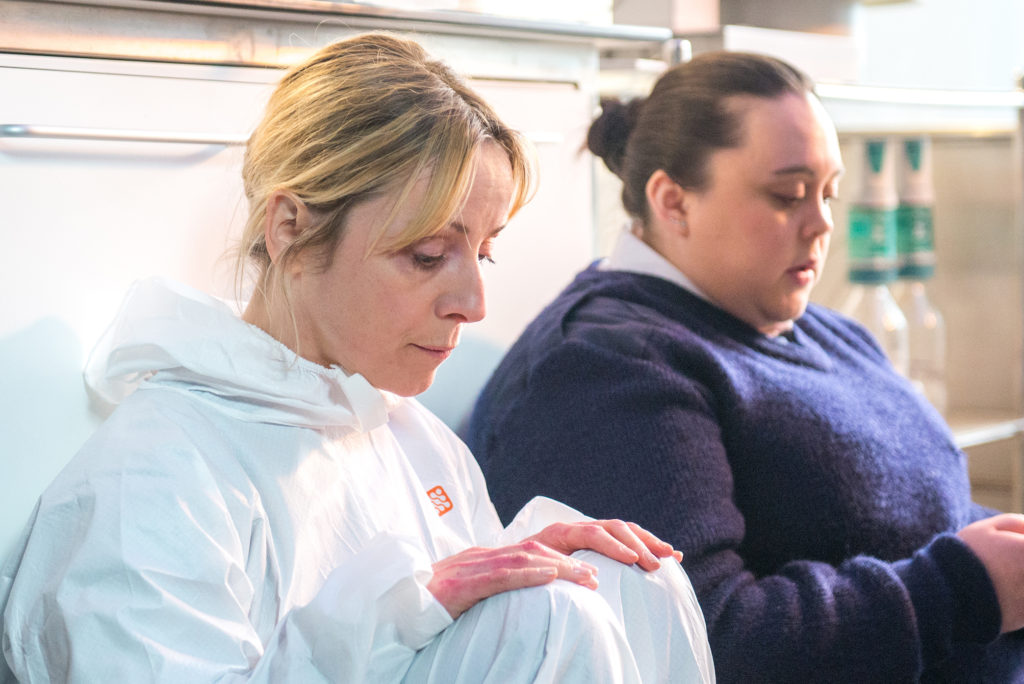 Leading scientist in the field of virology Dr. Beth Anderson (Claudie Blakley) lives with a secret that could jeopardize her career. She is namely suffering from Obsessive Compulsive Disorder which makes her paranoid about many things, among other – the "lethality" of a tomato-cheese sandwich whose date expired just the day before. In her mind, that particular sandwich contains the deadly virus she is dealing with in her high-tech lab, and she is feverishly working on a plan how to get hold of the damn thing before anyone sinks their teeth into it.
Douglas King's sixth short Do No Harm is one of the total of three genre films screened in the Scottish competition of GSFF, and it will certainly do some travelling in the near future.
Penned by Rosy Barnes, the script is built on black humor, witty dialogues, and a weird type of action that true genre lovers will know to appreciate. Not over the top despite of the nature of its main character's problem and the way it gets addressed, the film is surprising in its resteless approach to time and space. There is a bit of time loop to show Beth's compulsive reactions to this new stresfull situation, and when the repetitive movements result in frenzy, they are wonderfully accompanied by the tension-building music composed by Alexandra Hamilton-Ayres.

When none of the plans to seize the sandwich bare fruit, Beth has to act in a rather extreme way – by breaking & entering at night. Do No Harm is an engrossing film with a powerful almost all-female cast. Along Claudie Blakley, excellent in her role as a security officer Shauna is Sharon Rooney.
---
Country: UK
Language: English
Year: 2020
Runtime: 15′
Directed by: Douglas King
Written by: Rosy Barnes
Produced by: Alysia Maciejowska
Cast: Claudie Blakley, Sharon Rooney, Alison O'Donnell, Gilly Gilchrist, Daniel Campbell
Director of Photography: Andrew O'Connor
Editors: Martin Allison, Florian Nonnenmacher
Production Designer: Nazia Mohammad
Sound Recordist: Colin Mackay
Gaffer: Leon Brehony, Daniel Filmer
Music by: Alexandra Hamilton-Ayres
Music department: Joe Galuszka
Art Director: Kieran Mcruden