Review: More Happiness (2021)
Berlinale Shorts Competition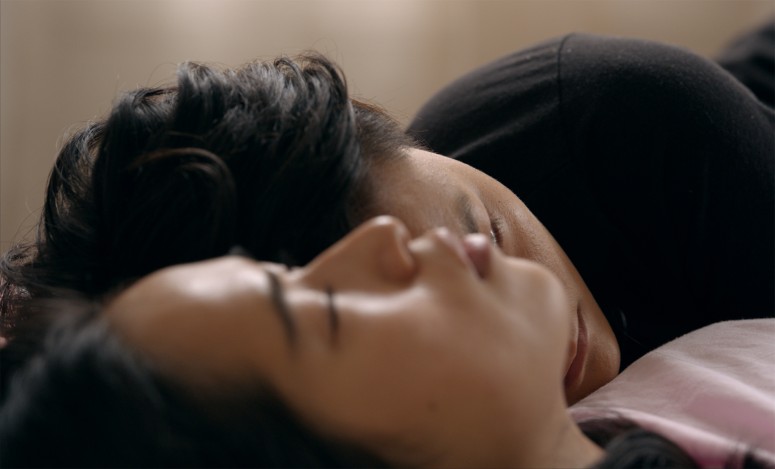 There is no simple formula for reaching happiness in life. There actually never was one, but the quest for it seems even more pointless in our contemporary life with the rules of life changing so rapidly that the generational gap seems to be deepening faster and faster. However, we still seek advice from the elders, and certain experiences get transmitted from one generation to another.
The conversation about love and happiness between mother and daughter, 1st and 2nd generation Chinese immigrants in the US, is at the centre of Livia Huang's short film More Happiness that premieres at the Berlinale Shorts competition. Huang is no stranger to the festival, since her previous film Who Can Predict What Will Move You played here last year at the Generation 14Plus section.
More Happiness opens with a site that could hardly be more opposed to the title: a bare tree is finely powdered by snow, suggesting a certain emptiness or a hardship to endure. The conversation between daughter in her early twenties (Tina Wonglu) and her mother (Rui Ying Lu) happens off-screen, accompanied by a different type of imagery such as water lilies opening up in spring and a family of swans swimming in the pond. We are witnessing the exchange of trans-generational wisdom with many questiosn being asked. One of them is – why is it important that your partner should love you more than you love him?
The answers are not simple because experiences differ. The mother has only one relationship on her mind, the one with the girl's father (who is absent and quite probably deceased), and the daughter has a completely different kind of relationship in her head. We get to see flashbacks of her happiest moments with her former girlfriend (Joyce Keokham) with whom she shared the affection she's trying to revive.
Are those flashbacks actual memories or memories laced with fantasy, with the film ending in a pretty much fantastic realm? We couldn't possibly know it, and it does not really matter. Thanks to Hunag's subtle scriptwriting and directing, and also to Jack Davis' lyrical cinematography, Andrew Aaronson's meditative editing and especially the fitting music composed by Fu Yuying and the perfect sound design by Noah Chevan, More Happiness reaches the emotional depths and the universal level.
---
Year: 2021
Runtime: 12' 34''
Country: USA
Language: Chinese
Directed by: Livia Huang
Written by: Livia Huang
Cast: Tina Wonglu, Rui Ying Lu, Joyce Keokham
Cinematography by: Jack Davis
Editing by: Andrew Aaronson
Music by: Fu Yuying
Sound design by: Noah Chevan
Sound recording by: Joe Stankus, Kim Garcia
Assistant director: Jack Sullivan
Produced by: Elise Shin