Review: Rehearsal (2021)
Berlinale Shorts Competition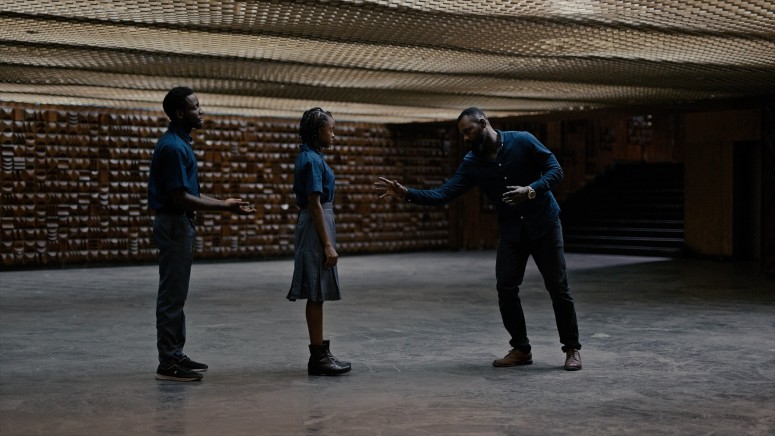 Church is a business like no other, and to keep it going, one needs practice. How to squeeze out donations of people on the street? How to prove the existence of Satan and God's healing powers? Is your emotional performance tear-jerking enough? A priest (Brutus Richard) in Michael Omonua's wonderfully cynical short drama Rehearsal seems to have found the right method to get those skills perfected. The fake servant of God is a good performer who needs the right regruits to share his knowlegde with. Not accepting no as an answer for instance, when money is collected.
While prepping for Sunday sermon, the pastor is teaching the young members of his parish how to fall properly when the act of excorcism is performed on them. The angle, the pose, everything has to be rehearsed to the point of infailable believability. To keep the tills ringing, the proof of God's existance has to be solid. Practicing their act in pairs, youngsters follow the priest's precise instructions what to do. The corrupt church turns into a theatre stage, also involving a (clearly not disabled) man in the wheelchair who is supposed to be magically healed at the forthcoming sermon. He is criticized for his poor actings skills as his getting up from the wheelchair act is not satisfactory.
Ironically, to get there, you nee to get off the public transport at the National Theatre Station. Judging by the incredibly beautiful and rich in detail enterior design of the building, this might as well be the belly of an art institution, if not even the National Arts Theatre itself. In this spaceous terracotta dominated "stage", cinematographer KC Obiajulu creates a visual magic of strong contasts with an accent on actors faces, without as much as coming close to them.
A one-on-one rehearsal with a girl (Rubu Akubueze) goes wrong as she re-lives her trauma from the past, but there is no time to be wasted. The show must be prepared. Another youngster steps on "the stage", as a story-teller.
Inspired by the theatricality of church sermons, Michael Omonua explores them from a performative angle, comparing them to theatre plays that need to be regularly rehearsed. In this case, Sundays are the official premieres, each time offering some other form of entertainment.
Country: Nigeria
Language: English, Nigerian Pidgin
Runtime: 14′
Year: 2021
Produced by: Cine9ja Entertainment Ltd
Producer: Don Paul Umana
Written and Directed by: Michael Omonua
Cinematographer: KC Obiajulu
Sound Design: Lyabo Solanke
Editing: Michael Omonua
Cast: Ruby Akubueze, Brutus Richard, Amanda Oruh, Chimezie Imo
World Sales: Cine9ja Entertainment Ltd