Review: Ghost Dogs (2021)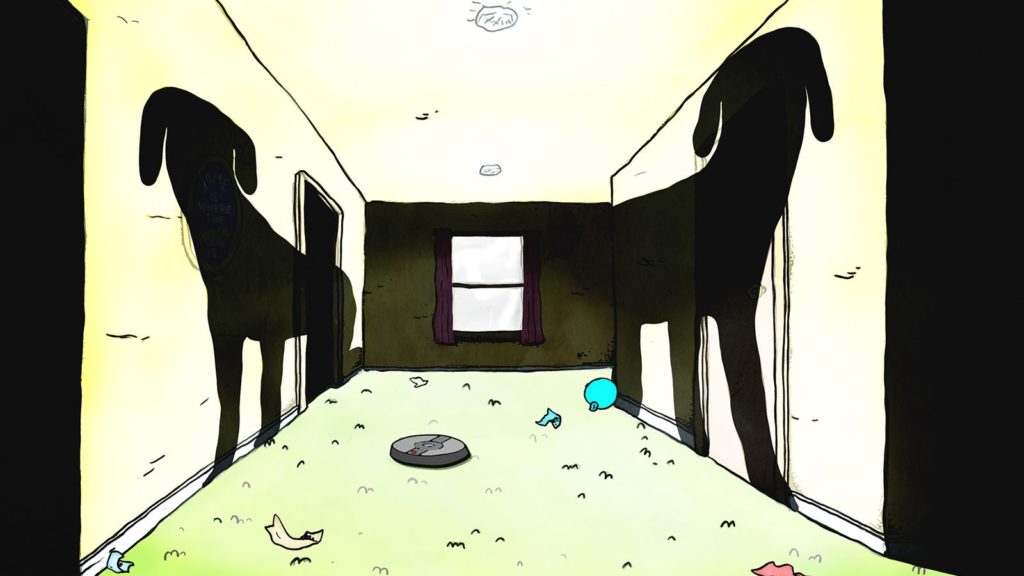 A dog's life is pretty much driven by fear, which is understandable considering that dogs hear a wider array of sounds, both natural and artificial, than humans could even imagine. A combination of the thunderstorm outside and a robot cleaner going wild inside makes a pet dog lose his mind in Joe Cappa's animated short Ghost Dogs that premiered at this year's Sundance and that currently screens in Docs & Animations competition at SIFF.
It is a shabby house after the party and the people are gone, leaving the robot cleaner to do its job. The dog is left in the bathroom with a ball near his mouth. The weather is changing, making him anxious. And, on top of that, the house seems to be haunted by the ghost dogs, which is probably a metaphor for the habit of neglecting the pets.
Ghost Dogs is a film that banks on its spooky atmosphere and deft visual storytelling with hardly any dialogue involved. The animation is beautiful, soft, hand-drawn and smooth around the edges in the vein of the late 90s / early 2000s works. The atmosphere that seems sinister even before anything supernatural appears is dictated by Nicholas Poss' musical score relying on wind instruments and Cappa's own sound design. As the film progresses, it turns to horror laced with nightmare logic, going to its shattering ending. Ghost Dogs is an example of the extraordinary elegance in the realm of the genre-infused animation.
---
Runtime: 10' 45''
Country: USA
Language: English
Directed by: Joe Cappa
Written by: Joe Cappa, J.W. Hallford
Animated by: Joe Cappa
Editing by: Joe Cappa
Music by: Nicholas Poss
Sound design by: Joe Cappa
Sound by: Joe Cappa
Colouring by: Dave Cappa
Produced by: J.W. Hallford
Production company: Great Question