Review: Nuevo Rico (2021)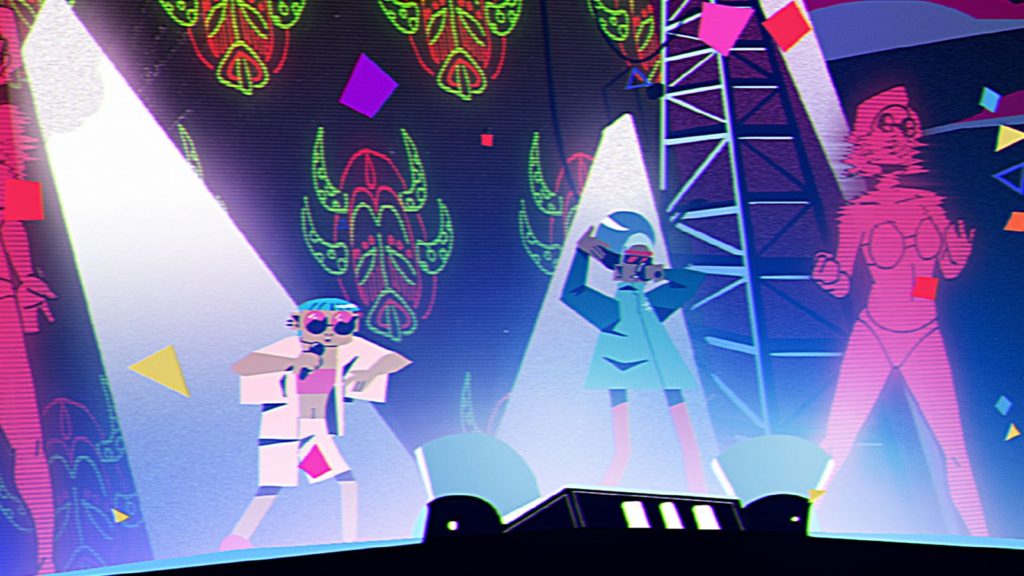 Success comes with a steep price to pay and it is a part of the universal human knowledge. The topic has been covered in folklore, high literature (the most notable example is Goethe's Faust), legends around music (the term crossroads in blues) and in cinema via the various stories of the rise, fall and fallout between the partners. With Nuevo Rico, Kristian Mercado dresses the familiar story in the clothes of dystopia, Latinx-futurism and reggaetón music. The animated short premiered at this year's SXSW where it won Best Animated Short, and now it screens in the Docs & Animation Competition of SIFF. Nuevo Rico awaits its international premiere in the online edition of Oberhausen.
In the dystopian future, Puerto Rico is a very sinister police state marked by poverty and racism. We meet the siblings Barbie and Vico during their act of activist vandalism: writing graffiti on a Trump-like billboard. Soon enough, the police appears and the car chase ensues. The duo ends up in the woods where they have an encounter with the gods of reggaetón from which they steal a contract that guarantees its owner a status of super-star. But just like with any other stolen luck, their future life in Miami turns to be quite the opposite from the happiness and idyll they imagined.
The story is a tried and tested standard and it is followed by the equally standard approach regarding the animation technique – computer-rendered, combining 2- and 3D. What Nuevo Rico stands out for is its milieu and design. The contrasting extremes of the dystopian darkness and the pastel colours of easy living and the emotions within the rhythm-driven music makes it quite a unique viewing experience.
---
Runtime: 16' 07''
Country: USA
Languages: English, Spanish
Directed by: Kristian Mercado
Written by: Kristian Mercado, Juan Arroyo
Voice cast: Jackie Cruz, Antonio Vizcarrondo, Fernando Ramos, Josh Madoff
Music by: Josh Madoff
Sound design by: Josh Madoff
Produced by: Debora Perez, Kate Chamuris, Angel Manuel Soto