Review: Our Bed Is Green (2021)
SIFF
Animation 4 Adults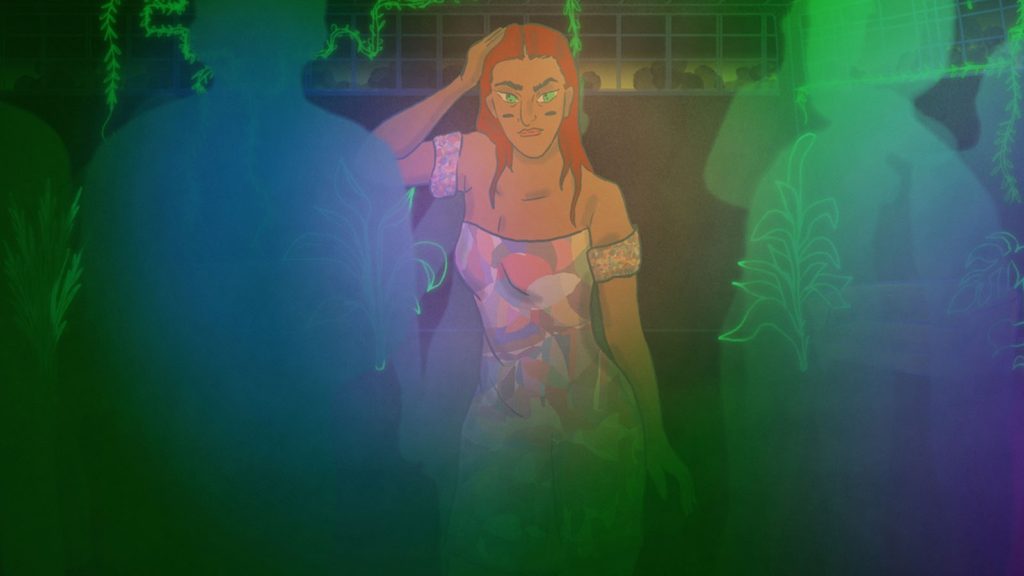 In our world, and especially in these pandemic times, one might ask if our physical reality is the only and the best we can get. Are we capable of creating our own fantasy worlds, or are we also in need of technology for that? And how about communicating our true feelings? Maggie Brennan boldly jumps into the pool of those questions with her animated student short Our Bed Is Green which premiered at this year's virtual edition of SXSW, and that was recently shown at Seattle International Film Festival where we had a chance to see it.
Our protagonist (voiced by Caitlin Duffy) lives a drab city life that is interrupted only by her fantasies about a liberated woman she meets in the club and shares intimate moments with in a garden lit by neon flowers. Her fantasies are powered by some kind of virtual reality program she pays for in a joint not unlike the internet cafés of the past. She runs late for a double date and the woman she fantasizes about turns out to be her friend (Ros)…

It is obvious that Brennan has turned to other works of cinema for the source of inspiration. There are echoes of the Japanese anime films from the 90s and an array of the live action dystopian SF-noirs from Blade Runner to Strange Days. But design-wise, Our Bed Is Green is something else, though. The feelings of inner anxiety are contrasted by the pastel colours, the fish-eye type of perspective amplifies the sense of estrangement in the modern world, while the pulsating, danceable electronic score dictates the emotion for the viewer.
The real achievement of this film is the fact that Brennan did most of the work herself. Apart from being the writer/director, she also served as the main animator, sound designer and score composer. More so, she managed to give us a compelling slice of contemporary life, laced with fantasy that is about to become reality and to pack it into a compact format of just over seven minutes.
---
Runtime: 7' 11''
Country: USA
Language: English
Directed by: Maggie Brennan
Written by: Maggie Brennan
Cast: Caitlin Duffy, Darien Rolle, Ros
Animated by: Maggie Brennan
Music by: Maggie Brennan
Sound design by: Maggie Brennan
Sound by: Gintas Norvila
Production company: Pratt Department of Digital Arts