Review: Island Living (2020)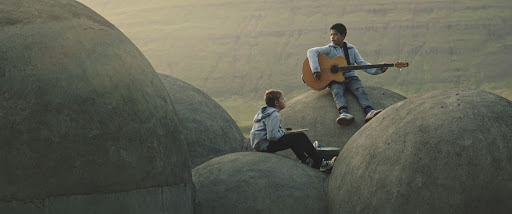 No man is an island, but the life in a broken home in a small coastal town is a pretty solitary experience for the twelve-year-old Bragi. However, one summer, one friend and their connection through music change his life significantly. This is in essence the core of Viktor Sigurjónsson's Island Living short coming-of-age comedy-drama. After its premiere at last year's Reykjavik International Film Festival, it is currently screening at Stockfish.
Bragi (Guthjón Andri Gunnarsson) lives with his depressed mother (Brigitta Birgisdóttir) in a small community. It is summertime and school holidays and, for a loner like him, that is just tormenting: there is nothing much to do. Luckily, he learns that different surfaces produce different sounds when hit by sticks and bats, so he gets and idea to make his own drum kit of the junk he finds around the house and in the basement. His mother is far from happy about it, but his new hobby leads him to meeting his first true friend, a big town boy named Freyr (Viktor Máni Edwardsson) who came to spend holidays with his grandmother. Freyr gets hold of an old bass guitar from god knows where and the two of them form a band, finding inspiration in old audio cassette tapes belonging to Frey's mother.
Their musical beginnings are rocky at first, but the end-of-summer festival and its talent show programme is their opportunity to present themselves to the audience. But the summer is coming to an end, meaning that Freyr will be soon going back to Reykjavik and Bragi – left alone again. Some things, starting with Bragi's attitude, will change for good.
Island Living is a competent piece of cinematic work that touches a number of coming of age film clichés from its own angle. The cinematography by Anton Smári Gunnarsson is evocative and it highlights the beauty of the landscape, while Úlfur Teitur Traustason shows a considerable skill in his editing. The acting is solid throughout and both of the boy actors are quite natural in their performances.
However, with a runtime just a notch under the half an hour mark, Island Living outstays its welcome a bit. Also, it does not look and act like a proper, well-rounded short, but as a study for a feature film. With some subplots added and developed, it would actually better work in that format.
---
Original title: Lifith á Eyjunni
Year: 2020
Runtime: 29' 33''
Country: Iceland
Language: Icelandic
Directed by: Viktor Sigurjónsson
Written by: Viktor Sigurjónsson, Atli Óskar Fjalarsson, Apríl Helgudóttir
Cast: Guthjón Andri Gunnarsson, Brigitta Birgisdóttir, Viktor Máni Edwardsson
Cinematography by: Anton Smári Gunnarsson
Editing by: Úlfur Teitur Traustason
Music by: Högni
Sound design by: Haresh Patel
Production design by: Hjördís Jóhannsdóttir, Melkorka Elba Hjartardóttir
Costume design by: Rebekka Jónsdóttir
Make-up by: Vigdís Hallgrímsdóttir, Lena Dóra Logadóttir
Visual effects by: Elfar Smári Sverrisson
Colourist: Elfar Smári Sverrisson
Assistant director: Einar Pétursson
Produced by: Viktor Sigurjónsson, Atli Óskar Fjalarsson