Review: Kitchen by Measure (2020)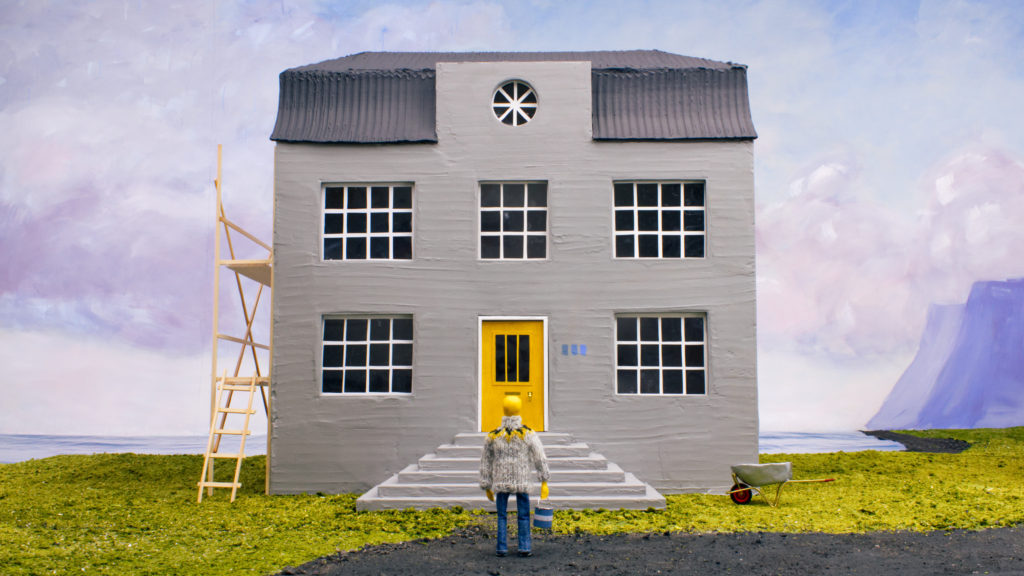 Oh, those scenes from the married life. Imagine a man coming back from work, stepping out of shoes and into slippers, going straight to his favourite armchair to read the newspaper while his devoted wife finishes her work in the kitchen. It is as much of a mundane scene as something seen in countless movies and read about in as many books, but it gets a twist in Atli Arnarsson's and Sólrún Ylfa Ingimarsdóttir animated short Kitchen by Measure that premiered at the last year's edition of Reykjavik International Film Festival and is currently screened at Stockfish.
The twist is that the husband gets a brilliant idea to create a completely automated kitchen based on his wife's measures and "needs" in order to make the work easier for her. Luckily for him, a German kitchen designer is just visiting Iceland, so he gets to meet him and present his project. The designer is a bit perplexed by it since, for him, seizing for such solutions makes sense only if the person who operates the kitchen is disabled. But our guy does not give up that easily and the end result is actually darkly funny and almost disasterous for being over-complicated and confusing for the operator.
Funny thing is that the simple solution has always been around the corner: he could have just offered his wife some help when needed, here and there. But those who stay away from the kitchen tend to have the ideas for the "systemic" solutions about the things they know little of, and that trend is not about to stop any time soon. And the phenomenon is global: the protagonist might speak Icelandic and wear the traditional Lopapeysa sweater, but you can encounter this kind of story pretty much anywhere in the world.
The story itself is fun enough to follow and keeps the viewer in the light laugh-ready mood for all of the film's 13 minutes of runtime by playing with our expectations. The humorous mood is additionally accented by the animation style. The characters are clay sculptures that resemble the anthropomorphic birds at first, but their human features get more noticeable as the film progresses. They are paired with the painted and collaged backgrounds, making Kitchen by Measure a proper eye-candy and resulting in easily consumable and endearing animated short film.
---
Original title: Eldhús eftir máli
Year: 2020
Runtime: 13' 06''
Country: Iceland
Languages: Icelandic, German
Directed by: Atli Arnarsson, Sólrún Ylfa Ingimarsdóttir
Written by: Atli Arnarsson, Sólrún Ylfa Ingimarsdóttir
Animated by: Atli Arnarsson, Sólrún Ylfa Ingimarsdóttir
Puppets by: Atli Arnarsson, Sólrún Ylfa Ingimarsdóttir, Ingibjörg Ásta Guthmundsdóttir
Painting by: Ingimar Waage
Voice cast: Björn Thors, Dominique Gytha Sigúrnardóttir, Arnar Jónsson, Ingimar Waage
Music by: K.óla
Sound design: Atli Arnarsson
Visual effects by: Ágúst Elí
Colourists: Atli Arnarsson, Peter Rongsted
Produced by: Katrín Helga Ólafsdóttir
Production company: Stilla