Escaping the Fragile Planet (2020)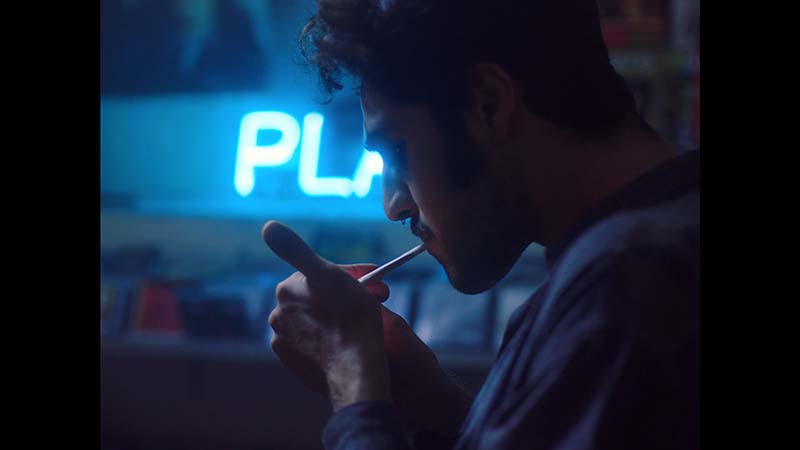 Some details from Thanasis Tsimpinis' short film Escaping the Fragile Planet might bear uncanny similarities with the iconography of the Covid-19 pandemic, like the stay-at-home orders and mask-covered faces in emptied public spaces, but this film was shot in the summer of 2019 and written even before that. The ever-present pink fog is another proof that this is not a piece of Covid Cinema, but a legitimate end-of-the-world dystopian love story about going away with a blow or at least a dance and a kiss.
Escaping the Fragile Planet appeared in the second half of 2020, touring festivals both home (Drama, Thessaloniki International Film Festival) and abroad (Reeling Film Festival, Clermont-Ferrand, BFI Flare). It is currently screened at NIFFF's International Shorts Competition.
A young man is obviously tired of staying at home and doing nothing, so he decorates his face mask and goes out in a seemingly deserted city. Techno music coming from a basement record shop draws his attention, so he goes there. Another young man, a former store employee, is there, probably saying his goodbye to the place. In a wordless fashion, the two men decide to spend the day together, getting to know each other, pleasing each other and playing the games of seduction with each other. However, they do not have the urge to impress each other, it is the end of the world after all, but to spend some time in good company. The life has to be lived, the death has to come in the end and the two of them just want to go under their terms, feeling satisfied.
Tsimpinis' employment of hand-held camerawork, predominantly in close-ups and reverse shots, with an occasional wide, situational master plan, creates the sense of closeness between the characters and the viewers, despite there is little that we get to know about them. The film also profits from the elaborate visual design, with the pink foggy light posing a threat in every single shot, and also from the good use of synth score incorporated to the general sound design, with the sensations of clock ticking kicking in at the important moments. Escaping the Fragile Planet is a full-blooded romance movie for the end of the world.
---
Original title: Apodrasi apo ton efthrafsto planiti
Year: 2020
Runtime: 17' 28''
Country: Greece
Language: Greek
Directed by: Thanasis Tsimpinis
Written by: Thanasis Tsimpinis
Cast: Michail Tabakakis, Nikos Lekakis
Cinematography by: Konstantinos Koukoulios
Editing by: Smaro Papaevangelou
Music by: Renos Papastavros
Sound design by: Stefanos Douvitsas
Production design by: Eva Goulakou
Costume design by: Eva Goulakou
Make-up by: Sissi Petropoulou
Visual effects by: Michalis Gkiokas
Colourist: Dimitris Karteris
Assistant director: Zabela Chaviara
Produced by: Phaedra Vokali, Mina Dreki
Production company: Marni Films
Supported by: Greek Film Centre