Night Of The Living Dicks (2020)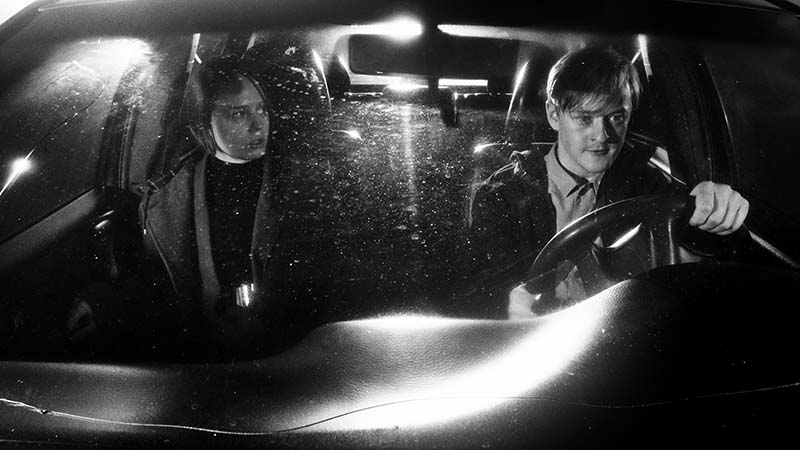 Not just that the world is populated by dicks, it is ruled by them. Dicks sending dick pics can be powerful and influential, even members of the Parliament. The question is how can one recognize a dick before it takes its fully-blown dick form? Ilja Rautsi, continuing what he started with Helsinki Mansplaining Massacre (2018), tries to offer a way out in his newest short Night of the Living Dicks. The film has premiered earlier this year at Tampere Film Festival and is currently screening at NIFFF.
The film begins with the TV talk show that should settle the dispute between the afore-mentioned Parliament member Simo (star actor Tommi Korpela) and the photographer woman to whom he sent his picks, Venla (Sonja Kuittinen). He goes with his usual mumbo-jumbo to weasel out of the situation, and she freezes when she has to respond. Her airhead sister Kata (Roosa Söderholm) arranges the double date for the two of them to make her feel better, even though it is probably the most wrong thing a person could do. Venla, however, gets a hold of a powerful item: a pair of glasses that can spot which man is actually a dick.
Naturally, the dicks, including the two dates, are not happy about it and they have to get and destroy that item. And for that, they will enlist the help of the softest of them, Frodo (Santeri Helinehimo Mäntylä). It is not just the night of the dickhead convention, but also the night of reckoning in which we learn that dickheads need their counterpart, cuntheads, to exist in a binary world. Let the (a)sexual liberation begin!
Apart from the hot topic, everything else in Night of the Living Dicks is "borrowed" from somewhere, including the word-play title that is a clear association to the George Romero classic. The high-contrast black and white cinematography and the design of the title sequence is a clear nod to the B-movies, closer to Roger Corman than to Romero, the synth score fits the genre movies from the 80's and it will get more apparent when the colour kicks in with a dramaturgically perfect reason and explanation, and when it gets highly saturated. Night of the Living Dicks is a smart, witty, eclectic mix of influences from the (genre) film history that is, at the same time, completely serious to its topic, and devoted to the entertainment of the audience, dickheads excluded.
---
Countries: Finland, Denmark
Language: Finnish
Year: 2021
Runtime: 19' 05''
Directed by: Ilja Rautsi
Written by: Ilja Rautsi
Cast: Tommi Korpela, Sonja Kuittinen, Roosa Söderholm, Santeri Helinehimo Mäntylä, Pelle Heikkilä, Tanja Heinänen, Kari Hietalahti, Joonas Koivula, Jarno Mahlberg, Karim Rapatti
Cinematography by: Kerttu Hakkarainen
Editing by: Jussi Rautaniemi
Music by: Martin Dirkov
Sound design by: Karri Niinivaara
Production design by: Santtu Toivola
Costume design by: Roosa Marttiini
Make-up by: Salla Yli-Luopa
Special effects by: Jonas Nourisson
Visual effects by: Jarno Elonen
Produced by: Misha Jaari, Mark Lwoff, Peter Hyldahl, Asbjørn Høgstad Kelstrup, Jani Lehtinen
Production companies: Bufo, Beofilm, Valofirma
Supported by: The Finnish Film Foundation, Danish Film Institute, YLE, AVEK